Draft Week and its immediate aftermath. A time when Brendan and I together have traditionally mulled over our club's selections. Text messages galore. Opinions proffered from a very low knowledge base but fueled by a soulful passion for our beloved Bloods.
This year is different. Brendan himself was drafted to the "Lake Oval in the sky" in the fortnight prior and just a few days before his 67th birthday.
Brendan John Sheehan. Loyal husband and father and great footy mate to my family. A sober man but living proof that alcohol is unnecessary to awaken the passion that resides deep within the heart of the rusted-on supporter. Brendan's alternative match-day 'poison' was his requisite pack of Minties that he would delight in sharing around. A sugar hit from the stickiest lolly in Australian confectionery history. Yelling for the Swans with your teeth stuck together!
Red and white to the core. Known to leave the ground very early or turn off the TV if the game was tight, such was the linkage of his emotions to his team's fortunes. Fortunately, he dug deep within himself and found the strength to stay at Grand Finals, for which he was twice rewarded.
Brendan was consistently glass half-full when it came to club recruiting or selection decisions; a counter-weight to my glass half-empty default. The wisdom of the Franklin deal was frequently at the heart of our squabbles. Our footy disagreements generally remained un-reconciled and the unstated reciprocal sub-text was: "stubborn bastard…won't be told"!  Wrapped within that sentiment though was a recognition that our shared obstinence underscored a sameness around which a friendship could prevail and flourish.  Of the same tribe in both a footy and personality sense.
I got to say a few words off the cuff at his funeral. Prepared, I would have said more and better and re-counted a hundred stories that are enmeshed in my grey matter. His casket was draped in a South Melbourne Football Club beach towel. He bought me one at the same time that he acquired this gem and was indeed titillated by his authentic 'South' acquisition.
The Notre Dame Victory March ("cheer, cheer" to the uninitiated) rang loud as he left the chapel.  The accompanying screen image was Brendan hugging the Premiership Cup – our 2005 "breakthrough" variant. Amidst my teary rendition of the song my mind turned to being with him in the week after that win when he allowed himself to have a beer – or twelve! A once in a lifetime break in sobriety to mark the occasion. His emotional high un-diminished by feeling physically seedy from his beery indulgence for days thereafter!
Brendan lived in and loved the western suburbs of Melbourne. His other sporting passion was the Footscray Hockey Club. A legendary Life Member of his club and the Victorian Hockey Association. The Brendan Sheehan Field at Footscray is named in his honour.
As might be imagined, post 2016 AFL Grand Final, anything vaguely "Footscray" was an uncomfortable place mentally and physically for a rusted-on Blood. Nothing hurts like the one that got away. Whilst many of us hid ourselves under the metaphorical doona for weeks, Brendan somehow managed to shunt his emotional pain to the back of his mind. For an anxious man, that would not have been easy. However, he gained solace from the fact that his red, white and blue mates were experiencing the joyous relief that came his way in 2005.
Brendan had been sick for a long time. Skin cancer – perhaps a legacy of too much time in his youth on sun-baked cricket grounds – has a way of creeping up on you. In its metastatic state, it bites hard. Early on – as blokes do – I was amongst those to look for humour in his latest facial patch-up from a skin cancer spot. It's a fine line between spirit-lifting humour and unwelcome taunts. Mates don't always get it right but my sense was that he appreciated attempts to normalise his world with some piss-taking. I continued to walk that line with him right up until the end via our fortnightly lockdown Zoom meetings. Brendan fueled the banter as he regaled us with candor and smiles about undignified bodily-function moments that were increasing progressively. Self-deprecation set up a humorous framework in those precious boys-only chats, even though we all knew that he was dealing with something dire.
Reflection and rumination. Inevitable bedmates when someone dear to you passes. Moments of time that have passed cannot be re-claimed. Missed opportunities for just one more visit or the perfect tribute in his presence must now be forgotten. That said, Brendan will be the missing piece in the puzzle in future family footy outings. His spirit will linger and a bag of Minties to share will be a tradition that I expect my clan will honour forever.
My friend's departure has focused my thoughts upon the nature of our relationship and the meaning of footy in its perpetuation. Analysis, argument and contemplation around a shared passion. Appearing frivolous to an outsider, our footy banter actually reflected a depth of connection that extended beyond match day. Footy as a fulcrum for honest exploration of a host of shared topics and a door opener to mutual trust and personal vulnerability. Tribes are the beating heart of the footy community. Friendships and relationships formed, strengthened and occasionally torn asunder. Remove raw emotion and tribal devotion from the mix and footy is rendered just another option on a crowded leisure menu. AFL administrators note to self: a brand without soul will not sustain.
An informal wake was held in the Sheehan family backyard as a casual post-script to his formal tribute. A family and close friends space where I found myself confronting my demons amidst some of those Bulldogs folk that had rejoiced at our expense in 2016. Whether an expressed wish or otherwise, Brendan would have delighted – as did I – in witnessing his Swans caps on the heads of these red, white and blue-supporting footy foes.  A mark of admiration for a remarkable man, reciprocating the respect he afforded them when their footy premiership moment eventually arrived.
Vale Brendan John Sheehan 10/12/53 – 24/11/20.
The Tigers (Covid) Almanac 2020 will be published early in 2021. It will have all the usual features – a game by game account of the Tigers season – and will also include some of the best Almanac writing from the Covid winter.  Pre-order HERE
To return to our Footy Almanac home page click HERE.
Our writers are independent contributors. The opinions expressed in their articles are their own. They are not the views, nor do they reflect the views, of Malarkey Publications.
Do you enjoy the Almanac concept?
And want to ensure it continues in its current form, and better? To help things keep ticking over please consider making your own contribution.
Become an Almanac (annual) member – CLICK HERE.
One-off financial contribution – CLICK HERE.
Regular financial contribution (monthly EFT) – CLICK HERE.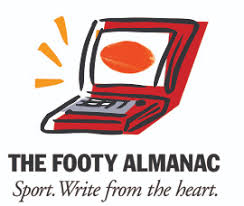 Known to stare longingly down Clarendon St still wondering how his red and white heroes ever left him, Chris Bracher's pining for his relocated team has been somewhat appeased by recent Bloods glory....but the pain never truly goes away!