Australia v Sri Lanka, Second Test – Day 3: Citrus turns sour?
Took in a couple of AWFL matches last night and without being disrespectful to the other sides in the competition Adelaide and Footscray (sorry Western Bulldogs) will play off in the Grand Final.  The Cats and Pies played before 18,000 plus but they certainly have a long way to go.  As for the TV coverage well it was appalling, the players looked like ants running around.
Anyhow that is my beef for the day.
A beautiful day here at the "Uka", not a cloud in the sky and this venue continues to go up in my estimation as the boutique ground of cricket in Australia. In fact as a cricket venue it ranks with the Adelaide Oval and the SCG in my humble opinion.
Saturday's crowd of nearly 12,000 was magnificent for a "non-event" Test match and CA should seriously look at playing games like the Women's Big Bash final and other Big Bash games here.
De Silva and Perera have some anxious moments early in the day but are still there. Cummins as usual is spot on but Richardson is certainly not the bowler who operated with the "pinkie" in Brisbane.  Good news is that Karunaratne has the pads on and will come in next.
Bad news is that Perera has been struck by Richardson with one that did not climb that much and he turned his head away.  Interesting that Richardson has changed ends and Starc has still not been seen at the crease. So, the left hander has gone from being Numero Uno to persona non gratis in one season.
Perera (29) is still not well and there is another halt in play but he resumes probably mindful that the next man in is probably still bearing some scars from yesterday. Another delay and he leaves the arena. Karunaratne resumes his innings to warm applause from the crowd.
Starc come in to the attack for the first time today and after the drinks break and his first ball is hit for four by Karunaratne to bring up his fifty. 10 runs from his first over Smokie, not a good start.  There is no way in his present form that Starc should be selected for any short form of the game, he seems to have lost all confidence with his line and length. Sure, the pace is there but little else.
As usual the bowler takes a wicket after sharp criticism. Starc bowls short De Silva (25) swings misses and his bat hit the wicket out.  Sri Lanka 4/180. He gets another one when Karunaratne (59) pushes at one and Patterson takes it in the gully. Starc now has 3/41 and the visitors are 5/181.
It is all happening as Karunaratne tries to sweep Lyon and Starc (who is this man?) takes an easy catch at leg gully. Sri Lanka have now lost 3 wickets for 2 runs.
Starc should have had another wicket when Dickwella glides the ball to Khawaja at slip who drops a sitter.  When you are out of form, you are out of form.  Uzzie should have gobbled that one up.
Lyon took a hammering in his last over and Labuschagne replaces him at the Cathedral end. The batting is entertaining as they go for their runs.  Lyon changes ends and replaces Starc who had bowled a devastating spell.
Marnus, as usual gets his wicket when Dickwella (25) goes LBW despite a DRS review by the batsman.
At lunch it has been Australia's session and Sri Lanka are now 7/215.  They have lost 4/95 in the morning's play to a far superior team.  They have been entertaining but have played the shorter game rather than a testing time.
Big lunch for the Sri Lankans?  They are all out within 10 minutes of the second session beginning and no runs being added.  Starc takes the two wickets to finish with 5/54, Lyon 2, Labuschagne and Cummins one apiece.  The injured MDKJ Perera (29) did not return to the wicket.
Now any cricket fan would have thought that being 319 runs in front you would send the opposition  et al cannot be that confident in his bowlers or maybe it is just good old fashioned player occupational health and safety issue. Wait a minute Pat Howard is no longer with the team.
My conclusion is that the selectors have had a word in Tim's pearlies and said no give the boys another chance at making some runs bugger the result we still have two and a quarter day to go.
I am sure that the majority of people here today would have liked to have seen the home side have another go at the visitors. "nah, forget about the spectators, they only play a very minor part in the scheme of things".
Must get back down to earth!
Harris makes a quick fire 14 and then Mendis takes a great catch at slip of the bowling of Rajitha. Australia 1/16 and now I will change my team for the first test and go along with Chappelli. Harris out and Labuschagne in.  Another poor shot to get out when he had everything going for him.
Burns (9) goes to another fine catch by Mendis at slip this time of the bowling of Fernando.  Australia 2/25. Burns has only made 17 runs in the last 2 days for twice out.  Now it is up to Labuschagne to prove his worth in the team plus Khawaja of course.
The cricket is boring as both batsmen are playing for their life it seems and the runs are dribbling along. Definitely not fan favourites and I am quite smug about it all.
Labuschagne does not prove his worth and is well taken by Dickwella for 4. Australia 3/37 and Rajitha has 2 wickets.  Must say the catching of the Sri Lankans in this innings has been superb.
In Labu's favour is that he does take wickets when he bowls and that is a plus. He also seems to be in favour with everyone that counts and that is not us Smokie, Fisho, Peter B et al
At tea Australia 3/67 with Khawaja 25 and Head 11.  Rajihi has shown more promise in this innings and has taken 2 wickets beating the batsman on both occasions.
So what did we learn from the second session.  We learnt that Australia's top order is still very vulnerable and just how many runs does Paine want to be ahead before he declares.  The lead is now 386, three batsmen have gone down in the estimation of the selectors (us) and the bowlers are probably having yet another massage and keeping their feet up.
And so the game dribbles along with the two batsmen increasing their respective Test match runs aggregate and also their average.  This is easy pickings especially for Khawaja who is giving us a showcase of his shot making.
He is such an enigma and he must frustrate all those who believe in his ability as a leading Australian batsman.
For one moment we thought Paine had declared with Australia 3/158 a lead of 477 with Sri Lanka one man down. No wonder people turn of test cricket.  I won't because the game totally absorbs me but there are times when sanity should prevail but it has not happened in this test.  Australia re far too good but you would not think it.
By the way Khawaja is 73 and Head 49 against this kindergarten attack. I don't think  have ever seen runs come so easily and still they bat on.
The declaration comes when Khawaja reaches his century with 14 fours . Australia 3/195 declared.  Khawaja 101 not out and Head 59 not out.  Sri Lanka need 516 to win with two days and 45 minutes to play.
Will Khawaja's innings save him?  Good question.
A couple of near chances in the early part of the Sri Lankan innings but they seemed quite comfortable.  Lights are fully on now. Starc is hurling them down at over and around 150 k's with Richardson not far behind him.
The umpires declare the light is unsafe and stumps are drawn with SL 0/17 and both batsmen on 8.
260 runs today for 9 wickets an easy century to Khawaja, Starc finding some form with 5 wickets, a grumpy me, so all in all not a bad day.
Become an Almanac (annual) member – CLICK HERE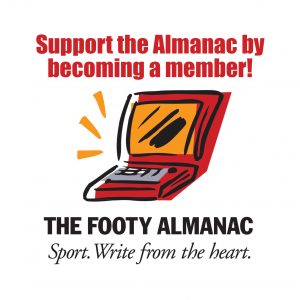 At 80 years of age Citrus Bob is doing what he wanted to do as a 14 year-old living on the farm at Lang Lang. Talking, writing, watching sport. Now into his third book on sports history he lives in Mildura with his very considerate wife (Jenny ) and a groodle named "Chloe On Flinders". How good is that.