Australia v India – Third Test, Day 3: Relentless Australia Takes Charge
PINKIE DAY 3
I always say that like championship golf that "Day 3 at the cricket is moving day" and so it turned out to be.
Right from the start Paine employed just the solitary slip for Pujara and Rahane. The plan was to contain the batsmen into playing false shots if they wanted to score runs.
The bowlers were making it hard for the batsmen to score such was their immaculate length.  Cummins, Hazlewood and Lyon were right on the spot.  Hazlewood's 6 overs for 6 runs was a perfect example.
Both batsmen had decided anything wide of the stumps could be left alone and they would attack only the loose balls. In return the bowlers peppered them with short balls as well as their unerring length.
It was a gritty battle between two very fine batsmen and the best attack in world cricket.
It came as a surprise when Rahane (22) played on to Cummins. The ball cut back ever so slightly and hit the inside edge of what had been a very defiant bat until then.  India 3/117 and Cummins had struck a telling blow for his team.
New batsman Hanuma Vihari never looked like making runs. Lyon had him tied up in knots and it took him 21 balls to get his first run.
It came as no surprise when on 4 he was brilliantly run-out by a diving Hazlewood at mid-off who hit the middle stump with a direct ping.  Brilliant cricket.  India 4/142.
The out-fielding of both sides has been outstanding in this series and like all first-class cricket this is the one facet of the game that has become a highlight in recent years.
Meanwhile Cheteshwar Pujara "The New Wall" continued to defy the attack without ever taking control.  His objective is to stay there and he certainly knows how to do that.
Although he missed a couple of chances in Australia's first innings Rishabh Pant is a very valuable Number 6 batsman as he gets on with the game, chances his eye but puts runs on the board for his team.
Spare a thought for Matthew Wade at silly leg. What a morning he had. Stretching, diving, sprawling he tried every thing in an attempt to make and take catches.  Only one went to hand and it would have been a miracle if he had taken it.
At lunch the Indians had moved on to 180 for the loss of 4 wickets.  An even morning with Australia having a bit of luck in claiming the 2 wickets, with Nathan Lyon bowling a marathon spell without any.  Pant 29 and Pujara 42 at the crease.
Australia take the new ball shortly after lunch and the run rate trickles down to virtually 1 an over.  It is tough cricket and made even tougher when Pant takes a nasty one on the elbow from Cummins. I'd be surprised if there is not a chipped bone somewhere but Pant decides to bat on.
Obviously in pain Pant (36) does not get across to a Hazlewood ball and Warner takes a comfortable catch at first slip.  India 5/195 becomes 6/195 when Cummins, bowling superbly, gets one to nip across Pujara (50) and Paine gobbles it. Two top overs from the express men has broken the back of India's innings.
A foolish run by Jadeja sees Ashwin (10) run-out at the bowler's end. That was the last thing India needed at this stage. 7/206 and they have lost 3 wickets for 11 runs.
Ugly Australians in action?  You betcha, as Starc bounces an incompetent Navdeep Saini (4) and he pokes one to Wade 8/210. It is fine to bounce "real" batsmen but this attitude of "we can bounce anyone" leaves a lot to be desired. Starc's smirk did not go over well with this cricket purist.
Sportsmanship?  I don't think so.
Another run out when Labuschagne brilliantly throws out Bumrah (0) from an attempted sharp single. 9/216 and the visitors have collapsed after lunch, losing 5/21.
Ravindra Jadeja has been left stranded at the non-strikers end while wickets tumble around him.  The Australian out-fielding has been brilliant today.
He decides to "go for it" and takes to Starc with a vengeance. The bowler hits him on the fingers and another stoppage in play is the result. The injury is on his spinning fingers as well.
A further 28 runs are added for the last wicket before Siraj (6), all at sea against Cummins, tickles him through to Paine.
A disastrous session for the Indians and they are all out for 244. Since lunch they had lost 6/64.  Jadeja remained 28 not out.
Cummins was superb again and his 4/29 come from 21.4 overs. There is no doubt that Patrick Cummins is head and shoulders above everyone else in the fast-bowling fraternity. He bowls an immaculate length, varies his pace and swing, and has a lethal bouncer when he uses it. No wonder he is the highest paid player in the IPL when you throw in his fielding as well.
Hazlewood 2/43, Starc 1/61, and three run outs made up the rest of the wickets. Lyon was superb in bottling up the batsmen in a marathon effort of 31 overs and his figures indicate nothing of his value.
Australia lead by 94 runs and will have a big session to build on that lead for the remainder of the day.
A bit of a disappointing crowd for Pink Day with a little over 9,000 in attendance.
Pucovski (10) plays a couple of fluent strokes but falls to one from Siraj that moves enough for him to touch it through to substitute keeper Saha (Pant had gone to hospital with his elbow injury). Warner taking his time played one lovely straight drive but on 13 tried to hit Ashwin's first ball out of the ground and was plumb LBW and his team were 2/35.
Australia's lynch-pins, Inspector Gadgets, call them what you like, are together and for the Indians to have any chance they must get rid of these two players.
Labuschagne is having a marvellous summer again, and Smith after his failures in the first two Tests hit form with a vengeance in the first dig here in Sydney.
Being one bowler short again has hampered the Indians.  Bumrah has not had a good match and the experience of Jadeja is missing.  They battle on valiantly but these two batsmen are world class and you need your best available bowlers if you wish to contain them.
At stumps Australia are 2/103 with Marnus 47 and SPD 29.  Australia now lead by 197 with 2 days of cricket remaining. Ashwin and Siraj a wicket a piece.
The home side have been relentless throughout the day and the scoreboard says it all. India's injuries just keep mounting and they will find it hard to save this one if two key players in Pant and Jadeja cannot bat in the second innings.
To return to our Footy Almanac home page click HERE.
Our writers are independent contributors. The opinions expressed in their articles are their own. They are not the views, nor do they reflect the views, of Malarkey Publications.
Do you enjoy the Almanac concept?
And want to ensure it continues in its current form, and better? To help things keep ticking over please consider making your own contribution.
Become an Almanac (annual) member – CLICK HERE.
One-off financial contribution – CLICK HERE.
Regular financial contribution (monthly EFT) – CLICK HERE.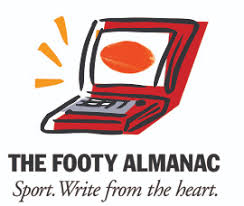 At 80 years of age Citrus Bob is doing what he wanted to do as a 14 year-old living on the farm at Lang Lang. Talking, writing, watching sport. Now into his third book on sports history he lives in Mildura with his very considerate wife (Jenny ) and a groodle named "Chloe On Flinders". How good is that.