Australia v India – Third Test, Day 2: Honours are about even
Third Test, Day 2
The weather is cooler this morning in Sydney but a fine day is predicted. The bowlers should receive some early help.
The Indian bowlers will need to get on top early as both Smith and Labuschagne were looking very ominous late on the first day.  Much will depend on Bumrah, who was not at his best yesterday and the veteran spinners Ashwin and Jadeja.  The injuries to a triumvirate of fast bowlers have not helped their cause, particularly when they are all world class trundlers.
Apologies to third umpire Claire Polosak who has become the first female to be appointed to an official umpiring role in a Test match.
Neither batsmen seem in trouble and they are middling the ball.
Jadeja does come on early.  Rather surprising that he did not bowl more on day 1.
A scud of rain forces players from the field and when they return it is Jadeja and Ashwin bowling.  Containment is the number one priority.
Containment not!
Jadeja turns one sharply and Labuschagne (91) trying to cut too close to his body is well taken by Rahane at slip.  A vital wicket for the visitors Australia 3/206 as players leave the field again because of more rain.  Smith (52) and Wade (1)
Just a comment about the TV coverage, which I rarely see. Sure, Pucovski is the flavour of the month and there have been a few delays in play but do they have to play over and over again the interviews with and about him. Also, can they leave the kid alone in the change rooms and let him relax.  Mind you he is handling it well.
Wade (13) does not help his Test retention when he hoiks at Jadeja only to see the ball skied towards long-off where Bumrah takes a simple catch.  Australia 4/232. A poor shot indeed from the Tasmanian Devil.   Throughout this series it has been poor shot selection that has seen his demise.
With the new ball due Wade's awareness of the situation left a lot to be desired.
The Indians have obviously worked hard on Green and he remained scoreless from 21 balls until Bumrah wraps him on the pad and he is palpably out.   Australia 5/249 with Smith playing a typical SPD innings on 76.
It has been India's morning taking 3 wickets and again showing up the Australian vulnerability in their middle order. Jadeja 2 and Bumrah 1 were the wicket takers.
Nathan Lyon will be rubbing his hands with glee after watching Jadeja bowl this session. Australia will have last use of a turning wicket all things being equal and we know what the Sydney pitch is like on day 5 of a Test.
Paine (1) gets one from Bumrah that nicks back of his pad onto the wicket and India strike early after lunch.  Oz 6/255.
Interesting tactics employed by India now as they try to keep the 'lesser' batsman on strike such is the respect they have for Smith.
It continues when Cummins (0) plays all over a ball from Jadeja and is bowled. Australia are now 7/278. The last three batsmen Green, Paine and Cummins all had lengthy times at the wicket for 1 run between them.
Starc, a good striker of the ball, decided this is not for him and in no time has rattled up 24 while Smith reaches a fine 100 from 201 balls including 13 fours.
Starc (24) has a big hit at Saini and Gill takes the catch.  Australia 8/301 and Lyon (0) goes LBW to Jadeja after Smith decides enough is enough and at 9/315, he goes for the tonk.
Such is Smith's style that bowling to him anywhere in this mood is fraught with danger and runs will flow while he has the strike. He looks manic in his approach.
On 131 he finally goes when he is brilliantly runout by Jadeja which leaves him well short attempting a second run. A wonderful return to form.
Australia all out for 338 with Hazlewood 1 not out. Ravindra Jadeja was the best of the bowlers with 4/62. Bumrah and Saini 2 each and Siraj 1 took the rest.
India took 8/172 after what most pundits thought would be a day of leather chasing for them.
Shubman Gill and Rohit Sharma look at ease opening the innings and despite a couple of near misses they go through to the tea break with the score 0/26.
As usual the Aussie bowlers give nothing away although Starc did bowl quite a few wide of the off-stump in an attempt to entice Gill to play shots.
I liked Gill in his first game in Melbourne and he continues to impress. The ease at which he demonstrates his shot making to me is reminiscence of Mark Waugh at his best.  Minimum of foot work, soft hands and an easy flow of the bat sends the ball rocketing to the boundary.
Gill's partner in crime Rohit Sharma is a veteran of the game and one of the few to score centuries in all formats. He will certainly add confidence to the youngster who will become a fine player for his country now that he has cemented his place in the team.
This is the best opening partnership for India so far this series.
Lyon comes into the attack after a few overs from the quicks.  The wicket has really settled down and the fast trio are not getting that much movement.
Rohit attacks him in his second over and straight drives a very long six, only the second of the match.  Starc has the other.
The score moves along to 70 with no discomfort and some fine strokes from both players. For some extraordinary reason Sharma (26) hits a good length ball from Hazlewood straight back to the bowler for a very comfortable catch on his follow through. It was a break through at the right moment for the home team as the Indian batsmen looked to have settled in for the evening.
Gill reaches a fine half century from 100 balls with 8 fours but falls next over to a superb catch by Green in the gully when Cummins gets a ball to move a fraction away from him. 2/85 and Australia have fought back well in the last 20 minutes.
It is marvellous what a wicket does to a team or both teams for that matter.  Cummins is now beating the bats of both Rahane and Pujara.  One of these would be nice before stumps if you barrack for Australia.
Cummins and Lyon continue to bowl beautifully and I have also noticed that some balls are keeping low.  Could have serious consequences for the Indians by Day 4.
Cummins is given a break after a great spell and Starc returns to seek a break again before stumps.
It has been a long day with play commencing at 10am (ESM) and going on to well after 6p.m.
Starc has gone around the wicket to Pujara and has him in all sorts of trouble with all balls pitched right up to the defending batsman.
Controversy! Just on stumps Rahane pads up to Lyon and it looks out but not given. Animated discussions take place on the field with all 15 men involved. DRS solves it and Rahane is very lucky to be still there. No doubt there will be plenty of discussion in tomorrow's papers.
At stumps India are 2/96 with Pujara 9 and Rahane 5. They have weathered the storm as only experienced batsmen can.
Fine bowling by the Australians who have attacked right to the last ball. Cummins has 1/19 and Hazlewood.
An absorbing day of Test cricket with honours about even but in the long term the Bookies have Australia as pretty hot favourites to win.
To return to our Footy Almanac home page click HERE.
Our writers are independent contributors. The opinions expressed in their articles are their own. They are not the views, nor do they reflect the views, of Malarkey Publications.
Do you enjoy the Almanac concept?
And want to ensure it continues in its current form, and better? To help things keep ticking over please consider making your own contribution.
Become an Almanac (annual) member – CLICK HERE.
One-off financial contribution – CLICK HERE.
Regular financial contribution (monthly EFT) – CLICK HERE.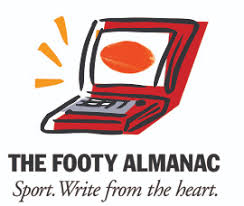 At 80 years of age Citrus Bob is doing what he wanted to do as a 14 year-old living on the farm at Lang Lang. Talking, writing, watching sport. Now into his third book on sports history he lives in Mildura with his very considerate wife (Jenny ) and a groodle named "Chloe On Flinders". How good is that.