Citrus Bob Utber watches the Third Test from his Mildura Den
Photo: Bob Utber
Have been doing my preparation for "the stay-at-home" Test by reading Rudyard Kipling's Kim. Terrible to say but I have never read it, but what a picture of India it paints. Kim reminds me of David Warner but then again anybody who is different in sport reminds me of number 33.
Also been watching the world's best batsman Kane Williamson reel off another big score. I don't want to hear it was against inferior bowling.  Never heard that when Braddles and SPD kept knocking over the tons. Is he the best at the moment?
Williamson's mentor Martin Crowe said of him, "Due to his humility and lack of ego, it is harder for bowlers and captains to get ramped up about the absolute necessity to remove him.  His passive body language gives very little to feed off."
The Kiwis are riding on a high at the moment and are Number 1 in the world. They look certain to play in the World Championship final later this year. Not sure about the financial status of cricket at the top in New Zealand but I bet it is not half as much as what Australia spend trying to reach the summit of the sport.
This is a weird Test if ever there was one. A week ago, the Test was in Melbourne, wicket being prepared etc, but then it was back in Sydney. The power of the SCG Trust and Government persuaded Cricket Australia, yes persuaded them, to leave the game in Sydney.
Was has happened since then has been a soap opera if ever there was one and, now, they (Sydney) could possibly hold the Fourth test there as well.
Should not have any trouble with the umpires in this match with 'Blocker' (1 Test match, 0 runs, 0 wickets) at one end and 'Pistol' (35 Tests, 955 runs and 104 wickets) at the other. Wonder how they will look after their fast-bowling fraternity?
Australia, as predicted, have made two changes – Warner and new-boy Will Pucovski in for Head and Burns. India also two changes from the winning combination in Melbourne – Rohit Sharma and debutante Navdeep Saini for the injured Umesh Yadav and the out-of-form Mayank Agarwal.
Pucovski took strike and looked comfortable to a maiden over from Bumrah who attacked him outside the off strong but the nuggety Victorian was having none of it. Warner, as usual, was showing everyone that he was fit by nudging singles.
Right from before the start of the tour, India have been hamstrung with injuries to their fast-bowling attack and, yet again, for this game with Yadav out. Their new attack has only played 17 Test matches between then as against Australia's 144.
Warner (5) flashes and misses one from Siraj, flashes again next ball, snicks and Pujara takes a comfortable catch. A very poor shot indeed from Australia's premier opener.
Pucovski, looking like a blond Lethal Leigh Matthews, has settled in well and looks solid in more ways than one.
It is halfway through the fifth over before he is bounced, he hooks, four runs.  Next ball straight driven for three. The new boy has arrived in style.
Rain hits the ground after 40 minutes of play with Australia 1/21. By two o'clock there is still no play. The TV commentators are still talking – no wonder I always have the sound down. Are they trying to set a world record for watch-and-talk with nothing happening?
2.45pm and still no cricket but the ground staff are out there with their handblowers. What ever happened to the helicopters that were often available for such a task? Handblowers indeed!
They must have worked because, 15 minutes later, the players were back on the ground.
The Indian bowler's ability to contains is at its best. Pucovski is dropped by Pant when he tried to cut Ashwin and is dropped again by Pant four runs later when the keeper has to run back from an attempted hook shot by the batsman.  They go to the third umpire but it seems obvious that the ball had hit the ground before Pant's last grasp.
Two lucky escapes for the debutante who needed to settle down again. Mind you, it has been a tough debut with the rain delay coming when he was moving very confidently indeed.
Labuschagne is virtually stationary as the bowlers give him nothing to hit and Ashwin is right on target. No sooner said than he hits the off-spinner for two successive fours.
It certainly is Pucovski's day as he should have been run out when on 42.
Rahane has only tried three bowlers so far and the Australian batsmen are starting to get on top. Newcomer Navdeep Saini does come on after 30 overs have been delivered. Goldilocks gets a short one first up and hammers it through the covers and with the second one he brings up his maiden Test fifty with a pull through mid-wicket.  The porridge was just right.
At tea Australia 1/93 with Pucovski 54 and Labuschagne 34, the home side looking like they could put a respectable score on the board before stumps.
Did Pucovski's concentration lapse when Labuschagne made him run down the pitch for a congratulatory handshake for the 100 partnership? I think so, as he played all over the next ball from Saini to be plumb leg before wicket for 62. Australia 2/106.  A first Test wicket for tyro Navdeep Saini.
A good start in Test cricket by Pucovski.  He played some delightful shots forward of the wicket but when confronted with bouncers still has a lot to learn. A solid 62 with a couple of chances but he and coach Langer would be satisfied to a degree.
Smith is hungry for runs and gets off the mark straight away and, as the overs progress, his appetite improves and he is scoring at a run a ball.
Smith's hunger filters through to Marnus who starts to play more fluent shots and reaches a sound 50. He certainly has become the lynch-pin of the Australian batting.
The two "Mr Gadgets" see their way through to stumps as India employ Jadeja and Ashwin to finish off the day quickly.  Despite the lengthy interference through rain, the Indians have bowled 55 overs  and Australia have scored 166 runs for the loss of two wickets. Labuschagne (67*) and Smith (31*). Mohammed Siraj 1/46 and Navdeep Saini 1/32 have been the wicket-takers.
A good battle between bat and ball with Australia having a slight edge on what looks a good batting strip. Smith has returned to form and Labuschagne continues to make runs.
To return to our Footy Almanac home page click HERE.
Our writers are independent contributors. The opinions expressed in their articles are their own. They are not the views, nor do they reflect the views, of Malarkey Publications.
Do you enjoy the Almanac concept?
And want to ensure it continues in its current form, and better? To help things keep ticking over please consider making your own contribution.
Become an Almanac (annual) member – CLICK HERE.
One-off financial contribution – CLICK HERE.
Regular financial contribution (monthly EFT) – CLICK HERE.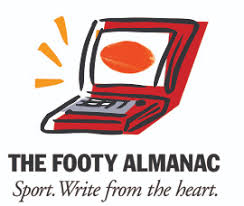 At 80 years of age Citrus Bob is doing what he wanted to do as a 14 year-old living on the farm at Lang Lang. Talking, writing, watching sport. Now into his third book on sports history he lives in Mildura with his very considerate wife (Jenny ) and a groodle named "Chloe On Flinders". How good is that.