Australia v India – Second Test Day 2: Rahane's Timeless Ton
Australia 195 v India 5/277 (AM Rahane 104*, S Gill 45, RA Jadeja 40*) Stumps Day 2
The excitement of walking into the MCG on Day 2 felt akin to the first time I entered the great stadium way back in 1989. My last visit was back in March for the women's Twenty20 World Cup Final. Seemingly a lifetime ago.
Yet it feels like yesterday when I took my two boys to their first day of Test cricket during the Boxing Day Test of 2014, also against India. They were probably too young, but sat attentively through all three sessions. Test cricket converts immediately. They've been every year since. We are grateful to be able to go in 2020.
Upon arrival we are treated to quality Test cricket. Cummins and Hazlewood giving nothing away, always threatening, fast bowling of the highest class. Shubman Gill looks impressive on debut until Cummins takes his wicket. A spectacular diving catch from Paine removes Pujara and thoughts of Australia having a first innings parity or even a lead are on the cards. Even more so when Nathan Lyon takes the wicket of Vihari to have India at 4/116.
Despite the first Test result, there's now a steeliness to the Indian team, epitomised by stand in skipper Ajinkya Rahane. While Rahane grinded away at one end, it was Risbabh Pant who came in and shifted the momenteum of the game with his aggressive style. While he only made 29, Rahane fed off his aggression, his exquisite off-side driving coming to the fore, aided by some missed catches he was away and now fully in control.
At the tea break, we got to meet one of the very best cricket writers/broadcasters/podcasters on the planet in Adam Collins. It can be weird and slightly nerve wracking meeting someone you read and listen to religiously, but he was as warm and as interesting as he sounds on 'The Final Word' podcast.
As the ball got older, the short ball barrage was consistent, – especially at Ravindra Jadeja. It wasn't a hassle to either him or Rahane. How Jadeja ever misses selection in any Indian team completely baffles me.
The new ball brought a further flurry of runs, Rahane relishing the extra pace, Jadeja playing the support role superbly. Steve Smith being out of sorts isn't confined to his batting, dropping a chance in slips he'd normally swallow.
As the sultry, humid Melbourne day turned, the cold wind blew much plastic wrappers and plastic cups onto the ground, interrupting play a few times; never a problem in the days of bottles and tin cans.
Travis Head's attempted catch off the last ball before play was abandoned summed up the Aussies day – had a good grip but failed to hold on.
Having been a keen listener to the '12th Man' CDs in my youth, I thought it was the right time to introduce my 12 and 10 year olds to the magic of Billy Birmingham. I was an avid listener at 10. The classic recording "The 12th Man Again" was popped into the car CD player for the journey down. 10 year old Josh fell asleep. 12 year old Gavin listented with little response. There was no laughter, the recording very much showing it's age. Richie, Tony, Bill and Chappelli belong to a different time. As does Billy B.
But Test cricket is timeless. The boys are as invested now as they were in 2014. I enjoyed being at a day of Test cricket as much as ever. We are staying in East Melbourne and going to Day 3. A boys trip with my sons. Cannot wait to walk to the 'G instead of driving, and being able to watch another high quality day of Test cricket.
To return to our Footy Almanac home page click HERE.
Our writers are independent contributors. The opinions expressed in their articles are their own. They are not the views, nor do they reflect the views, of Malarkey Publications.
Do you enjoy the Almanac concept?
And want to ensure it continues in its current form, and better? To help things keep ticking over please consider making your own contribution.
Become an Almanac (annual) member – CLICK HERE.
One-off financial contribution – CLICK HERE.
Regular financial contribution (monthly EFT) – CLICK HERE.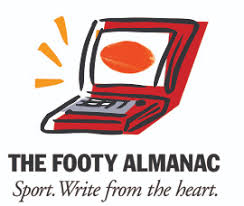 Cricket and Collingwood tragic. Twitter: @crackers134