Ashes 2021-22 – Short Third Man: Pre-series thoughts from Citrus Bob
The hype as presented by the media has been interesting and I wonder whether it will see big crowds at The Gabba on Wednesday. Initially England were seen as having no hope but the introduction of their knight in sauce bottles Ben Stokes has thrown up a different perception of the series. I have never known Australians to be so paranoid of a cricketer as they are of Stokes. Not even Lord Botham or Freddie Flintoff caused this much angst.
Who will win the series? I still expect Australia to win 2 – 0 although the Fifth Test, if it is held in Hobart, could see the visitors making it 2 – 1. Drawn tests seem the favourite to me. Players who hold the key? The two Ollies for England (Robinson and Pope) and for Australia, Cummins (of course).
Speaking of Hobart I hope that CA puts money aside and goes for a game in Van Diemen's land. CA have been disappointing with their attitude towards games in Hobart in the past but the final match there would certainly draw a crowd.
When are we going to see our first Indian-born Test player for Australia? New Zealand could thank their lucky stars that Ajaz Patel and Rachin Ravindra held out for the first test at Kanpur against India with a fighting display in the last 10 overs and of course Patel's 10 wickets in the recent test in Mumbai.
Must have been some sort of cricket record in the first Test when the Kiwis were staving off defeat. 11 Indians in the field, two with Indian backgrounds batting and three reserve umpires!
The meaningless Big Bash got of to a terrible start for Victorians (if you follow the game) last night. I think I know a bit about cricket but I knew so little about these nameless men who were representing the Stars. I predict they will not win a game this series not that it matters.
The racial vilification that is occurring in English cricket and in particular Yorkshire still has away to go but the fallout will continue with further resignations and sackings occurring.
Unfortunately Covid has meant I cannot be at The Gabba to cover the game but armchair daily reports will ensure that 'knackers read a report on our website before they do in any other written media. A big boast but has been the same in recent years.
To return to our Footy Almanac home page click HERE.
Our writers are independent contributors. The opinions expressed in their articles are their own. They are not the views, nor do they reflect the views, of Malarkey Publications.
Do you enjoy the Almanac concept?
And want to ensure it continues in its current form, and better? To help things keep ticking over please consider making your own contribution.
Become an Almanac (annual) member – CLICK HERE.
One-off financial contribution – CLICK HERE.
Regular financial contribution (monthly EFT) – CLICK HERE.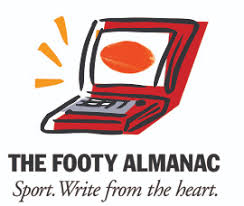 At 80 years of age Citrus Bob is doing what he wanted to do as a 14 year-old living on the farm at Lang Lang. Talking, writing, watching sport. Now into his third book on sports history he lives in Mildura with his very considerate wife (Jenny ) and a groodle named "Chloe On Flinders". How good is that.