Almanac(k) Cricket: The Getting of Wisden
The cricketer's bible. I'd known of it for as long as can remember, possibly absorbed from the cricketer autobiographies that studded my dad's bookshelves, or from the writings of Mike Coward as I pored over every cricket-related word in The Advertiser.  But I reckon I was on the cusp of leaving my teens before I actually saw one, at a bookshop in Rundle Mall.
In its squat bulk it really was rather like a Bible, not what I'd expected. I'd guess I'd imagined something more like the usual periodicals, sort of like a Football Budget only for cricket. I don't think I'd realised it was an annual. A quick flick revealed an alluring mix of statistical tables and articles, but as an impecunious youth I baulked at the cover price.
Fast forward a quarter century or so, and recently retired colleague Dicko comes into my office at work with a proposal. Apparently his better half has put her foot down and insisted on a substantial freeing up of space at home.  An impending downsize may have been a factor. As a result, he was looking to offload the better part of a lifetime's worth of Wisden. Without looking it up, I was certain the commercial value of this collection had to be well into three figures, and I was equally sure Dicko knew it too. But his main concern was that the voluminous volumes went, ideally together, not just to some speculator, but rather to someone who would actually read and appreciate them. Well, that was something I could offer, so hands were shaken and, for a consideration involving a quantity of McLaren Vale shiraz, the deal was done.
Despite best efforts on both my part and hers, my beloved has never been a cricket appreciator. So having borne the tomes home, I faced the same domestic space negotiation issue as Dicko had. After sundry negotiations and sacrifices (farewell, Australia's Heritage), accommodation was found on the staircase shelf.
Thus the journey began, from the earliest in the collection (95th edition, 1958) onwards. So what are the 1000-odd pages of a Wisden like? Large portions are the expected compendium. So many records, pages of permutations from triple centurions to wicket aggregates and team totals, with crowd numbers and gate receipts to boot. Scorecards, of course, for every international first class match, plus County Championship (not that I lingered long on these) and Sheffield Shield. There are other elements I'd heard of, like the featured Five Cricketers of the Year.
But it's a good deal richer than that. Accounts of international tours, including both series overviews and narratives of individual Tests. Portraits of famous players like Peter May, Denis Compton, Richie Benaud and Jim Laker, plus some I'd mostly forgotten about, like the Rev. David Sheppard. One particular gem was a gentleman's reminiscences of cricket that included watching Dr. W.G. Grace play. Another was the 1968 edition tribute to Sir Frank Worrell following his death aged just 42 – what an extraordinary man he must have been, and what a loss. And reading the work of cricket writers that otherwise I knew only by their considerable reputation, like Sir Neville Cardus and R.C. Robertson-Glasgow, John Arlott and Henry Blofeld.
Societal attitudes have undergone some profound shifts since those volumes were penned. Hence it was with some trepidation that I read the accounts of the gathering clouds over South Africa's international cricket status, half-expecting to find some cringe-inducing wish for cricket to proceed irrespective of any diplomatic difficulties or racist team selection policies. But I found the accounts and their respect for principles of fairness stand up very well in today's light.
So far I've reached 1975. A particular fascination has been tracing the rise of players who were previously only introduced to me through appearing fully formed before my seven-year-old self in World Series Cricket. Especially World XI players like Asif Iqbal, Majid Khan, Tony Greig and Mike Procter. Speaking of WSC, I'm looking forward to 1977, and applying full hindsight to see whether there was any inkling of what was coming.
It's a pretty great thing, the original Almanac(k).  What a good idea to have something like it for footy…
To return to our Footy Almanac home page click HERE.
Our writers are independent contributors. The opinions expressed in their articles are their own. They are not the views, nor do they reflect the views, of Malarkey Publications.
Do you enjoy the Almanac concept?
And want to ensure it continues in its current form, and better? To help things keep ticking over please consider making your own contribution.
Become an Almanac (annual) member – CLICK HERE.
One-off financial contribution – CLICK HERE.
Regular financial contribution (monthly EFT) – CLICK HERE.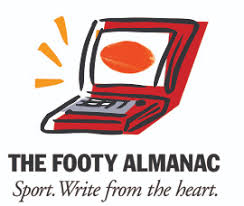 Expatriate Croweater in Tasmania, still following Centrals in the SANFL. You can take the boy out of Salisbury, but...