Almanac TV: A brief letter of thanks to Ricky Gervais for "After Life"
Dear Ricky Gervais,
I feel that I need to thank you. We have never met. And we are unlikely to ever meet, yet I feel compelled to write this brief thank you. This is not a review. I am not being paid to write this. But writing this is something I need to do.
Thank you for your Netflix show "After Life."
I read today that After Life was the most watched Netflix show on Earth for the month of March. So perhaps this wee note is superfluous.
==
She packed my bags last night pre-flight
Zero hour nine AM
And I'm gonna be high as a kite by then
I miss the earth so much I miss my wife
It's lonely out in space
On such a timeless flight
==
So many of us away on timeless flights.
Not of our choosing.
We know grief.
"I'd rather be nowhere with her, than somewhere without her."
-Tony, After Life
Depression; zero gravity.
One foot and then the other.
Into a vacuum.
(What is the fucking point?)
Loss.
And I think it's gonna be a long long time
'Till touch down brings me round again to find
I'm not the man they think I am at home
Oh no no no I'm a rocket man
Rocket man burning out his fuse up here alone
==
Thank you for portraying grief and depression with your art.
Your humour.
Your withering insults and character assassinations.
"Stop reading my postcards, you nosey, scruffy, cunt."
-Tony, After Life
==
Navigating loss is like navigating a rowboat; a rowboat in which you share paddling duties with someone deaf, dumb and blind. Loss of a loved one, a family member; loss of self.
Getting out of bed can feel like entering life on Mars.
And make about as much sense.
==
Mars ain't the kind of place to raise your kids
In fact it's cold as hell
And there's no one there to raise them if you did
And all this science I don't understand
It's just my job five days a week
A rocket man, a rocket man
==
Thank you for making After Life.
Thank you for your ideas, your humour, your courage and your skill.
Your skill and art in plotting a path from apathy to care.
Your indication that harrowing times do end; that they can end, anyway.
Thank you for sharing these things with us; and sharing them in such a way that I reckon you have illuminated the meaning of life.
"Happiness is amazing. It's so amazing it doesn't matter if it's yours or not".
-That lady on the park bench in the cemetery whose name I forget, After Life.
==
Thank you for showing life in the daily minutiae. Random encounters, overheard conversations, walking the dog. Your After Life, your story… depicting the daily navigations made by Joe & Jo Public through sadness, depression and loneliness I found as a beacon of empathy and hope.
People connecting with each other. From local newspaper delivery men to prostitutes ("sex workers!"). From banal colleagues to fat little ginger kids.
In response I've started collecting everyday interactions on Twitter at #hourlydaily.
We all burn out our fuses here alone. Of course we do. You have made a massive difference to at least this flight. Thank you.
And I think it's gonna be a long long time
'Till touch down brings me round again to find
I'm not the man they think I am at home
Oh no no no I'm a rocket man
Rocket man burning out his fuse up here alone
-Rocketman, Elton John
Cheers,
David Wilson
For more from E.regnans, CLICK HERE:
Do you really enjoy the Almanac concept?
And want to ensure it continues in its current form, and better? To help keep things ticking over please consider making your own contribution.
Become an Almanac (annual) member – CLICK HERE
One off financial contribution – CLICK HERE
Regular financial contribution (monthly EFT) – CLICK HERE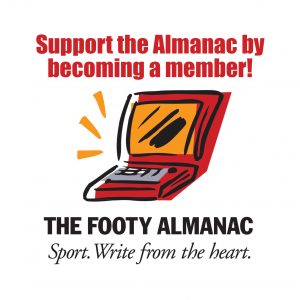 David Wilson is a writer, editor, flood forecaster and former school teacher. He writes under the name "E.regnans" at The Footy Almanac and has stories in several books. One of his stories was judged as a finalist in the Tasmanian Writers' Prize 2021. He is married and has two daughters and the four of them all live together with their dog, Pip. He finds playing the guitar a little tricky, but seems to have found a kindred instrument with the ukulele. Favourite tree: Eucalyptus regnans.