Almanac (SANFL) Footy – Glenelg v Norwood: Quarter time in Chernobyl
"If only people would label things," announces Trev.
Instead of, "Hello, how are you?" this is his customary greeting, and he lurches up to the table.
Pete also pulls out his chair in the Glenelg footy club bistro. We remove our masks. We have permission. We will be drinking and eating while seated. No vertical consumption. Just vigorous consumption. We all grew up in Kapunda.
Of course, straight away we speak of Chernobyl and Fukushima, both Level 7 on the International Nuclear Event Scale. After all, we're about to watch a battle between first and fifth on the SANFL ladder. Traditional rivals. Finals loom.
I mention an old friend who grew up in Poland and was at kindergarten during the Chernobyl incident in 1986. She remembers being told to not go out in the playground the week after the No.4 reactor went on the fritz. Trev wonders if they closed the kindy windows too. You know, as a precaution.
Lunch arrives and it's excellent. The boys are on the Japanese beers. It may be a Fukushima tribute. I'm on the Little Creatures pale ale. It's not a Fremantle tribute. We're all pleased we don't have shares in the Pripyat pub, near the frozen Ferris wheel.
We claim our seats on the 50-metre arc, at the southern end, just in front of the Edward Rix Stand. Pete's happy to be catching some Vitamin D. I'd never abbreviate this sentence to "catching some VD." He and his family's only just completed a fortnight of quarantine after his wife was caught in a "hotspot" at the Burnside hospital. When I was a boy Lennie's, The Planet and Heaven on West Terrace were the only hotspots.
The footy's underway.
It's cloudy over the hills, but sunny by the beach. We wonder if it's hailing in Belair. Other Kapunda mates are at Williamstown in the Barossa as the Bombers try to sneak into the finals. Up there's a very wet winter. Trev wonders if it's more suited to submariners. I ask about folks eating a marinara sub. It's probably bad news for all.
We speak about life with the virus like we're in an Atwood novel. I mention that the night before we were supposed to go see the Whitlams at the Gov. A Sydney band, I maintain their best song's titled "Melbourne" about a girl, "who calls her dog The Bear." But the eastern seaboard lockdown means they couldn't come. Of course, if they were GWS, they could. We wonder about the injustice of this. Footy and live music are both in the bucket called entertainment.
There's talk of Clare wineries such as Skillogalee which was just sold by our former PE teacher and footy coach.  Pete announces he's embarking on a cabernet sauvignon self-education course. He's become too comfortable with shiraz. Trev and I chorus, "Coonawarra."
Pete mentions popular racehorse Morty, which shares a name with an identity back home in Kapunda. I check to see if it's done well. It hasn't. The Astrologist salutes at Flemington in race 8 for me. My horoscope told me it would.
It still looks dark and wet up in the Hills. We wonder how the footy's going in Belair. Good day for back men we reckon. At half-time in Glenelg there's kick and catch.
Trev played drums in some prominent Adelaide bands including Imelda's Shoes. Still a great name, we agree. He was asked to audition for another band but declined as he was happy where he was. They were called The Superjesus.
A prodigious kick, Pete played full back for Kapunda in the 1987 grand final. They lost to Tanunda. The day started warm, but it was pouring by the final siren. I remember driving home from Freeling in a mate's Torana. In the cassette deck was popular saxophonist Grover Washington's Winelight and, "Just The Two Of Us" with Bill Withers on vocals. It features extensive use of steel drums, but we don't mention this.
Inflicted with the same calamity as the AFL there's loudspeaker music at the breaks and it's too loud. A splash of plutonium in the footy club PA could be timely.
Then Pete talks of the trip he and his family made recently to Port Arthur and its tragic natural beauty and I speak of Arkaroola as a single-visit only destination to use a tourism term I just invented. Then we discuss the Prince of Wales pub back home going on the market for the first time in nearly forty years.
Like Hawthorn for most of this century, Glenelg find a way, somehow. They're now 15 and zip. It still looks grim over Belair, but Chernobyl oval's in the longest winter of all.
We'll all watch the footy together again soon.
You can read more from Mickey HERE.
The Tigers (Covid) Almanac 2020 will be published in 2021. It will have all the usual features – a game by game account of the Tigers season – and will also include some of the best Almanac writing from the Covid winter.  Pre-order HERE.
To return to our Footy Almanac home page click HERE.
Our writers are independent contributors. The opinions expressed in their articles are their own. They are not the views, nor do they reflect the views, of Malarkey Publications.
Do you enjoy the Almanac concept?
And want to ensure it continues in its current form, and better? To help things keep ticking over please consider making your own contribution.
Become an Almanac (annual) member – CLICK HERE.
One-off financial contribution – CLICK HERE.
Regular financial contribution (monthly EFT) – CLICK HERE.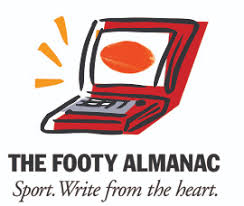 Favourite film: The Shawshank Redemption Favourite song: Khe Sahn Favourite holiday destination: Gold Coast Favourite food: steak Favourite beer: VB Best player seen: Dogga Worst player seen: Frogga Last score on beep test: 3.14159 Favourite minor character in Joyce's Ulysses: Punch Costello