I have never gotten over my beloved Balmain Tigers merging 22 years ago. I chose the option to abandon Rugby League (and throw out 98% of my wardrobe) as I shed a tear in my eye exiting Canberra's arctic Bruce Stadium on our final day in 1999. Feeling overly nostalgic, after watching one too many 1980's retro rugby league replays on Foxtel in Covid lockdown, I felt compelled to part with a fair chunk of cash and purchase a retro 1989 Tigers jumper. It just felt right after all these years.
Perhaps I am being overly dramatic but a part of my identity disappeared on that day back in 1999. I was the kid, and then the awkward teenager, that was always wearing his Balmain kit – even when we spent years propping up the ladder in the 1990's. I carried the nickname 'Sirro' (proudly) and followed the team with a childlike passion and intensity. I dare say wearing fluorescent orange and black tracksuits around the University of Canberra did me little favours when it came to attracting the opposite sex. Decades on I am still known as 'Sirro' to my University crew. I still have the letter the great man wrote me in the early 90's in response to a fan letter. I was as true a Tiger as you could find.
Sironen, Roach, Jack, Brasher and co were the heroes of my childhood. As a youngster my vivid memories were the heartbreaks of back to back Grand Final loses in 88/89 and then a pretty bleak period from 1992 onwards whereby we never made the finals. In the 'prehistoric' days before Foxtel, the Tigers didn't get much main game free to air television coverage, so I would be huddled next to the radio listening to the ABC Grandstand around the grounds coverage, often fatalistically waiting for Lex 'The Swine' Marinos to tell me every 11 minutes that Balmain had conceded another try. I loved those Sunday afternoons and, after the rare victories, being able to strut into the gates at Mount Austin High School in Wagga Wagga on a Monday.
I learnt the value of loyalty by sticking with the Tigers through the 1990's. The value of supporting a team win, lose or draw. Seeing greats like Sirro and Blocker stay true one-club players, even in dark times, really left an impression with an impressionable youth. Today I count loyalty as one of my strongest character traits – perhaps this is the greatest legacy of my being a 'Balmain' boy?
Another highlight of my days as a Tiger was renting an AVIS minibus (with questionable mechanics) and travelling to Leichardt Oval with 10 University mates as part of my 21st birthday celebrations. It is fair to say I've stayed in a few more salubrious digs than the Balmain PCYC in my time, but I will never forget that day on the hill as we overcame the Panthers and the night seemingly exploring every drinking hole Sydney had to offer, before collapsing into the bunk beds like a bunch of 11 year old's on their first school camp. It was pretty tough to find a 'competent' designated driver to pilot us home on Monday!
The very reason I found myself studying Sports Management at the University of Canberra was that I had made a haphazardly contemplated decision at 17 that I would forge a career that would lead me to one day working at the Tigers as CEO and taking us to the Holy Grail of the Winfield Cup! When we merged half way through my degree I quickly needed to pivot!
Why didn't I jump on the merger with Wests Magpies? I could write an essay but long story short it just didn't feel right. I watched the first few games in 2000 but somehow the interest and drive just wasn't there. Perhaps it would have come over time, yet I didn't give it the chance I guess. I just cut rugby league out of my life. I wonder how many others did? It was made easier as I moved to Melbourne the following year and as anyone who lives in Melbourne knows, you can certainly hide from rugby league if you wish to.
Over the decades that followed I would tune into Origin and Grand Finals but just didn't want to connect with the Wests Tigers. I watched the 2005 Grand Final (after being coaxed into it by a roommate) but it didn't illicit any strong feelings. As Mrs D will tell you, I am pretty set in my ways and can hold a grudge at a grade 10 level if need be. I understand why the Tigers had to merge. I wish the Wests Tigers nothing but goodwill, but it's not my team. As it turns out I guess I found out that I didn't love Rugby League… I just loved the Balmain Tigers.
When my new/old jumper arrived in the post a few days back, all those great memories of my childhood came flushing back. I couldn't help myself but put it on and just stared at the mirror for 5 minutes. I was 14 again for a brief moment. I wanted to find a Steedon, tape up my ears with white electrical tape and have someone run at me in the backyard! After 15 minutes my equilibrium returned.
I shared images of my new jumper with mates of Schoolday vintage (some I hadn't spoken to for years) and we connected over social media (as you do these days) remembering the days of 'ARVO' – essentially the moniker we gave our regular after school rugby league pick up games. There was never much actual Rugby League played to be honest. It was simply an opportunity to run at each other and pull off crude shoulder charges. As a mate accurately put it, "We were lucky the Mount Austin Teachers never gave us any homework and that someone wasn't seriously injured!"
I've spent 22 years trying to distance myself from the Balmain Tigers, but each time I see an old replay on the tv I keep getting brought back to my youth and great times. I can't erase the Balmain Tigers and nor should I. The Balmain Tigers were such a special part of my life growing up – that should be embraced, not run from.
I put the jumper back on as Mrs D and the kids arrived home (to see the response). Mrs D simply said in a blunt tone, "Gee that orange is bright, are you going to wear that outside?". What didn't need to be said was that she wouldn't be caught dead walking with me wearing it outside. The kids were puzzled – they don't know Dad's history, nor have they had any real exposure to the game. Jack just said, "the Tiger looked cool".
I think I'll wear it in public on selected occasions, if nothing more than to search for that elusive nod of respect from some random punter who gets the jumper. It may be a 1 in 1000 shot in Melbourne but the payoff will be worth it. For now I'm just happy to have it in the closet, as I know each time I look at it I will smile and be taken back to a time of youth, innocence, passion and boundless enthusiasm. Once a Balmain Tiger, ALWAYS a Balmain Tiger.
We'll do our best to publish two books in the lead-up to Christmas 2021. The Tigers (Covid) Almanac 2020 and the 2021 edition to celebrate the Dees' magnificent premiership season(title is up for discussion at the moment!). These books will have all the usual features – a game by game account of the Tigers and Demons season – and will also include some of the best Almanac writing from these two Covid winters. Enquiries HERE.
To return to our Footy Almanac home page click HERE.
Our writers are independent contributors. The opinions expressed in their articles are their own. They are not the views, nor do they reflect the views, of Malarkey Publications.
Do you enjoy the Almanac concept?
And want to ensure it continues in its current form, and better? To help things keep ticking over please consider making your own contribution.
Become an Almanac (annual) member – CLICK HERE.
One-off financial contribution – CLICK HERE.
Regular financial contribution (monthly EFT) – CLICK HERE.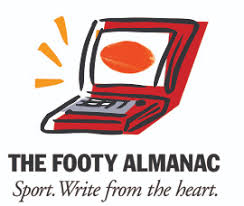 Born in the sporting mecca that is Wagga Wagga and now reside in Melbourne with my lovelly wife Sophie and son's Jack and Harry. Passionate Swans supporter and formally played cricket at a decent level and Aussie Rules at a not so decent level! Spend my days now perfecting my slice on the golf course and the owner of the worlds worst second serve on the tennis course.