Almanac Rugby League – State of Origin, Game 3 preview: Are we in for a Lang Park special?
New South Wales will take an unchanged line-up into tomorrow night's deciding Game 3 of the 2020 State of Origin series at Lang Park. Why shouldn't they after their big win in Sydney last week? They have to be very confident. What's more, the bookies like them at $1.43 to outsider Queensland's $2.90. It's hard to argue with that.
Queensland, by comparison, will be relying on a constant theme from throughout the 40 years of the Origin concept – 'we are the huge underdogs but our spirit, our passion for Origin, is better than theirs, so have faith in us'. Who am I to cast aspersions on them?
For me, it comes down to the impact the following factors play in the game: the Queensland forwards, Cameron Munster, Damian Cook and Nathan Cleary, and Lang Park. The Queensland pack has to be much, much better than last week to hold the middle of the field and, if possible, dominate it; Munster has to play and play at his peak for the Maroons to be an even chance; Cook has to keep running selectively and Cleary has to maintain his kicking game in particular to corral the Maroons and force them to fight from deep in their own half; the Lang Park crowd has to be in full voice, regardless of the scoreboard, to try to get under the Blues' skin and intimidate them out of the contest.
Forget about Tino v Payne, Dane v Jack or Xavier v Josh. They're just fringe acts by comparison. The real influence will be closer in. If Queensland can dominate the middle, Cleary and Cody Walker get neither time nor space and Tedesco has no-one to run off. Instead, Munster gets the opportunity to strut his stuff. That's where it will be won or lost. From a Queensland perspective, Damien Cook is the most constant threat because he touches the ball more than anyone. Can Jake Friend, staunch but stodgy, or debutant Harry Grant, audacious but raw, contain him?
I got it right last week: NSW at home comfortably. This week I sense an upset. The heart, as always, says Queensland; the head (as well as cold, hard reality) says the Blues. Let's hope the men put on as good an exhibition as the women's game on Friday night. And good luck to Queensland debutants Harry Grant and Corey Allan.
To return to our Footy Almanac home page click HERE.
Our writers are independent contributors. The opinions expressed in their articles are their own. They are not the views, nor do they reflect the views, of Malarkey Publications.
Do you enjoy the Almanac concept?
And want to ensure it continues in its current form, and better? To help things keep ticking over please consider making your own contribution.
Become an Almanac (annual) member – CLICK HERE.
One-off financial contribution – CLICK HERE.
Regular financial contribution (monthly EFT) – CLICK HERE.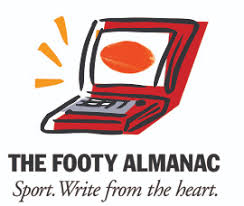 A relaxed, Noosa-based retiree with a (very) modest sporting CV. A Queenslander through and through, especially when it comes to cricket and rugby league. I enjoy travel, good coffee and cake, reading, and have been known to appreciate a glass or three of wine. As well as being one of Footy Almanac's online editors, I moonlight as an editor for hire - check me out at www.writerightediting.com.au