Almanac Rugby League – QRL Intrust Super Cup: 2019 season kicks off today
The new Intrust Super Cup season has crept up on us. Hardly surprising given the modest space afforded it in the daily press! So you might be surprised to know that Round 1 actually kicks off today with three games spread out from Brisbane (Langlands Park) via the Sunshine Coast (Sunshine Coast Stadium) and up to Cairns (Barlow Park).
Each new season sees a large turnover of players at every club, so it's a bit difficult to get too much of a handle on each team's prospects. Just have a look at this morning's The Courier Mail  to get an idea of the extent of the changes. We might need to see a month of footy before we can get a clearer picture of where it's all heading.
Meanwhile, the pundits seem to be playing it safe by nominating the traditional powerhouses as the leading contenders for the 2019 title. Defending premiers the Redcliffe Dolphins start the season as favourites ahead of the Townsville Blackhawks, Easts Tigers, the Burleigh Bears and the Sunshine Coast Falcons. It's hard to argue with that assessment. The wildcards for me look like being the Ipswich Jets (with their unorthodox style under the coaching of the Walker brothers) and perennial contenders the Wynnum Manly Seagulls. Norths Devils and the PNG Hunters might also give their opponents a fright.
I'll be supporting the Dolphins, as always, but this time round that's more a case of the heart overruling the head when you see that they'll be without Sam Anderson, Toby Rudolph, Tom Opacic, Jonus Pearson and the finally-retired Nick Slyney from their 2018 premiership team. It might depend on which Broncos players are available under the feeder club arrangement, for example Kotoni Staggs.
Weekly television coverage on Channel 9 this year reverts to Sunday afternoons as a lead-in to the NRL's televised Sunday game. Tomorrow it's Ipswich Jets v Townsville Blackhawks from the North Ipswich Reserve at 12.10pm. (And, as usual, you'll probably find me doing my weekly ironing in front of the screen – it helps to ease the pain!)
The Round 1 fixture is:
Today:
Easts Tigers v Mackay Cutters at Langlands Park, 4.30pm
Sunshine Coast Falcons v Wynnum Manly Seagulls at Sunshine Coast Stadium, 5.30pm
Northern Pride v Redcliffe Dolphins at Barlow Park, 6.00pm
Tomorrow:
Ipswich Jets v Townsville Blackhawks at North Ipswich Reserve, 12.10pm
Tweed Heads Seagulls v PNG Hunters at Piggabeen Sports Complex, 2.05pm
Souths Logan Magpies v Central Queensland Capras at Davies Park, 3.00pm
Norths Devils v Burleigh Bears at Bishop Park, 3.00pm
One more thing: I was talking to my ex-BRL premiership winning friend Grahame Cronk yesterday. We were chewing the fat about the new season and the game in general. His question: why isn't there a Toowoomba Clydesdales team in this competition? After all, Toowoomba and the Darling Downs has always been a powerhouse of rugby league talent in Queensland.
And another thing: Vale Billy J Smith Junior, rugby league urger, colourful commentator and personality extraordinaire who passed away last week and whose funeral yesterday attracted the code's royalty with standing room only. The game has lost part of its voice.
To find out more about Almanac memberships CLICK HERE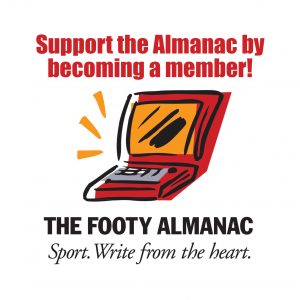 A relaxed, Noosa-based retiree with a (very) modest sporting CV. A Queenslander through and through, especially when it comes to cricket and rugby league. I enjoy travel, good coffee and cake, reading, and have been known to appreciate a glass or three of wine. As well as being one of Footy Almanac's online editors, I moonlight as an editor for hire - check me out at www.writerightediting.com.au