Almanac Rugby League – NRL Round 3: Brisbane Broncos v St George Illawarra Dragons
Round 3 of the NRL got off to a great start when the Dragons kicked a field goal in the last few seconds of the match to grab a 25-24 result over the Broncos.
If I'm honest, the Broncos were very fortunate to get this close after the error-laden home side gave away too much easy ball, conceded several silly penalties and muffed a couple precious opportunities to steal the result. Put it down to greater composure by the Dragons in the key moments.
Several things will haunt the Broncos from this loss. Their handling was very poor, including a couple howlers by the usually reliable Isaako and Oates; a slow start conceded 10 points in the first ten minutes; their kicking game was never threatening, allowing St George easy metres on the return; two of the better players for the Dragons were ex-Broncos, Ben Hunt and Corey Norman (who kicked the winner); while their young forwards ooze talent, they lack a hard-headed leader to organise them; Milford and Nikorima flash in and out of the game too much – probably this is the key issue facing the club.
On the bright side for the Broncos, Jack Bird had probably his best game for Brisbane; Darius Boyd seems to have his mojo back this year; Andrew McCullough was solid throughout (but lacks that spurt out of dummy-half); in spite of all their errors, they had a real chance of winning right up to those final seconds, so something must be going right; give those young blokes another 30-40 games under their belts and they'll be champions.
The Dragons? Better by far in the halves – running, kicking and organising; three experienced hard heads up front – Graham, Vaughan (terrific tonight) and Tariq Sims; an effective, if unheralded, back line; Widdop at the back – but a late shoulder injury looked serious.
The referees and the Bunker had a pretty good night.
Both teams now sit at 1-2 for the season. They'll need to find another, more consistent gear very quickly or they'll find themselves off the pace and playing catch-up.
St George Illawarra 25:
Tries: McInnes, Pereira, Ravalawa, Korbin Sims
Goals: Widdop 4/5
Field Goal: Norman
Brisbane 24:
Tries: Oates, Roberts, Glenn, Bird
Goals: Isaako 3/3, Nikorima 1/1
To find out more about Almanac memberships CLICK HERE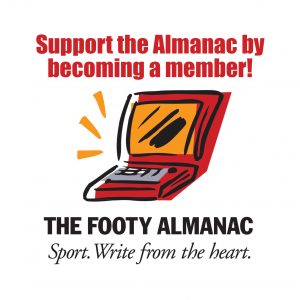 A relaxed, Noosa-based retiree with a (very) modest sporting CV. A Queenslander through and through, especially when it comes to cricket and rugby league. I enjoy travel, good coffee and cake, reading, and have been known to appreciate a glass or three of wine. As well as being one of Footy Almanac's online editors, I moonlight as an editor for hire - check me out at www.writerightediting.com.au