Almanac Rugby League – NRL Round 25: A bag of mixed selections
I'm pretty much over the whole Latrell Mitchell/Joey Manu imbroglio and notions of a new chapter in The Book of Feuds (although Mark Courtney may have other ideas). It seems to me that far too many words and too much space has been taken up by something that, in essence, seems quite simple to me. Mitchell went into the tackle at full force, probably recklessly but with no intention to maim; Manu was at less than his full height as he pivoted to turn infield; consequently the hit came at head height rather than at shoulder level. Six weeks on the sidelines for Mitchell seems about right; Manu and the Roosters are left to rue the impact, both physically on Manu and on the Roosters' season which seems to have been a never-ending saga of injuries and retirements.
But take a look at the 17 the Bondi Boys can still put on the paddock tonight. Crichton is back from injury, JWH is over his niggles (let's hope he keeps his head in the heat of the contest), and Josh Morris returns for one last hurrah before retiring at the end of the season. Plus they're playing for a chance to claim 4th spot. The Raiders also have their best team on the paddock and need to win to have a shot at 8th spot. The earth will tremble in this one. Although they copped a shellacking last weekend, I think the Roosters will bounce back and win.
Tomorrow, the Sharks will go into their game at full strength against the Storm while Melbourne will appear as 'Purple Light' after injuries, suspensions and several players being rested. Resting so many is interesting given that the minor premiership is still up for grabs but I expect that Bellamy is also giving his second-stringers a good workout and match time before the finals commence. I won't be surprised if the Sharks steal this one and we see the unusual site of two Storm losses in a row.
The Eels have also gone with resting several key players even though a top four spot is still within reach. Maybe they're trying to bottle whatever it was they found last week when they dominated the Storm! The Panthers are at full strength with an eye on pre-finals fine-tuning and the minor premiership, all of which means there can only be one winner.
On Saturday afternoon, the safe-in-7th Knights take on the 'we've-seen-a-bit-of-hope-at-last' Broncos at Suncorp Stadium. The Knights are coming together at the right time, even though I doubt it's enough to last long into September. The Broncos will have a bit of an emotional factor going for them as they farewell Xavier Coates, Anthony Milford and, especially, club captain and long-serving stalwart Alex Glenn. It won't be enough to pull off a surprise. Newcastle comfortably.
The Sea Eagles will be looking to hold on to 4th place when they meet the inscrutable Cowboys up north. That will be enough for Manly to win. But how do you explain the Cowboys' second half effort last weekend against the Dragons? They should be swabbed but, instead, will ride off into the sunset at day's end.
South Sydney will appear as 'Bunnies Light' when they take on the Dragons on Saturday night. Adam Reynolds gets the rest he needs – along with Turbo Tom, Reynolds is the individual player who is most important to his team's success. This was well illustrated during his time off the field last week which saw the Rabbitohs lose their shape and system against an aggressive Roosters side. Reynolds came back on, it all clicked and away they went. The Dragons will be only too glad to hear the final whistle and slink off into the shadows.
On Sunday, the Titans are a mathematical chance of sneaking into 8th spot if both Cronulla and Canberra lose and the Titans have a big win over the Warriors. I can't see it happening for any number of reasons, including lack of scoring power and a very willing opponent who will not lie down and allow themselves to be used as fodder. For the umpteenth time this season, 'bravo, Warriors' for your commitment, persistence and willingness to make the sacrifices necessary to fulfil your involvement in the comp. I think you might even snatch this one as a deserved farewell gift.
Finally, the Tigers and the Bulldogs meet in this week's 'who cares' match. What a fizzer to see out the minor season. Both will head off to a Covid-restricted, not very Mad Monday. I'll go for the roughie and pick the Belmore lads to get up.
So my winners this weeks are the Roosters, Sharks, Panthers, Knights, Sea Eagles, Rabbitohs, Warriors and Bulldogs. (I can hear Sir Humphrey saying, "Courageous!")
Thursday September 2
Raiders v Roosters, BB Print Stadium, Mackey, 7.50pm
Friday September 3
Sharks v Storm, Cbus Super Stadium, Mackay, 6.00pm
Eels v Panthers, Cbus Super Stadium, 8.05pm
Saturday September 4
Broncos v Knights, Suncorp Stadium, 3.00pm
Cowboys v Sea Eagles, Queensland Country Bank Stadium, 5.30pm
Rabbitohs v Dragons, Sunshine Coast Stadium, 7.35pm
Sunday September 5
Titans v Warriors, Cbus Super Stadium, 2.00pm
Tigers v Bulldogs, Moreton Daily Stadium, Redcliffe, 4.05pm
Venues and times are current at the time of publication but please check for late changes.
To read more Almanac pieces by Ian click here.
To return to our Footy Almanac home page click HERE.
Our writers are independent contributors. The opinions expressed in their articles are their own. They are not the views, nor do they reflect the views, of Malarkey Publications.
Do you enjoy the Almanac concept?
And want to ensure it continues in its current form, and better? To help things keep ticking over please consider making your own contribution.
Become an Almanac (annual) member – CLICK HERE.
One-off financial contribution – CLICK HERE.
Regular financial contribution (monthly EFT) – CLICK HERE.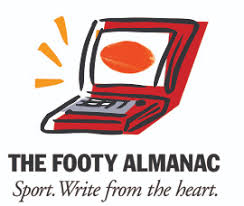 A relaxed, Noosa-based retiree with a (very) modest sporting CV. A Queenslander through and through, especially when it comes to cricket and rugby league. I enjoy travel, good coffee and cake, reading, and have been known to appreciate a glass or three of wine. As well as being one of Footy Almanac's online editors, I moonlight as an editor for hire - check me out at www.writerightediting.com.au