Almanac Rugby League – NRL Round 19: Mind the gap!
There weren't a lot of significant takeaways from Round 18 but I did notice these morsels: Melbourne Storm are in ominous form even though not at full strength; Nicho Hynes is the find of the year; Penrith, already equal first, can only improve when Cleary and Luai return; the Eels seem to have a little more steel in their character this season; the Sea Eagles did very well without DCE and the two Trbojevics, a significant win under those circumstances; the Raiders revival continues; the Knights are pretenders; the Broncos v Tigers match was the worst I've seen for a long time.
From the perspective of aesthetics, I can't see Round 19 providing much about which to be enthused. Essentially, it's top teams v constituents of 'the rest'. Resultant points differential moves might well be the spotters' focus. 'The gap' will become even wider.
Tonight features the most interesting clash of the Round, Eels v Raiders. Both are on the up at the moment and both have plenty of incentive. The Eels (4th) want to keep a 2-game gap ahead of the Roosters while the Raiders (9th) want to get into the 'Eight'. Expect this to be fiercely contested from go to whoa. I'm a bit torn because I'd like to see the Raiders continue their (too late) surge but you'd be brave to go against the Eels. I think I'll stick with the ladder and go with Parramatta.
Tomorrow I think the Roosters, with Teddy back on board, will put the Knights to the sword. Newcastle promised so much early on in the season but seem to have fallen away badly. If Ponga is out after a head knock, it will be even worse. The Roosters are coming good in spite of their personnel losses earlier on but that gap between 5th and 4th might prove a bit too much to overcome. Cowboys v Storm? One shudders to think about what might happen. All that remains to be seen is the margin. It will be more like a cyclone than a storm hitting Townsville!
Come Saturday, I'll be watching the Rabbitohs take on the Warriors on the Sunshine Coast. The Bunnies took a while to hit their straps last weekend but I think they'll be back on song this week after regaining everyone from Origin and with a renewed focus. The Warriors will be their usual brave selves but it won't be enough. Bloody Wests Tigers – they who flatter to deceive. Let's see what they're made of when they confront the Sea Eagles. I expect cold, hard reality to assert itself and the Tigers will be put back in their cage. Manly, like Souths, will click back into gear and watch them go! Then the Panthers will try to improve their differential against the Broncos. Again, it could be scary! Any margin below 30 will be a good effort from the bumbling Brisbane boys.
On Sunday, it's the Incident of the Inconsequentials – Dragons v Titans. What a disappointment they've both been – off the field in the case of the Dragons, and on the field with regard to the Titans. I'm going with the Titans on their home ground (even if it's technically an away game) because the Dragons don't deserve to prosper given their recent foibles. I hope the real Titans show up. Finally, the Bulldogs and Sharks will snarl and bite at each other. The Sharks are defending a top eight spot while the Bulldogs have to win to get away from wooden spoon territory. I think the Sharks will have enough bite to win.
So my winners this week are the Eels, Roosters, Storm, Rabbitohs, Sea Eagles, Panthers, Titans and Sharks.
Thursday July 22
Eels v Raiders, Cbus Super Stadium, 7.50pm
Friday July 23
Roosters v Knights, Sunshine Coast Stadium, 6.00pm
Cowboys v Storm, Queensland Country Bank Stadium, 7.55pm
Saturday July 24
Rabbitohs v Warriors, Sunshine Coast Stadium, 3.00pm
Sea Eagles v Tigers, Suncorp Stadium, 5.30pm
Panthers v Broncos, Suncorp Stadium, 7.35pm
Sunday July 25
Dragons v Titans, Cbus Super Stadium, 1.50pm
Bulldogs v Sharks, Cbus Super Stadium, 4.05pm
Venues and times are current at the time of publication but please check for late changes.
To read more Almanac pieces by Ian click here.
To return to our Footy Almanac home page click HERE.
Our writers are independent contributors. The opinions expressed in their articles are their own. They are not the views, nor do they reflect the views, of Malarkey Publications.
Do you enjoy the Almanac concept?
And want to ensure it continues in its current form, and better? To help things keep ticking over please consider making your own contribution.
Become an Almanac (annual) member – CLICK HERE.
One-off financial contribution – CLICK HERE.
Regular financial contribution (monthly EFT) – CLICK HERE.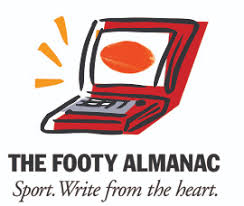 A relaxed, Noosa-based retiree with a (very) modest sporting CV. A Queenslander through and through, especially when it comes to cricket and rugby league. I enjoy travel, good coffee and cake, reading, and have been known to appreciate a glass or three of wine. As well as being one of Footy Almanac's online editors, I moonlight as an editor for hire - check me out at www.writerightediting.com.au