Almanac Rugby League – 2020 State of Origin, Game 1: (Unlikely) History repeats
It's State of Origin, Game 1, 2001. Queenslanders are nervous.
We're coming off a 3-0 drubbing the previous year, a series which finished with that infamous 56-16 loss.
Game 1 of 2001 is at Lang Park, the last Origin game at Lang Park before it's to be demolished for re-development into the spic and modern Suncorp Stadium. Queenslanders come from all over the state to farewell the storied ground, but not expecting much from the Maroons on the night. They're well-watered, sucking on cans and draining rums. The familiar smell of weed wafts through the Autumn evening across the terraces. The joint is absolutely rocking.
Ten debutants are included in the home team and, as they run out behind skipper Gorden Tallis, Darren Lockyer, who is in the No. 1 jersey, isn't expecting much from the young side. He spots John Buttigieg, plodding along, up ahead. "Look at the guts on that!" he thinks to himself.
In one of the opening plays of the night, Lockyer fields a kick deep in his own half, in centrefield, looks up and spots Tuqiri who's lurking to his left. He takes off, runs straight at a Blues defender and links with Tuqiri, a beautifully timed pass which puts the winger away down the left side. He's quick. The crowd erupts. Lockyer has worked his way in front of the chasers. Tuqiri finds Locky inside. And he sprints 20 metres to the line. Another sensational Lang Park moment.
The Queenslanders settle. First-timers like Petero Civinoceva and Carl Webb play their roles. Webb is a bull. The Blues are rattled. Queensland never look back and, at one point, lead 34-4. Incredible. They control the game and engineer a memorable Origin victory.
Queensland have a new coach this night: Wayne Bennett.
##
While thinking about Game 1 in Adelaide, in this year's (2020) State of Origin, my mind was immediately drawn to 2001.
It was the same scenario. Young team of (comparative) no-names. Daly Cherry-Evans with huge responsibility, just as Locky had in 2001. Bennett helping them all believe.
Again, only the most fervent supporter thought the Maroons could win. But they started well. No spectacular try. Just control of possession for the first ten minutes or so, and a willingness to keep the ball alive so the game was, at times, like touch footy. Friend was doing a good job. DCE wanted the ball. The defence was solid.
Then, running with a wind at their backs, the Blues' Rolls Royces from New South Wales took control. With even a hint of go-forward, the halves ran riot for 20 minutes, giving Tedesco and Trbojovic and Addo-Carr the chance to use their pace and skill. How far New South? They led 10-0.
But Queensland had hung in there, with dogged defence and, after a much-needed half-time rest, returned from the sheds ready to come again. They took the game on. Josh Papalii was magnificent. Bennett used the bench beautifully. Jai Arrow and Lindsay Collins got involved. Now Queensland were on top and the mosquito fleet were causing headaches. DCE, Ben Hunt and Friend all had their influence. As did Cameron Munster. The outside backs suddenly had a bit of space. But could they take their chances? Makeshift centre Kurt Capewell took his. After breaking the line he audaciously chipped (with the outside of his second-rower's boot, on the fly, if you don't mind) and AJ Brimson was on the spot to gather and score. Brilliant! And then Dane Gagai, playing in the centres, broke through and, with superb composure, showed the ball, and showed it again, before putting debutant Xavier Coates away (let's just hope young Xavier has the career Lote had). DCE landed the conversion from the sideline (he read the breeze perfectly). A massive team-lifter.
Queensland in front 12-10!
Game on. The Queensland defence was full of determination and concentration, and sheer physical presence. Papalii took the pig-leather straight back at the Blues who didn't seem like Rolls Royces anymore.
Enter Munster. A loose ball rolled clear. With tremendous skill, he picked it up on the fly and darted away from Cook. He didn't have the pace, but he had the sixth sense of the classy (and intelligent) rugby league player, stepping off line just at the right moment to give himself the fraction of a second he needed to get to the try-line. He's quicker than Kevvy (who ran like a possum on a lino floor) but not much. Another fine conversion from DCE and it was 18-10.
They had a handy buffer.
The Blues came back with another try, but Queensland stood firm in defence.
It was a mighty victory; a victory for leadership, on and off the field.  Bennett. DCE. Papalii. Munster. Gagai. All reputations have been enhanced.
##
In 2001, Queensland lose the second game in Sydney, 26-8, and there are concerns. Wayne Bennett rings Alfie Langer who is playing in England. "You better come home Alf," he says.
Alf gets on the plane and, at 35 years of age, pulls on the Maroon jersey for the decider – at QEII Stadium. He plays the whole game, scores a try (while lying on his back) and is celebrated as the champion he is.
Last night, as the Queenslanders sang their famous song 'Aye, Aye, Yippie', there was the water boy in his green top, right in the middle of it, Alfie Langer. Ahh, the fraternity of Queensland rugby league.
And the beauty of State of Origin football.
Queensland 18 d New South Wales 14 at the Adelaide Oval.
Here's the link to the Lockyer-Tuqiri try:  https://www.facebook.com/watch/?v=412682499337422
 Read more State of Origin stories HERE
The Tigers (Covid) Almanac 2020 will be published in the coming weeks. It will have all the usual features – a game by game account of the Tigers season – and will also include some of the best Almanac writing from the Covid winter.  Pre-order right now HERE
To return to our Footy Almanac home page click HERE.
Our writers are independent contributors. The opinions expressed in their articles are their own. They are not the views, nor do they reflect the views, of Malarkey Publications.
Do you enjoy the Almanac concept?
And want to ensure it continues in its current form, and better? To help things keep ticking over please consider making your own contribution.
Become an Almanac (annual) member – CLICK HERE.
One-off financial contribution – CLICK HERE.
Regular financial contribution (monthly EFT) – CLICK HERE.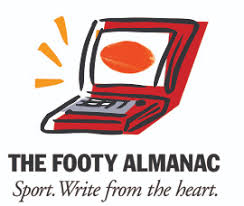 JTH is a writer, publisher, speaker, historian. He is publisher and contributing editor of The Footy Almanac and footyalmanac.com.au. He has written columns and features for numerous publications. His books include Confessions of a Thirteenth Man, Memoirs of a Mug Punter, Loose Men Everywhere, Play On, The Pearl: Steve Renouf's Story and Life As I Know It (with Michelle Payne). He appears (appeared?) on ABCTV's Offsiders. He can be contacted [email protected] He is married to The Handicapper and has three school-age kids - Theo, Anna, Evie. He might not be the worst putter in the world but he's in the worst four. His ambition was to lunch for Australia but it clashed with his other ambition - to shoot his age.