Almanac Rugby: Bledisloe Glory…in 1979
Following on from my wrap-ups of Games 1 and 2 in New Zealand, I can report that the two games played here over the last two weekends were case studies in the contrasting fortunes sport can bring to teams.
The Wallabies were humiliated in Sydney, suffering their worst ever defeat 43 – 5. It was a new look side that took the field, with Dave Rennie taking a punt on youth and promptly doing his shirt, and ours for that matter. With the silverware remaining bolted to the floor at All Blacks HQ the final showdown for the year took place in Brisbane on Saturday night. In a scrappy affair that never really found its rhythm, the men in gold ground out a 24 – 22 win that will hopefully placate the anxieties of many fans.
So no glory in 2020.
But 1979 was a very different tale.
Before I get onto that, I want to acknowledge the terrific news that has just come through. For the first time in the history of Super Rugby the sport will have free-to-air TV coverage from next year. Nine will show a live game every Saturday night as well as all finals. While obviously not as good a deal as AFL or NRL commands, it is roughly equivalent to the A-League. Considering how rugby has been the ugly duckling of the four football codes in this country for so long, this news is music to the ears of this little black duck.
Just over four decades ago, I was in Year 9 and on the cusp of calling it a day on a rugby league playing life I'd enjoyed since kindergarten. My coach that year was an arsehole and the routine of training twice a week and playing every Saturday was starting to wear on me. I needed something to lift the gloom of that long winter.
In the week leading up to the one-off Bledisloe Test at the SCG, I had been discussing the idea of going with a mate from school. He was a bit of a pinhead who hated league but was developing a passion for rugby. Some to and fro on the merits and yep! I was in.
We turned up on the day and managed to get standing room tickets. Setting up just below the famous Hill we waited for the players to run out. The tension was palpable. Diehard fans were talking about our long years in the wilderness. We hadn't won the Bledisloe since a two test series across the ditch in 1949 and we hadn't won it on home soil since 1934. That was a bloody long time between drinks and people were getting toey.
The Wallabies turned to a man mountain from the pedigree stud of Nudgee College to captain us that day. Mark Loane had developed a reputation for his hard running that could open games up and inspire his teammates. His opposite number, Andy Haden, had a similar reputation. He was beloved and spoken of in the same hushed tones normally reserved for Colin Meads.
It was felt the game would probably end up as trench warfare with the opposing packs going at each other hammer and tongs and lots of 10 man rugby (rarely spinning it out the backline, but having the number 10 kick for territory). It was indeed a fairly dour affair, but in the second half we could sense that we had found a chink in their armour. If our boys could maintain discipline and force penalties near their line then we had a path to victory.
In those days tries were worth 4 points, unlike the 5 of now. Therefore, it wasn't uncommon for teams to opt for 3 points via penalties or drop goals far more often than they do today. On this wonderful day in 1979 we grabbed that chance on four occasions while the Kiwis could only manage it twice. When the full time siren went the old scoreboard on the Hill showed we had won 12 – 6 and the crowd erupted.
I started hugging my mate like I'd just won the lottery. Then it was time for random hugs and back slaps. We were witnessing history and I have never experienced euphoria like that since. When I moved to Melbourne in the late '80s I redirected my passion to the boys from Arden St. I missed the '96 and '99 grand finals but got to the one we lost in between so I haven't had the chance to replicate that day at the SCG.
The Bledisloe this year followed a well worn script with the All Black domination rolling on. However, as a spotty faced, carrot topped kid I witnessed firsthand how good it is when the script gets ripped up and a new plot line is written. That's the glorious story I'll recall whenever I need relief.
To return to our Footy Almanac home page click HERE.
Our writers are independent contributors. The opinions expressed in their articles are their own. They are not the views, nor do they reflect the views, of Malarkey Publications.
Do you enjoy the Almanac concept?
And want to ensure it continues in its current form, and better? To help things keep ticking over please consider making your own contribution.
Become an Almanac (annual) member – CLICK HERE.
One-off financial contribution – CLICK HERE.
Regular financial contribution (monthly EFT) – CLICK HERE.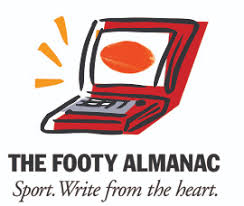 About
Grew up playing the rugby codes in suburban Sydney. Moved to Melbourne during the Carey era so becoming a Shinboner was the natural call. Still love the game they play in heaven. Took an interest in MLB a few years back and have become infatuated with America's pastime.