Almanac Poetry: The Local Mayor Launches a Literary Magazine
The Local Mayor Launches a Literary Magazine at the Outer Suburban Campus of a Large University
He is the local mayor
– cheap-suited, red-faced,
in his late forties, the type
who'd rort his travel expenses,
be having it off with his secretary,
give inside knowledge
of council zoning decisions
to disreputable business mates
and happily cook the books
of his chain of hardware stores.
But he acts like the proverbial pie
at this literary launch.
You can tell he'd prefer not to be here,
under this marquee,
with academics, students
and a couple of guest poets.
"What the fuck do I know
about launching a poetry magazine?
Can't someone else do it?"
he asked his deputy,
a few days earlier.
"No. It has to be you.
Some of the uni's top brass will be there.
They've asked for the mayor and want to be seen
to be (he does the inverted commas fingers)
'fostering links with the local community'."
"Those eggheads couldn't give a fuck either,"
replied the mayor.
"I know those types.
On big salaries, good perks.
Do bugger all.
All right, I suppose I'll have to go.
Might take some heat off me …
that shit they've been writing
in the local rag
– I gave that contract to my brother
because he supplied the best tender."
"I know, I know," the deputy replied.
"Want a cappuccino, boss?
I'm just nicking out."
"No, mate. Thanks."
Back at the launch,
the mayor is at the microphone,
sweating and smiling.
Holding the poetry mag in his hands,
he says, as if making a point
of considerable importance,
"You call this a magazine. I call it a book.
I don't know why you say magazine.
It's definitely a book to me."
Most of his audience stare blankly, bored.
The uni's top brass chuckle
at the mayor's sad attempt at humour.
"I was a bit of a writer once myself …"
(or some such crap).
He is right
– they don't really care
about what is going on.
To them, this occasion is merely
an item to be noted
in their annual report:
yearly production of lit magazine – check.
Me? I am sniffing
the sausages spitting on the barbecue,
lamenting the occasion is dry.
New campus regulations have declared
the uni alcohol-free,
except for high level board meetings
and occasions deemed important
by the vice-chancellor (or his representative)
– this one doesn't qualify.
Icy wind howls across the campus.
Light rain starts to fall.
Bill and I, the guest poets,
read our inclusions in the mag
to a smattering of polite applause.
I eat three sausages in bread
and two egg-and-lettuce sandwiches
but don't have the money
to join the students later for a drink.
The rain starts down in bucket loads
as I run for my car,
one kilometre away
to avoid the campus parking costs.
I drive off, soaking wet,
wondering as I pass
seemingly endless kilometres
of a desert that's outer suburbia
– was it worth going there at all?
(Acknowledgement: previously published in Kevin Densley's latest poetry collection, Sacredly Profane, Ginninderra Press, 2020.)
Read more from Kevin Densley HERE
Kevin Densley's latest poetry collection, Sacredly Profane, is available HERE
Read more Almanac Poetry HERE
If you would like to receive the Almanac Music and Poetry newsletter we will add you to the list. Please email us: [email protected]
To return to our Footy Almanac home page click HERE.
Our writers are independent contributors. The opinions expressed in their articles are their own. They are not the views, nor do they reflect the views, of Malarkey Publications.
Do you enjoy the Almanac concept?
And want to ensure it continues in its current form, and better? To help things keep ticking over please consider making your own contribution.
Become an Almanac (annual) member – CLICK HERE.
One-off financial contribution – CLICK HERE.
Regular financial contribution (monthly EFT) – CLICK HERE.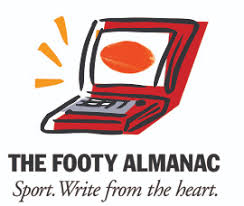 About
Kevin Densley is a poet and writer-in-general. His fourth book-length poetry collection, Sacredly Profane, has just been published (late 2020) by Ginninderra Press. He is also the co-author of ten play collections for young people, as well as a multi Green Room Award nominated play, Last Chance Gas, which was published by Currency Press. Recent other writing includes screenplays for films with a tertiary education purpose. He laments the extinction of Cascade Pale Ale and Kiwi Lager.