Photo: David Wilson
Old gum tree
Our shared bleak mornings of winter.
Covid masks all around, in weak dawn light
You stand.
That misty and showery and bucketing rain.
Grim scenes of everyone masked
And silent.
A rising fear snakes through the city.
I look for you each day,
You stand.
Time stretches and shrinks, it bends and loops.
Human folly and the emerging buds of spring.
We stand.
Our shared bright mornings of summer.
Some gather and smile; others carry the wariness
Of the scarred.
Thank you Old Gum Tree.
You are. Each day you are. And so now
I stand.
To read more of E.regnans' Almanac pieces click HERE.
The Tigers (Covid) Almanac 2020 will be published early in 2021. It will have all the usual features – a game by game account of the Tigers season – and will also include some of the best Almanac writing from the Covid winter.  Pre-order HERE
To return to our Footy Almanac home page click HERE.
Our writers are independent contributors. The opinions expressed in their articles are their own. They are not the views, nor do they reflect the views, of Malarkey Publications.
Do you enjoy the Almanac concept?
And want to ensure it continues in its current form, and better? To help things keep ticking over please consider making your own contribution.
Become an Almanac (annual) member – CLICK HERE.
One-off financial contribution – CLICK HERE.
Regular financial contribution (monthly EFT) – CLICK HERE.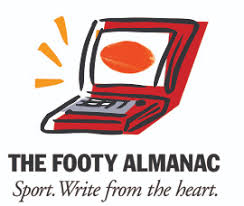 David Wilson is a writer, editor, flood forecaster and former school teacher. He writes under the name "E.regnans" at The Footy Almanac and has stories in several books. One of his stories was judged as a finalist in the Tasmanian Writers' Prize 2021. He shares the care of two daughters and a dog, Pip. He finds playing the guitar a little tricky, but seems to have found a kindred instrument with the ukulele. Favourite tree: Eucalyptus regnans.