Almanac Poetry: Bert Watts's Pies
Bert Watts's Pies
As young men in Millicent, South Australia,
my grandfather and his mates
went on the occasional bender.
After such occasions, when he woke up crook
and had to face his mother,
a formidable woman of German stock,
he always blamed Bert Watts,
the local pastrycook.
"It must have been Bert Watts's pies,"
he said to his mum, who did not believe him
but didn't let on. She figured
he was a good boy, and young men
did this sort of thing.
Many years later, my father
used a similar excuse with my mother.
Often, on summer nights,
when afternoon shift
at the refinery had ended,
a group of the blokes would cross the road
and cook a barbecue on the beach.
Cold amber ales were plentiful.
Though not a big drinker,
sometimes my father would have his share.
When he's get home to my mother,
worse for wear, he'd say,
"It must have been the sausages."
She was awake up to him, too,
but, like my great-grandmother,
let it go through to the 'keeper.
(Acknowledgement: first published in Sacredly Profane, Ginninderra Press, 2020.)
Read more from Kevin Densley HERE
Kevin Densley's latest poetry collection, Sacredly Profane, is available HERE
Read more Almanac Poetry HERE
If you would like to receive the Almanac Music and Poetry newsletter we will add you to the list. Please email us: [email protected]
To return to our Footy Almanac home page click HERE.
Our writers are independent contributors. The opinions expressed in their articles are their own. They are not the views, nor do they reflect the views, of Malarkey Publications.
Do you enjoy the Almanac concept?
And want to ensure it continues in its current form, and better? To help things keep ticking over please consider making your own contribution.
Become an Almanac (annual) member – CLICK HERE.
One-off financial contribution – CLICK HERE.
Regular financial contribution (monthly EFT) – CLICK HERE.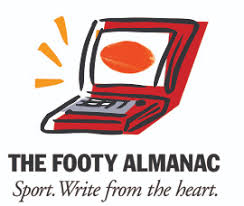 About
Kevin Densley is a poet and writer-in-general. His fourth book-length poetry collection, Sacredly Profane, was published in late 2020 by Ginninderra Press. He is also the co-author of ten play collections for young people, as well as a multi Green Room Award nominated play, Last Chance Gas, which was published by Currency Press. Other writing includes screenplays for educational films.