Col, you've got to be kidding! Mission Impossible meets The Footy Almanac. How do you pick a favourite Beatles song from such a stellar catalogue? I find it hard to select a favourite album let alone a single song.
Although I respond to songs for what they are in their own right, I tend, like a lot of people, to relate songs to a time, place and/or experience. So, when it comes to The Beatles, there are three specific 'eras', each with its own sound, time and place as I grew from age 10 the end of my teens.
1963-64: Please Please Me, With The Beatles, A Hard Day's Night and Beatles for Sale coincided with my last two years of primary school. Mum's parents, Pop and Granny Bichel, lived with us for a while and Granny, who was profoundly deaf, thought Paul seemed such a lovely young man; I loved the (admittedly corny) Beatles cartoon series on tv; my older brother Richard took me to the Gatton picture theatre to see the film A Hard Day's Night; I can still see my Year 7 teacher, Mr Whelan, with an amused smile on his face as I sang 'All my loving' at our in-house, end-of-year school concert; Mum didn't like the idea of combing our short back and sides hair forward; our neighbour, 'Young' Jim Hughes was unimpressed by the lads from Liverpool (but he loved the cricket!); I used to use the two shillings Dad would give me when we went 'into town' to buy those little booklets with all the song lyrics and then study them in depth. The whole Beatles thing seemed ever-present, everywhere innocent and such fun.
1965-69: Help!, Rubber Soul, Revolver, Sgt Pepper's, The White Album and Yellow Submarine marked my years at boarding school although I didn't know much about The White Album until later on. Help! really made a mark as I started a new chapter in my life. Those songs are ingrained with images of the dormitory, the classrooms, the rough and tumble of the boarding house ('Help' seems to suit the moment) and a ragtag assortment of characters (for better and for worse). 'Yesterday' surely has to be right up there with their (Paul's) best – simple yet profound in both its composition, content and performance. Rubber Soul and Revolver are, for me, two the very best Beatles albums – more sophisticated, musically superior to what had gone before and populated with classics like 'Norwegian Wood', 'Nowhere Man', 'In my life', 'Eleanor Rigby', 'Here, there and everywhere' and 'She said she said'. And then there were the great lines such as 'got no car and it's breaking my heart but I've got a driver and that's a start!' Boarding school was a bit Dickensian, 'the best of times and the worst of times' at different stages, but they did me no real harm. But the Beatles soundtrack is etched indelibly into it all.
The early 1970s: Abbey Road and Let it be with a belated exposure to The White Album thrown in. The start of university coincided with the end of The Beatles. I suppose it had to happen but what classic albums with which to exit. The second side of Abbey Road is up there with the best of their achievements – pure fun, silly, serious and sad with 'Her Majesty' hiding away at the end. 'While my guitar gently weeps' is as a good a song as any they ever did; I remember being mildly terrified walking up Winchester Street very late one night with no street lights after listening to 'Helter Skelter' and 'Revolution 9'. The Beatles may have broken up but their music went on and on, and still does.
Years later I filled up a rental car at a service station near Canberra airport – at pump No. 9. I went in to pay and saw that the cashier was of a similar vintage so I put on the right tone and said 'Number 9, number 9, number 9' and got a knowing smile in return. Magic!
At a staff break-up dinner in the late 90s, I was given the task of providing the music for the night. I taped a pile of stuff from the 60s to the 90s using the extensive resources of fellow-staffer MJK. I thought it was a good mix but it failed to make a mark until a couple Beatles songs came on and, all of a sudden, it was all 'GO!' Thankfully I had several tapes or CDs of The Beatles in my car so we heard nothing else for the rest of the night – and it was a hit. I won't, however, vouch for the vocal qualities of the staff singing along!
A Let It Be T-shirt my daughter brought back from the USA after one of her study trips in the early 00s still gets an occasional airing.
Between 2008-10, driving from Scarborough out to Laidley to visit Mum in Tabeel Rest Home, the soundtrack was often Rubber Soul and/or Revolver. Mum was the focus of the trip but the soundtrack will always be associated with those last years. (The back-up CD was Chris Rea's Greatest Hits, another beauty.)
Eight Days A Week  was a cracker of a film a few years back. And now Peter Jackson's latest 'documentary' The Beatles: Get Back is earning rave reviews. Must see! And Paul's recent book The Lyrics: 1956 to the present would be a great gift is anyone's feeling ultra-generous!
Almost 60 years of The Beatles. I know I've said in the pages of the Almanac that a number of groups are part of the soundtrack of my life. And that's true. But, to use a JTH-ism, The Beatles are the quintessential sound of my life. I've got them playing in the background as I edit the site today. I won't add a clip but rather allow you to go to your collection and play whichever songs/albums of theirs bring you the most pleasure.
A desert island and The Beatles catalogue sounds like a form of musical paradise to me!
To read about Col Ritchie's favourite Beatles song click here.
To read more from Ian click here.
To return to our Footy Almanac home page click HERE.
Our writers are independent contributors. The opinions expressed in their articles are their own. They are not the views, nor do they reflect the views, of Malarkey Publications.
Do you enjoy the Almanac concept?
And want to ensure it continues in its current form, and better? To help things keep ticking over please consider making your own contribution.
Become an Almanac (annual) member – CLICK HERE.
One-off financial contribution – CLICK HERE.
Regular financial contribution (monthly EFT) – CLICK HERE.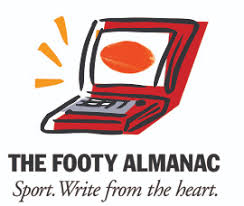 A relaxed, Noosa-based retiree with a (very) modest sporting CV. A Queenslander through and through, especially when it comes to cricket and rugby league. I enjoy travel, good coffee and cake, reading, and have been known to appreciate a glass or three of wine. As well as being one of Footy Almanac's online editors, I moonlight as an editor for hire - check me out at www.writerightediting.com.au