Image: rollingstone.com
Neil Young is a good advertisement for moving with the times. For over 50 years, Neil and his music have never stood still with multiple reincarnations over the decades. Some better than others, to be sure.
As for me, I'm a Neil circa 1970s fan as he honed that distinctive vocal pitch and tone via a succession of solo releases (more often than not backed by Crazy Horse) and collaborations with Crosby, Stills and Nash. Everybody knows this is nowhere, After the goldrush, Harvest, On the beach, Zuma, Comes a time – that era. They came at a formative time in life. The memories live on. I'll have these on rotation as I attend to the site today.
From country folk to straight rock, ballads and 10-minute epics featuring long guitar solos; wells of deep, inner reflection on the challenges of the human condition and the ups and downs of relationships; commentary on the Spanish conquistadors and the politics of Nixon; banjos, harmonicas, the harmonies of CSNY and the exquisite Nicolette Larson. A bit of everything.
Here are a few of my favourites from that prolific period:
If Neil's goal is to burn out rather than rust, at least we can say that it's been one hell of a large candle!
We'll do our best to publish two books in the lead-up to Christmas 2021. The Tigers (Covid) Almanac 2020  and the 2021 edition to celebrate the Dees' magnificent premiership season(title is up for discussion at the moment!). These books will have all the usual features – a game by game account of the Tigers and Demons season – and will also include some of the best Almanac writing from these two Covid winters. Enquiries HERE
To return to the www.footyalmanac.com.au  home page click HERE
Our writers are independent contributors. The opinions expressed in their articles are their own. They are not the views, nor do they reflect the views, of Malarkey Publications.
Do you enjoy the Almanac concept?
And want to ensure it continues in its current form, and better? To help keep things ticking over please consider making your own contribution.
Become an Almanac (annual) member – CLICK HERE
One-off financial contribution – CLICK HERE
Regular financial contribution (monthly EFT) – CLICK HERE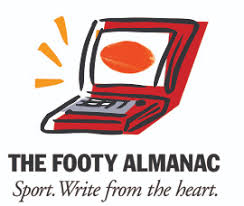 A relaxed, Noosa-based retiree with a (very) modest sporting CV. A Queenslander through and through, especially when it comes to cricket and rugby league. I enjoy travel, good coffee and cake, reading, and have been known to appreciate a glass or three of wine. As well as being one of Footy Almanac's online editors, I moonlight as an editor for hire - check me out at www.writerightediting.com.au