Within the closely monitored boundaries of a fairly strict boarding school at the time, I think missed Vanilla Fudge when their first album appeared in 1967. Perhaps it was because the emphasis at the time was on a mixture of The Beatles' Sgt Pepper's, the psychedelic American West Coast 'Summer of Love', Dylan or whatever – I didn't notice Vanilla Fudge at the time.
A few years later as a first year uni student, my mate WR Bartlett brought me up to date. He was quite a fan, especially of the band's dynamic drummer Carmine Appice. Although I liked what I heard, I still didn't buy into the band (in the sense of purchasing an album). I was more into the likes of CSNY and Creedence Clearwater Revival, not to mention the host of classic albums released that year – 'Bridge over troubled water', 'Tapestry', et al.
Fast forward twenty-five years and I'm a teacher about to go on Long Service Leave. I had to find a replacement who could teach my major subject, Christian Studies. I rang bloke in Melbourne – I'd heard of him but had never met him; I liked his style from a couple of devotional books he'd written. Enter Jonathan Krause – hip, hairy, bejewelled and sharp as a tack. The downside was that he barracked for Collingwood but he more than made up for it with his wide-ranging music tastes. I must have mentioned Vanilla Fudge at some stage because when he completed his contract he gave me a CD of that first album. It was love at first replay!
The album is a collection of covers – The Zombies, The Beatles, Sonny Bono, etc. Mostly slowed down to about 50% of the original speed; usually an extended introduction (some might say 'warm up'), harmonised vocals, the ubiquitous Hammond organ and a side of full crash jam at some point. They did melancholia very well.
My choice to share is their version of The Beatles' Eleanor Rigby. Originally a 2:08, strings only track on the Revolver album, the song is sad and reflective but skips along at a good clip. Vanilla Fudge turned it into a nine minute, funereal, almost depressing dirge – but with flair and energy, if that's not contradictory.
I enjoy both versions of the song and which one I choose at any given moment is determined by context. This week I'm with Col, travelling back to particular people, times and places.
The Tigers (Covid) Almanac 2020 will be published in 2021. It will have all the usual features – a game by game account of the Tigers season – and will also include some of the best Almanac writing from the Covid winter.  Pre-order HERE
To return to our Footy Almanac home page click HERE.
Our writers are independent contributors. The opinions expressed in their articles are their own. They are not the views, nor do they reflect the views, of Malarkey Publications.
Do you enjoy the Almanac concept?
And want to ensure it continues in its current form, and better? To help things keep ticking over please consider making your own contribution.
Become an Almanac (annual) member – CLICK HERE.
One-off financial contribution – CLICK HERE.
Regular financial contribution (monthly EFT) – CLICK HERE.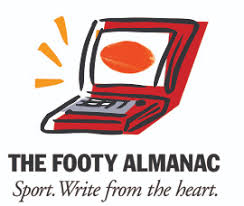 A relaxed, Noosa-based retiree with a (very) modest sporting CV. A Queenslander through and through, especially when it comes to cricket and rugby league. I enjoy travel, good coffee and cake, reading, and have been known to appreciate a glass or three of wine. As well as being one of Footy Almanac's online editors, I moonlight as an editor for hire - check me out at www.writerightediting.com.au