Almanac editor Col Ritchie favoured us yesterday with his Top 20 songs by Bob Dylan. Col's contribution continued a string of articles about Dylan on The Footy Almanac. To read our collection click here. Let's keep this Dylan-centric, non-sport, 'theme of the midweek' running by offering a few rambling thoughts from my own experience.
In 2016, Dylan was a somewhat controversial recipient of the Nobel Prize for Literature, the first 'pop musician' to be so honoured. Read a response to this award from The New York Times here. The BBC chronicled the occasion like this. Eight years earlier Dylan was awarded the Pulitzer Prize 'for his profound impact on popular music and American culture, marked by lyrical compositions of extraordinary poetic power' – for some a more nuanced appreciation of his contribution to modern culture.
But controversy has never been anything unusual for His Bobness. The greatest of all, of course, happened way back in 1965 at the Newport Folk Festival when Dylan committed heresy/showed that the times were indeed 'changing'/call it what you will by plugging in his guitar and going electric. Remind yourself of the occasion by clicking here. Later on in 1973, Dylan played the part of 'Alias' in the movie Pat Garrett and Billy the Kid where his depiction as a knife-throwing sidekick to Billy didn't go down well with many fans.
My brothers were both Dylan fans but in different ways. The oldest was at uni in the mid-60s, savouring a newfound freedom of expression and the folk haunts of Adelaide. The other worked on the land, more familiar with the release of various Dylan singles. I'm sure he was still warbling his version of 'Lay Lady Lay' fifty years later!
Somewhat younger, I was aware of several of Dylan's better known songs (singles, not albums) but hadn't yet acquired a taste for his nasal tones and gritty sound. John Wesley Harding and Nashville Skyline were my first 'serious' encounter with Dylan, albeit in about 1970. Record listening nights in the Rec Hut behind 30 Winchester Street were populated with these two albums plus Simon and Garfunkel (Note to self: write about Bookends one day), CSNY, Cat Stevens, The Beach Boys, The Who, Melanie and so on. Formative times. I particularly liked 'All along the watchtower', 'The ballad of Frankie Lee and Judas Priest' and 'I dreamed I saw St Augustine' from JWH; 'Girl from the North Country' (with Johnny Cash), 'Peggy Day' and 'I threw it all away'were my picks from Nashville Skyline.
I can't claim that Dylan featured in my musical tastes to the extent of my brothers or fellow editor Col. Neil Young, another artist with a pronounced, unusual tone tended to hold sway with me through that period.
Forty plus years later having dinner in Vienna, the restaurant's soundtrack was a local radio station which played a heavy, clanging yet melodic, metallic version of 'All along the watchtower'. It stuck in my brain but I was too slow off the mark to follow up and find out the artist. Can anyone enlighten me?
Martin Scorsese's excellent 2005 documentary No Direction Home is probably as good a starting point as any for those who, for whatever reason, missed out on getting into Dylan.
We saw Dylan at the Brisbane Entertainment Centre about 10 years ago, my first and only time at a Dylan concert. I had no preconceptions, didn't know what to expect, and went along only because a friend had to pull out just a few days before the concert. Probably all just as well. As his fans well know, Bob plays how Bob feels like playing at the time. (His concert presentation sat at the extreme polar opposite of, say, The Eagles who were almost anal in their determination to reproduce an exact replica of their records, something they achieved but at the cost of being somewhat soulless in their physical presence.) Dylan was already well into some songs before I even recognised them! But, hey, they're his songs and he can do whatever he pleases with them. At least I can say I saw a Dylan concert.
Now, at 80 years of age, Dylan is still influencing yet another generation. Read Col Ritchie's report on the concert at the Memo Music Hall earlier this year here. Is it a case of  'the more things change, the more they stay the same'?
We'll do our best to publish two books in the lead-up to Christmas 2021. The Tigers (Covid) Almanac 2020  and the 2021 edition to celebrate the Dees' magnificent premiership season(title is up for discussion at the moment!). These books will have all the usual features – a game by game account of the Tigers and Demons season – and will also include some of the best Almanac writing from these two Covid winters. Enquiries HERE
To return to our Footy Almanac home page click HERE.
Our writers are independent contributors. The opinions expressed in their articles are their own. They are not the views, nor do they reflect the views, of Malarkey Publications.
Do you enjoy the Almanac concept?
And want to ensure it continues in its current form, and better? To help things keep ticking over please consider making your own contribution.
Become an Almanac (annual) member – CLICK HERE.
One-off financial contribution – CLICK HERE.
Regular financial contribution (monthly EFT) – CLICK HERE.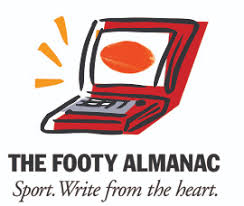 A relaxed, Noosa-based retiree with a (very) modest sporting CV. A Queenslander through and through, especially when it comes to cricket and rugby league. I enjoy travel, good coffee and cake, reading, and have been known to appreciate a glass or three of wine. As well as being one of Footy Almanac's online editors, I moonlight as an editor for hire - check me out at www.writerightediting.com.au