Almanac Music (and Beer): Southwark Bitter – another view
As mentioned in a comment in a previous post, Mickey Randall's article titled "Almanac Beer: Southwark Bitter" caught my attention because of the mention of Southwark Bitter, ELO and Mondo Rock.
Even though I've never tasted Southwark Bitter nor even seen a can or bottle of it, the name immediately makes me think of a painting that I've been familiar with for as long as I can remember.
My mum Bev's artwork is still on display in the lounge, after all these years. About a metre away is a more recent offering, as my sister Cindy's artwork depicts the cover of ELO's 1977 hit album Out of the Blue.
I listened to this album recently and had my view reinforced that this outstanding album will never get dated.
When I listen to Mondo Rock, it does sound very 1980s but I still enjoy it immensely.
When searching for the Mondo Rock cassette titled Up to the Moment, I also discovered another cassette that used to get played in our car on a regular basis in the 1980s. Does anyone remember the 1984 TV series Sweet and Sour, featuring a fictional band called The Takeaways?
And no, I didn't think of the words "sweet and sour" to counteract the Southwark Bitter theme.
If you didn't read Mickey Randall's Southwark piece, click HERE:
For more from Liam, click HERE:
To return to our Footy Almanac home page click HERE.
Our writers are independent contributors. The opinions expressed in their articles are their own. They are not the views, nor do they reflect the views, of Malarkey Publications.
Do you enjoy the Almanac concept?
And want to ensure it continues in its current form, and better? To help things keep ticking over please consider making your own contribution.
Become an Almanac (annual) member – CLICK HERE.
One-off financial contribution – CLICK HERE.
Regular financial contribution (monthly EFT) – CLICK HERE.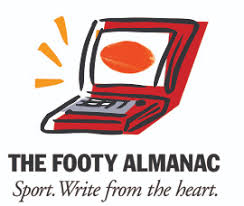 A Queenslander through and through, Liam went out of his comfort zone as he had a thoroughly worthwhile time in Tumut and Gundagai from 2008 to 2016 before enjoying a year in Gunnedah. His strongest sporting interests are State of Origin, Sheffield Shield, Test cricket and the NRL. His sporting CV doesn't have many highlights, although he once top-scored in a warehouse cricket match with 54 not out at number 10, and shared in an unbroken last wicket stand of 83 with the number 11 who scored an undefeated 52. Liam has written books including State of Origin 40 Years, A Century of Cricket Tests, A History of Test Cricket, The Immortals of Australian Cricket, The Immortals of Australian Rugby League, and The Great Grand Finals: Rugby League's Greatest Contests. Also a huge fan of Electric Light Orchestra.