Almanac Memoir (and Music): Shadow Boxing at The Argyle Hotel
Shadow Boxing at the Argyle Hotel
(Geelong, 1980.)
The Argyle Hotel in Newtown, Geelong, is no longer in existence – I mean, the building itself is, but the pub with that name is long gone. It was replaced by one of those franchises which are basically commodified versions of Irish culture, where you can have stout in a drinking booth, watch re-runs ad infinitum of Irish music videos, be served by an Irish-accented exchange student from the local university and, in general, feel a jejune sense of what it means to be from the Emerald Isle. After that incarnation, the building became a cocktail bar. Now it is back to being a pub again, but not called the Argyle anymore. So it goes, particularly these days …
Anyway, at the beginning of the 1980s, when I was playing bass for Geelong band Murmurs, we did a number of gigs at the Argyle, which at the time was an excellent supporter of the Geelong live music scene. I remember the place as a typical example of a poky old corner pub with a strong local identity; often, it was packed out on band nights. Usually, we'd play from 8.30 till 11.30 pm, with a couple of small intervals, and the price of entry was $2 – yep, $2! Even allowing for the major decrease in the value of a dollar since then, the price of entertainment – and many other things – was pretty amazing back in those days. A glass of beer, for example, cost about 70 cents.
Bands played at the Argyle in a narrow rectangular space with a stage at one end, raised about a foot higher than the rest of the room. I recall it as the smallest pub stage I ever played on. It was an intimate, loud, sweaty joint and I saw our appearances there as an indication of our developing profile on the music scene.
Back in 1980, the punk movement was a strong presence in Geelong music, with bands like Endangered Species. While Murmurs were definitely not a punk band, we did play some heavier stuff like 'Shadow Boxer' by the Angels. The song's dance-until-you-drop nihilism fitted well with what was going on at the time: 'Ask me questions, get no answers/ Give me nothing /take no chances/ Show me books with empty pages/ Wind your clocks and read your gauges/ Shadow boxer, shadow boxer …'
I loved playing it.
And Dave, the lead singer of Murmurs, could channel the spirit and energy of The Angels' Bernard 'Doc' Neeson superbly in his delivery of the lyrics, too!
(Acknowledgement: an earlier version of this piece has appeared on the Stereo Stories website.)
For more from Kevin Densley, click HERE.
To return to our Footy Almanac home page click withHERE.
Our writers are independent contributors. The opinions expressed in their articles are their own. They are not the views, nor do they reflect the views, of Malarkey Publications.
Do you enjoy the Almanac concept?
And want to ensure it continues in its current form, and better? To help things keep ticking over please consider making your own contribution.
Become an Almanac (annual) member – CLICK HERE.
One-off financial contribution – CLICK HERE.
Regular financial contribution (monthly EFT) – CLICK HERE.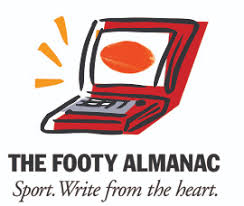 About
Kevin Densley is a poet and writer-in-general. His fourth book-length poetry collection, Sacredly Profane, has just been published (late 2020) by Ginninderra Press. He is also the co-author of ten play collections for young people, as well as a multi Green Room Award nominated play, Last Chance Gas, which was published by Currency Press. Recent other writing includes screenplays for films with a tertiary education purpose. He laments the extinction of Cascade Pale Ale and Kiwi Lager.