Almanac (Covid) Life: Love in the Time of Coronavirus – Part 2
This is a sequel to a story from March 24 2020.
"He was still too young to know that the heart's memory eliminates the bad and magnifies the good, and that thanks to this artifice we manage to endure the burden of the past."
– Gabriel García Márquez, Love in the Time of Cholera
==
Scattered clouds hang above another Melbourne day.
Andre sits again beneath the outstretched arms of this old eucalypt, this real companion during these past 217 days, and he slumps.
Thoughts again crowd his head. Always the shouty opinions of others.
By all accounts, today is Monday 26 October. And according to diligently compiled tally marks, today is Day 217 since the Time of Coronavirus first found him under this tree.
217 days since 24 March.
217 days since a cold and silent and bodiless threat wafted into his town and into the collective psyche of his town.
==
Andre leans against the trunk of this giant tree and he sighs.
A magpie calls.
Andre takes his phone from his pocket and looks again at the screen of his phone, which again displays the daily COVID-19 statistics from the Victorian Department of Health and Human Services. This graphic as familiar as hope.
==
There is nothing to say.
There is nothing to do.
==
Puddles of La Niña stand along the path.
Andre rests his head on the tree trunk and he thinks of the earliest days of solidarity.
He remembers when the idea of global pandemic was an abstract novelty.
He remembers when he would leave the house without wearing a mask.
He remembers a confusion of supermarket shelves stripped bare.
==
Children laugh on the playground.
A light breeze ruffles Andre's very long hair. His hair has never been longer.
He remembers the playground cordoned off for months.
He remembers huddling with his children through the winter.
He remembers playing games and singing and reading and laughing and arguing and crying and he remembers a cavernous silence, daily buoyed and buffeted by a shifting and many shaded currency of hope.
==
"Courage is a love affair with the unknown."
-Osho
==
The grevillea seems itself to buzz, bejewelled as it is with industrious bees.
A dog skips past on light feet.
Andre remembers feelings of helplessness and rising dread as new daily case numbers soared into the hundreds. Cases of COVID-19 in his suburb, in his community.
He remembers public messages of emotion and impatience; messages stoking fear and division.
He remembers public messages of patience and logic; messages of longing and love.
==
"The enemy is fear. We think it is hate, but it is fear."
-Ghandi
==
In front of him, a woman looks into the rising sun and she rubs her eyes.
Lorikeets chatter in streetside callistemon.
Andre thinks of those to have missed celebrations and gatherings. Those birthdays of April, of May, of June, of July, of August, of September and of most of October.
The weddings. The funerals.
He remembers the curfew.
==
"Your task is not to seek for love, but merely to seek and find all the barriers within yourself that you have built against it."
-Rumi
==
Andre breathes into his mask.
He looks around at these people.
After months, restrictions are lifted in Melbourne. While in Europe and in North America and in South America and in Africa and in Asia case numbers continue to dramatically rise.
The population of Andre's town has been used as the solution to halting the spread of COVID-19.
And together they have momentarily done it. Collective action of love has done it.
==
At Andre's feet, ants in collective efficient convoy carry crumbs towards their home.
Warm morning sun plays on the ground.
Andre knows that people have suffered in lockdown. It has not been easy. But silent commitment to the greater good and heroic determination saw Melbourne saved from a terrible onset of plague.
And now, with restrictions on movement lifted, new challenges arise.
Andre wonders about mental capacity.
==
Andre looks at the high cirrus cloud.
At the yawning blue.
Andre wonders about relationships. What is a friend? Where does he find the bravery to ask another person to meet? What should he say if he meets another person? Does it matter?
What is it to share an opinion?
Andre wonders about being human.
==
"This being human is a guest house. Every morning is a new arrival. A joy, a depression, a meanness, some momentary awareness comes as an unexpected visitor…Welcome and entertain them all. Treat each guest honorably. The dark thought, the shame, the malice, meet them at the door laughing, and invite them in. Be grateful for whoever comes, because each has been sent as a guide from beyond."
-Rumi
==
He looks at the parkland.
He looks up into the canopy of the old eucalypt that has guided him through the year.
Andre slowly stands and he slowly and unselfconsciously wraps his arm around the trunk of this old tree. He breathes out. Tears pool in the corners of his eyes.
He leans into the tree.
==
Andre feels as if he and the people of Victoria have together over many months built a delicate heart the size of a cathedral, a heart made entirely of fragile repeated songlines of hope, and have carried it along every corrugated track of Victoria and along every rutted bluestone laneway and over every speed hump of Melbourne and with enormous concentration and determination have successfully brought this heart unbroken from a place of darkness to a place of light. One long challenge ends.
And now he cannot let go. Is it safe to let go? Another long challenge begins.
"Pfffff," Andre says with a sigh. "I dunno."
==
Andre looks up to see his children walking through the park. They do not see him. Andre watches as they walk with friends and watches as they laugh and as they skip and run and as they shove one another and as a moment of joy lights up each face.
From a branch high above, a magpie warbles.
The eucalypt stands mute.
Read more from E. regnans (David Wilson) HERE.
To return to our Footy Almanac home page click HERE.
Our writers are independent contributors. The opinions expressed in their articles are their own. They are not the views, nor do they reflect the views, of Malarkey Publications.
Do you enjoy the Almanac concept?
And want to ensure it continues in its current form, and better? To help things keep ticking over please consider making your own contribution.
Become an Almanac (annual) member – CLICK HERE.
One-off financial contribution – CLICK HERE.
Regular financial contribution (monthly EFT) – CLICK HERE.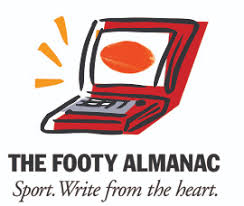 David Wilson is a writer, editor, flood forecaster and former school teacher. He writes under the name "E.regnans" at The Footy Almanac and has stories in several books. One of his stories was judged as a finalist in the Tasmanian Writers' Prize 2021. He shares the care of two daughters and a dog, Pip. He finds playing the guitar a little tricky, but seems to have found a kindred instrument with the ukulele. Favourite tree: Eucalyptus regnans.