Here is the dux of Heidelberg Primary School 1986. (Pic: October 2021).
I've been back around the old neighbourhood this past week. Original school building from 1854, when local landscapes of Tom Roberts, Frederick McCubbin and Arthur Streeton were still another 30-odd years off. In my day, prints of Heidelberg school paintings adorned the old corridors.
Good times. Captain of the school cricket team in Grade 6 – had a run of ducks to rival Greg Chappell ("playing well, I just keep getting out").
One dispute with my teacher led to me writing 50 lines. We were playing a game called Cutter's Out which was a 360° lord of the flies variation on poison ball. Everyone running around the gym. If the volleyball struck you on the full, you were out. If the ball bounced before it hit you, you were not out. If you caught the ball that was thrown at you, the THROWER was out. Brilliant. I was a gun at that game. Anyway, there were only a few of us left in the game one day, it was the business end, when the ball was thrown at me as I ran down the gym. The ball hit me. To this day, I swear the ball bounced before it hit me, but my Grade 6 teacher called: "David – you're out!"
Well. I strongly believed I was not out. To this day, injustice and a sense of being wronged remains as a huge personal trigger. And uncharacteristically for me then (and for children generally in the mid 1980s) I argued back. "No way! That bounced!"
That course of action was never going to end well. It was the first and only time I was ordered from the gym. Sent to the classroom to write fifty lines of "I must not argue with the umpire."
It's a fair point.
But the ball definitely bounced.
To return to our Footy Almanac home page click HERE.
Our writers are independent contributors. The opinions expressed in their articles are their own. They are not the views, nor do they reflect the views, of Malarkey Publications.
Do you enjoy the Almanac concept?
And want to ensure it continues in its current form, and better? To help things keep ticking over please consider making your own contribution.
Become an Almanac (annual) member – CLICK HERE.
One-off financial contribution – CLICK HERE.
Regular financial contribution (monthly EFT) – CLICK HERE.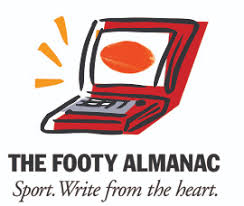 David Wilson is a writer, editor, flood forecaster and former school teacher. He writes under the name "E.regnans" at The Footy Almanac and has stories in several books. One of his stories was judged as a finalist in the Tasmanian Writers' Prize 2021. He shares the care of two daughters and a dog, Pip. He finds playing the guitar a little tricky, but seems to have found a kindred instrument with the ukulele. Favourite tree: Eucalyptus regnans.