Almanac Life: From the Arctic to Far North Queensland
Hi All,
Just thought it would be time for a catch up and stay in touch with you all as I continue my North Queensland adventure.
There are over 15 million people in Australia right now who are in lock down as I write this, I hope you are coping with the whole new world that we are part of no matter where on the globe.
For me the last few months have been interesting to say the least with the vagaries of living in a caravan park until early June, then staying  in a friend's spare room for the last 3 or so weeks. Then to have the pleasure going home to Brisbane just in time for a south east Queensland lockdown for the first week I was home. It was great to see the family and walk the dog through the beauty of Yeronga Park, one of my favourite public spaces in the world!
Charters Towers is the place of magic sunrises and sunsets with lots of tourists going up to the top of Towers Hill to see the sensational colours. I have enjoyed helping out with a local Aussie Rule team called the Charters Towers Demons which involves going to Townsville every other weekend. It has been good to do this as I can go to the larger range of shops in the big city and enjoy good coffee. One of the highlights for my away footy trips has been catching the ferry to Magnetic Island twice to play the local team the magpies. Not a bad little road trip!
One weekend I ventured up to Ingham to go to the largest Jetty on the East coast – just under 6km long at the port of Lucinda, which is just south of the absolutely beautiful Hinchinbrook Island. I also checked out the massive Victoria sugar mill ( the largest in Australia ) and chased a few cane trains. On the journey back to Charters Towers I went a longer way home for something different. I drove up the Hervey's Range road which is a magic road only to hit a large kangaroo flush (in broad daylight at 110km/h)  with little to no damage (I don't have a bull bar on my car) which was well and truly miraculous given I was still 145km from home.
I have now visited all 7 schools that I can do relief for, which for the majority of my time has been spent at my base school. I have enjoyed the variety of teaching styles, different curricula and just getting to know a whole host of different teachers and students. I play social tennis regularly on a weeknight and am enjoying just getting to know the rhythm of the town. I went to a massive car show, which was great to interact with people who are keen on restoring all kinds of vehicles Including the fabulous mini moke, of which I owned 2.
Every now and then I have gone for drive, once out to Pentland an hour and 15 mins west or to south of Townsville Giru and down to Ayr and Home Hill (more sugar country) where the smell of the sugar mills turning the cane into Molasses is quite pungent and sweet all at the same time. I love taking photos of trains and just checking out the landscape, being in the moment.
Being in the wilds of the far northern Arctic of Canada seems like a lifetime ago and yet given the Covid pandemic I still can't believe there are over 30000 Aussies who still can't get home. I count myself very fortunate to have gone through the rigours of rearranging flights, dealing with a whole lot of stakeholders, bearing up with hotel quarantine, home isolation, finding new jobs and yet being in a country that for the most part has had a normalcy of life. With the delta strain wreaking havoc, I hope it has shaken the complacency of Aussie into thinking that just because we were out of sight out of mind as far as the Pandemic was concerned didn't mean we were in the clear.
Queensland relies on a lot of its income from tourists, both domestic and overseas and I really feel for the businesses who have just hung in there but now that most of the large cities are locked down in Australia people can't get away for their break from the cold southern winters. Bearing that in mind that as I write this today (in late July!!)  it is going to be 34 degrees C here in Charters towers and it is meant to be winter! I have now moved into a little ex Miner's cottage with a little front veranda so I can enjoy the beautiful time of the early morning with a hot cuppa of tea.
To those I have met in all kinds of places, on walks, at railway stations, in museums, at Caravan parks, accommodation, in Canada and just walking the dog I say thank you for enriching my life with your stories and just the ordinary candour of having being able to connect with fellow humans on the journey of life.
Remember life is too short to let it pass you by, I was sitting in a Grade 2 class (helping out the teacher) the other day and they had a lesson on Gratitude. This amazing word according to those wonderful little students means to be thankful for what we have and what we receive
They were encouraged by their teacher that you will be successful when you know and understand what Gratitude is and that we need to practise it in our daily life so appropriate given all the things that I can be thankful for in the midst of the world we are part of right now.
I hope you can be thankful for things in your life and let's keep in touch. Love to hear how you're going.
Cheers,
Richard Marlow
The Tigers (Covid) Almanac 2020 will be published in 2021. It will have all the usual features – a game by game account of the Tigers season – and will also include some of the best Almanac writing from the Covid winter.  Pre-order HERE
To return to our Footy Almanac home page click HERE.
Our writers are independent contributors. The opinions expressed in their articles are their own. They are not the views, nor do they reflect the views, of Malarkey Publications.
Do you enjoy the Almanac concept?
And want to ensure it continues in its current form, and better? To help things keep ticking over please consider making your own contribution.
Become an Almanac (annual) member – CLICK HERE.
One-off financial contribution – CLICK HERE.
Regular financial contribution (monthly EFT) – CLICK HERE.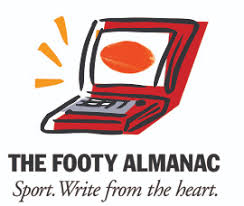 a humble middle-years teacher in a "middle of the road" private school in Brisbane having being a pastor, a youth worker, a school chaplain, a bank johnnie – 3 different banks, worked in Jails, driven a cab and been in bands amongst other things.