Almanac Life – Callignee: A Love Song

Photo: Shane Reid
I've never lived in Callignee, but the place has a way unzipping the suitcase of my soul. My Dad grew up there. We Reids go back at least five generations in the surrounding districts of Traralgon. If they stay put, my grandchildren may even be considered 'locals' one day.
Give or take about sixty kilometres and Traralgon in some ways is indistinguishable from one of Melbourne's outer suburbs. But the wild colonial boy in me is grateful that a short ten-minute drive takes me onto the gravel roads of Traralgon South and into the hills of Callignee which manage to be both idyllic and savage at the same time.
After-school bus duty has been the barometer from which I've watched Gippsland change. In my early years, buses would leave our school at the end of the day like an armada. Buses teeming with kids would embark for Gormandale, Glengarry and Tyers and numbered fleets would leave for Morwell, Churchill and Moe. Now, almost eighty percent of our families live in the Traralgon postcode. There's fewer buses and fewer kids catching them. Most of our families have become a bit gentrified by a move 'into town'. There's less of them than there used to be, the kids from Callignee, Traralgon South and Hazelwood. But those we have are the absolute gems of our school.
The educational commentariat speaks only of rural disadvantage; but I suspect that our kids have a clannish connection and sense of care for each other that their city cousins can only envy. They're fantastic our Gippsland kids, fantastic. One of the Fitzroy Football Club's favourite sons was Butch Gale. I never saw him play but I think about his words often. He said that 'you might go in for a bit more money, but in the end, you only really go in for your mates'. They're words to live by. Our students are ambitious for each other and not for themselves; they live for each other before they live for themselves. They laugh together and together they weep. They go in a bit for their personal dreams and ambitions, but in the end, they only really go in for each other. They're a tribe, they're my tribe. This school I teach at is the same school my Dad and I both attended as students.
Dad grew up on a hilly little farm in Callignee North. He was a restless sort of guy. My uncles still joke that he bought a new second-hand car during each and every month that ended in the letter "y." We bounced around a few places in Melbourne and Gippsland, landing for quite a while at Yinnar before we moved 'into town' in Traralgon. Dad started jogging to help with his blood pressure and then he started umpiring for the Mid Gippy and then eventually the Gippsland League Thirds. He never really articulated it but driving out to places like Trafalgar, Thorpdale, Boolarra and then the bigger towns like Leongatha, Bairnsdale and Drouin scratched an itch in him. He'd never drive anywhere the typical way so most of our journeys back from these games avoided highways when there were gravel road detours that could be explored instead. He was sinking Gippsland deep into my pores every Saturday.
My own footy career never went beyond the Under 14s. I was a much better trombonist than I was a centre half-back. Even though life took me to the Victorian College of the Arts, Hamer Hall and eventually teaching, footy remained the lingua franca for Dad and me. One time I played in a trombone ensemble performance that launched a solo CD by Eric Klay, from the Melbourne Symphony Orchestra. I was trying to explain to Dad that Eric was kind of a big deal in the music world. "He looks like he'd have been pretty handy in the forward line too," my dad said sagely. Lofty praise from the old man. When the words didn't come easy in those last years, he was always keen for a chat about Lachie Neale's Brownlow hopes or why Buddy Franklin wasn't fit to carry Bernie Quinlan's bootstraps. My Dad was more of a pragmatist than he was an aesthete, but the fact that his old school mate Quinlan and Brent Croswell were the best players he ever saw play the game prove that he was connoisseur of the exquisite.
In 2009 Callignee was ravaged by the Black Saturday fires. Dad and Mum had ended up in Lilydale, but home is not necessarily where you live. He was watching the updates on the news and on the internet and rang throughout the day. He wanted to know what the sky looked like in Traralgon. It was pitch black outside in the early afternoon. I didn't know what to tell him. We drove through a few weeks later and sombrely took it all in. It had been over fifty years since he'd left Callignee to train as a technician with the PMG, but he wanted to check on things. Their old farmhouse, on the left-hand side of Callignee South Road, just after the bridge going over Flynn's Creek, had survived but things looked grim on the other side. He wanted to see everything, he told me drive up gravel roads that connected back to the Old Callignee Road. We knew the old Primary School was gone but he still wanted to go and look. Normally my Dad could talk under wet cement, but he was pretty quiet. He mentioned his own father telling him about the last time that fires went through Callignee in the 20s or 30s, he couldn't remember. Something deep was aching in him to see his home so scarified.
Driving back into town on the Callignee South Road takes you past a row of pine trees that my great grandfather once planted as a schoolboy. When you turn into the Traralgon Creek Road, the Loy Yang Power Station looms like a leviathan on your right-hand side. The State Electricity Commission acquired some farmland from my great uncle in the 1940s as part of the planned construction of Loy Yang. I remember when I was about ten, Dad driving me right up into the hills of Callignee North to visit my grandmother's old friend, Mrs Holmes. My Gran had died a few weeks before. She made us cups of tea and banana bread on her wood fire stove in the old kitchen and told us tales of when she and my grandmother were both schoolteachers in tiny wooden schools in Upper Flynn and Callignee. The newly connected telephone exchange sat in my Gran's house and she was the telephonist who connected calls to the farmhouses in the district. My life was being coded for me in these hills, long, long before I was born. The Traralgon Creek Road eventually connects Callignee to the south side of Traralgon like a major artery that leads directly into the heart of our town, the Traralgon Showgrounds, home of the mighty Maroons.
Even with a terminal illness, you are never sure when your 'last time"' moments will be. It's only after the fact that you realise there was something quite perfect about them. The last time we did the Callignee drive was a summer Saturday. The Callignee and Traralgon South CATS were playing cricket against Gormandale on the Wes Pump Memorial Oval where Dad once taught me to kick a footy. We pulled up at the fence and watched for a bit. We wandered around the brand new multi-million-dollar hall that had been rebuilt after the fires. He had a quiet wander around where the school used to be. There is a memorial archway made from some of the old wheel rims, horseshoes and other scrap metal that was salvaged from the properties and farms that Black Saturday had ravaged. The view from where the school once was looks out endlessly over towards the east and reminds you just how wonderfully and magically far away from Melbourne Callignee really is. It's a long way from where Dad now rests, but it is where I sense his eternal repose most acutely.
The Tigers (Covid) Almanac 2020 will be published in 2021. It will have all the usual features – a game by game account of the Tigers season – and will also include some of the best Almanac writing from the Covid winter.  Pre-order HERE
To return to our Footy Almanac home page click HERE.
Our writers are independent contributors. The opinions expressed in their articles are their own. They are not the views, nor do they reflect the views, of Malarkey Publications.
Do you enjoy the Almanac concept?
And want to ensure it continues in its current form, and better? To help things keep ticking over please consider making your own contribution.
Become an Almanac (annual) member – CLICK HERE.
One-off financial contribution – CLICK HERE.
Regular financial contribution (monthly EFT) – CLICK HERE.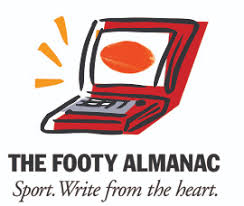 Loving life as a husband, dad and teacher. I'm trying to develop enough skill as a writer so that one day Doc Wheildon's Newborough, Bernie Quinlan's Traralgon and Mick Conlon's 86 Eliminatiuon final goal will be considered contemporaneous with Twain's Mississippi, Hemingway's Cuba, Beethoven's 9th and Coltrane's Love Supreme.