Almanac Horse Racing and Poetry: Sporting concussion and a national poet.
The threat of repeated sporting concussions leading to the degenerative brain disease chronic traumatic encephalopathy (better known as CTE) continues to cast a shadow over our national football codes.
The emerging research on this issue and the tales of former players makes for scary reading. In 2019, researchers at Boston University found that for every year of playing American football a player's risk of developing CTE increased by 30 per cent, with the risk doubling every 2.6 years.[i] In the last year, former AFL players Polly Farmer, Danny Frawley and Shane Tuck were all diagnosed with CTE.
While recent events and medical research have been shocking, the link between sport, concussion and brain trauma has been known for some time. The condition of CTE was first discovered in boxers around a century ago, known then as 'punch drunk syndrome' or dementia pugilistica.[ii]
But I would go back even earlier to the life of one of Australia's great poets. In the 1860s, Adam Lindsay Gordon was a well-known sporting identity in the colonies for his feats as a steeplechase jockey and part-time poet.
He was a true renaissance man. He may have been raised in the grammar schools of England but he loved working with horses in the Australian bush. On horseback he would recite the odes of Horace and the sonnets of Shakespeare. He balanced duties as a member of the South Australian parliament with his thirst to compete in steeplechase events from Robe to Ballarat.
He had a courageous, many would say reckless, riding style which won him many trophies and fans. On one occasion he won three races in a single day at Flemington.
One of Gordon's favorite steeplechase venues – 'on the fields of Coleraine', Western Victoria.
(Source: Author)
He also tended to fall off horses. A lot. Friend Reverend Tenison Woods recalled that on one occasion a riding fall caused by an errant tree branch left Gordon unconscious for more than an hour. And if this was not enough, he also didn't mind the odd round of boxing.
A particularly significant accident occurred at the May 1865 Maiden Steeplechase in Ballarat. The Ballarat Star reported that "Red Lancer fell heavily and bolted off the course, Mr Gordon, his rider, lay for some minutes on the ground stunned." The reporter noted that Gordon "sustained a severe shock, and for some time afterwards appeared to have lost all recollections." Sound familiar to a modern AFL context?
Incredibly, Gordon took his oath of office in Adelaide as a member of the South Australian parliament just 12 days after this fall.
After another bad accident a few years later, he wrote to a friend "I never got over that fall & since then I have taken to drink, at least, I don't get drunk but I drink a good deal more than I ought to do for I have a good deal of pain in my head & back & I get so awfully low spirited & miserable."[iii]
In Gordon these physical traumas formed a dangerous cocktail with pre-existing mental health conditions. His poetry and writing reveal a tendency towards depression and plenty of ruminations on death and the futility of life. He seemed old before his time. His most famous poem, 'The Sick Stockrider', glorifies the beauty of a lonely bush burial 'Let me slumber in the hollow where the wattle blossoms / wave / With never stone or rail to fence my bed'.
While its precise contribution can never be known, it would appear likely that Gordon's riding injuries contributed to his suicide at age 36. On the morning of Friday 24 June 1870, Gordon rose early leaving his sleeping wife in bed. He walked to the tea-tree scrub at Brighton Beach and shot himself in the head with his own service rifle. A Brighton storekeeper came across Gordon's body whilst out searching for an errant cow. An inquest jury found that he had killed himself "while of unsound mind."
On the very same morning of his death, Gordon's second collected works, Bush Ballads and Galloping Rhymes was published to positive review. This volume and the pathos of his death would secure his fame.
The Age reported that Melbourne was left in a state of shock. "When the fact of Mr Gordon having committed suicide yesterday were first whispered in town, it was not believed." Reflecting his fame as a jockey, the reporter emphasised his loss to the racing fraternity – "No more shall the Flemington course know his genial face".
As we face up to a better understanding of the impact of sport concussions, it is worthwhile to think of a poet and sportsman who lived this tragedy some 150 years ago.
Lindsay Smelt is currently writing a new biography on Adam Lindsay Gordon.
Read more about Adam Lindsay Gordon , especially from Roger Lowrey HERE
If this piece has raised any concerns for you, please contact Beyond Blue on 1300 22 4636.
References
[i] 'CTE Risk More Than Doubles after Just Three Years of Playing Football', Boston University, October 2019, http://www.bu.edu/articles/2019/cte-football/
[ii] https://www.nhs.uk/conditions/chronic-traumatic-encephalopathy/
[iii] Anderson, Hugh (ed.), The Last Letters 1868 – 1870, 1970.
The Tigers (Covid) Almanac 2020 will be published in 2021. It will have all the usual features – a game by game account of the Tigers season – and will also include some of the best Almanac writing from the Covid winter.  Pre-order HERE
To return to our Footy Almanac home page click HERE.
Our writers are independent contributors. The opinions expressed in their articles are their own. They are not the views, nor do they reflect the views, of Malarkey Publications.
Do you enjoy the Almanac concept?
And want to ensure it continues in its current form, and better? To help things keep ticking over please consider making your own contribution.
Become an Almanac (annual) member – CLICK HERE.
One-off financial contribution – CLICK HERE.
Regular financial contribution (monthly EFT) – CLICK HERE.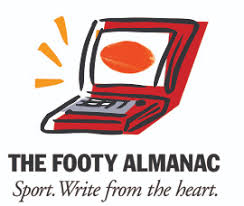 I am a writer, historian and economist based on the Victorian surf coast. I'm writing a new biography of the Australian poet Adam Lindsay Gordon – bringing Gordon's extraordinary tale to life for a new generation. My work reveals new insights about Gordon, including the story of his birth and detailed discussion of his battles with mental health. I studied at the University of Melbourne and also currently work as an energy and environmental economist.