Almanac History: Yahl – South Australia
Yahl, South Australia
Who has heard of a South Australian locality called Yahl? If you have, give yourself a gold star, elephant stamp, or shout yourself a beer or beverage of your choice. I never knew it existed until after I started researching my family history about a decade ago.
Yahl is near the coast of the state, in its south-eastern corner, close to another locality called OB Flat. Still not ringing any bells? Most likely not. "OB what?" you may ask. "Yes, OB Flat." I answer. (According to Wikipedia, this very unusual place name 'is believed to derive from a herd of cattle bearing the brand 'OB' [owned by O. Beswick] which once roamed in the area'.) To indicate Yahl's location another way, it's about ten kilometres south-east of Mt Gambier, nestled near the state border with Victoria.
Why am I bringing this matter up – do I have some kind of vivid personal memory associated with this obscure place?
No. As far as I can recall, even allowing for childhood holidays which incorporated Mt Gambier, I've never been to Yahl in my life.
Well, why Yahl then?
Family is the reason.
A great-grandmother on my maternal side, Sophia Bertha Golding (nee Herbst), was born in Yahl in 1887, to John Peter and Julia Herbst (nee Bahr [or Baehr]), born in Germany in 1838 and c. 1845 respectively. John Peter was born in Germany's northernmost state, Schleswig-Holstein, sometimes part of Denmark centuries ago, while Julia was born in the picturesque Harz Mountains, also in the northern part of the country, renowned as an area where many German fairy tales originated. The surname Herbst means autumn in German, and it has been suggested by the House of Names website 'that [it] may have originally been used by people whose main work occurred during the fall harvest' – this is particularly fitting, as will be seen below, in relation to the farm work done by John Peter Herbst in Australia.
Following, then, is a basic outline of my German great-great-grandparents' lives, as detailed by South Australian newspaper obituaries of the era:
Border Watch (Mt Gambier, SA) Sat 22 October 1927
MR. JOHN PETER HERBST.
The death occurred on October 12th of Mr. John Peter Herbst, an old and respected pioneer resident of the Yahl district. Mr. Herbst was born in Schleswig-Holstein in 1838, but he left there as a lad of 13 years of age, and went to sea in a British ship. Later he joined the British Navy, and although he did not see any active service he was in American waters during the American Civil War, and he was connected with a transport taking troops to India during the Indian mutiny. He was a good raconteur, and blessed with a splendid memory, and his friends would listen for hours to his descriptions of those stirring times. After the fighting in connection with the Indian mutiny was settled he joined a merchant vessel, and eventually found his way to Australia, about 67 years ago. On landing in Adelaide he went North, and got work as a well sinker. Later he worked for the late Mr. McBride at Pine Hill. About 1864 he came to the South-East, and for a number of years he was employed by the late Mr. Plate, and for many years he worked for other farmers in the Yahl district. In 1866 he married Miss Julia Bahr, the ceremony being performed by the late Rev. R. A. Caldwell. There was a family of nine, all of whom are living. … There are about 40 grandchildren, and eight or ten great-grandchildren. The funeral was held on Friday, October 14th, and the arrangements were in the hands of Mr. W. Pearce. The Rev. E. Sprengel conducted the funeral service.
Border Watch (Mount Gambier, SA)  Sat 15 August, 1936
MRS. JULIA HERBST.
In a recent issue we recorded the death of an old and respected resident of Yahl. We refer to Mrs. Julia Herbst, who died at her residence on Tuesday, July 27, after an illness lasting about four years. Mrs. Herbst was a daughter of the late Mr. and Mrs. William Baehr, and she was born in the Hartz Mountains, Germany, on March 7th, 1845. She was thus 91 years of age. She was only three years of age when her parents left their home land in 1850 to settle in Australia. Her mother died on the voyage and was buried at sea. Her father, with his young family, landed at Port Adelaide and shortly afterwards he settled at Blumberg. They resided in Blumberg for nine years, and then came overland to Mount Gambier in a bullock dray. She lived with her father for 12 years and then went as a servant to the late Mrs. Plate, O. B. Flat. She lived with that family until she was married to the late Mr. John Peter Herbst, the ceremony taking place in St. Andrew's Presbyterian Church, the Rev. R. A. Caldwell performing the ceremony. She had a family of nine, four sons and five daughters. … There are 29 grandchildren and 11 great-grandchildren. She was a member of St. Martin's Lutheran Church, and the funeral service at the graveside was conducted by the Rev. E. Sprengel, and Mr. W. Pearce carried out the funeral arrangements.
………………………………………….
I have one clear personal memory of my great-grandmother, Sophia. (She died in 1973, when I was eleven.) I must have been around eight at the time – she would've been in her early eighties. I can see a stocky Germanic woman with her hair done up in a tight bun, bustling around a kitchen in an old house in Millicent, South Australia. The kitchen had a wood oven, pots were on the simmer, and sunlight streamed through a window in an otherwise unlit room.
And when her parents made their family home in Yahl, they certainly chose a fine location. Many photographs I've seen of the place show the beauty of its countryside. My cousin Philip, who lives in Millicent, described Yahl as "attractive, fertile and flat between old volcanic elevations and old coastal sediments"; in short, I reckon it would have been a lovely part of the world in which to grow up.
But I'm certain that for my German ancestors living there was more about hard work than gazing at the picturesque scenery. That said, I'm equally sure the landscape would've given them pleasure, too.
For more from Kevin, click HERE.
To return to our Footy Almanac home page click HERE.
Our writers are independent contributors. The opinions expressed in their articles are their own. They are not the views, nor do they reflect the views, of Malarkey Publications.
Do you enjoy the Almanac concept?
And want to ensure it continues in its current form, and better? To help things keep ticking over please consider making your own contribution.
Become an Almanac (annual) member – CLICK HERE.
One-off financial contribution – CLICK HERE.
Regular financial contribution (monthly EFT) – CLICK HERE.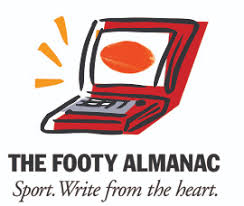 About
Kevin Densley is a poet and writer-in-general. His fourth book-length poetry collection, Sacredly Profane, was published in late 2020 by Ginninderra Press. He is also the co-author of ten play collections for young people, as well as a multi Green Room Award nominated play, Last Chance Gas, which was published by Currency Press. Other writing includes screenplays for educational films.