Almanac Golf: An average golfer visits Barnbougle Dunes
Barnbougle Dunes Golf course, located just outside of Bridport Tasmania, is ranked the third best golf course in the annual Golf Australia rankings for 2020. For years I have been keen to see what the fuss is all about. Last weekend I packed the beanie, sandpapered the rust off the sticks and put my game up to the challenge.
It is fair to say Tom Doak and Mike Clayton didn't have in mind a former Wagga City Golf Club C grade marker, who picks up the clubs half a dozen times a year these days, when they were designing this majestic course.
Once potato farming land, it is built along the rolling sand dunes, overlooking Bass Strait. No real limitations for the designers, who have carved out a thing of beauty and made the most of every inch of the land.
Old mate in the pro shop asked me what was my handicap, so he could direct me to which set of tees to play off. My obvious handicap was using a set of sticks from the Peter Senior era and a tendency to leave 4 foot putts short in fear of having a 5 footer on return. I told him I played off 18 – factually correct in that I did so as a 16 year old in 1994. I would be off the auburn tees (the poor cousin to the blacks).
Standing on the first tee I felt a level of inadequacy not since experienced since the moments before my Wedding Waltz – much like that night I am hoping to bluff my way through it and not cause embarrassment to myself or my family.
A quick scan down the fairway illustrates the beauty and brutality of Barnbougle. The longest par 5 on the course.
The tee shot asks you to fire accurately between two large dunes, otherwise you will end up in the rough – so thick you would not bother looking, unless you fancied taking on the snakes with your 7-iron.
I get hold of one of the tee and stride off with a level of arrogance and contentment that is only felt after majestically striking a golf ball in front of a first tee gallery – all of whom are secretly rooting for your demise, as to feel better about their own inadequate games.
I'm playing solo today. In town for my Father in Laws 70th with Mrs D and the kids, unfortunately we couldn't find a babysitter on the day. I'm wedged between a lot of groups of 4, so anticipate a slow grind.
What is it with Golf fashion these days? Gee, you would want to play off 5 or below to get away with the white pants and white belt combo, and even then I still think you come off as a wanker. I yearn for the bedroom curtain style fashion of the 80s.
Gliding down the fairway its evident that Barnbougle offers a multitude of shot options – be brave and make a mistake and you will be punished, be strategic and straight and you have your choice of ways to get to the pin. I start well on the opening holes.
As I stand on the 254 metre par four fourth hole, with a decent tailwind I decide to go for glory. Bang, in the screws again, yet I catch the top of the worlds largest bloody fairway bunker – 8 millimeters further and I would have been putting for eagle.
My ball is plugged so deep I almost need explosives to extricate it. I start the ascent up the bunker to play it. Three quarters of the way up and I start to feel like Sir Edmund Hillary. My footing unsteady and balance uncertain. I have visions of playing the shot then falling 16 feet backwards into the abyss, probably not to be found for 48 hours. I seriously can't play the shot without falling, so have to resort to raking the ball backwards into safety. For the first, and not last, time today Barnbougle has flexed its muscle with me.
As I hack my way around the front nine, each shot presents options and the risk versus reward conundrum. Unfortunately, I don't have the skill to make the most of the audit. The scenery is breathtaking at times, particularly on the coastal walk to the fifth tee – in moments like this you just stop, forget about the game of golf and just take it all in. It is impossible not to smile in these moments.
As a golfer who now days plays at the run of the mill public 9 hole courses (while trying to teach my kids the game) its not lost on me to be playing on such a well regarded track. At my level though I'm probably unable to appreciate what sets Barnbougle so high on the list of Australian courses from a technical perspective. I'm just lost in the scenery and rustic charm of it all. For today, that will do me.
I'm playing behind a pleasant group from Adelaide, although it is fair to say the time they are spending on the greens would rival those putting on the last day at Augusta. By mid-round I'm growing weary of the delays and praying for a few chip-ins.
The wind is causing havoc in the afternoon. Decent shots are taken off and never to be seen again. I wish I had a low punching 3 iron shot in my arsenal. Whatever hair I have left of my bald head is blown back towards Devonport. It makes the challenge of the course immeasurably more difficult, yet, in a funny way part of me is glad to experience the course when it has its teeth out.
I've been on the course close to 5 hours by the time I reach Hole 17 – a 326 metre par 4 with the most knee shaking tee shot on course. My early success with the driver has been replaced with a series of slices and the dreaded topped shots. The TAB would have me at $284 to pinpoint my drive through the narrowest of landing areas and not end to the right in the heavy scrub or beach. I subsequently donate my ball to marine biology research.
The 18th is a brutal finish, requiring a blind tee shot with a tight angle into the fairway. Like most of the greens on the course it has multiple undulations, however, I found the greens to be brilliantly true and the pace not of concern. I actually putted at a 5th grade level, which for me is a good day at the office.
Mrs D and Jack are waiting for me at the 18th. I'm exhausted, yet extremely satisfied that I've made my way around the gem in Tassie's Golf Tourism Industry. I give my fans an edited version of my performance, focusing on the high-water mark pars and ignoring the shanked 5 irons that ended back on the mainland.
As an average golfer Barnbougle, for me, was about stopping to take in the views, appreciate the complexity and fun in the challenge of the layout and to be satisfied with moments of competence. All up I donated 8 balls, was just shy of a ton and left with a lifetime of memories.
To return to our Footy Almanac home page click HERE.
Our writers are independent contributors. The opinions expressed in their articles are their own. They are not the views, nor do they reflect the views, of Malarkey Publications.
Do you enjoy the Almanac concept?
And want to ensure it continues in its current form, and better? To help things keep ticking over please consider making your own contribution.
Become an Almanac (annual) member – CLICK HERE.
One-off financial contribution – CLICK HERE.
Regular financial contribution (monthly EFT) – CLICK HERE.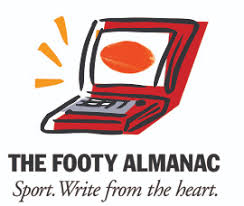 Born in the sporting mecca that is Wagga Wagga and now reside in Melbourne with my lovelly wife Sophie and son's Jack and Harry. Passionate Swans supporter and formally played cricket at a decent level and Aussie Rules at a not so decent level! Spend my days now perfecting my slice on the golf course and the owner of the worlds worst second serve on the tennis course.