Almanac Footy – Vic Fuller remembered: The moment that made a memory
I have Covid-19 to thank for meeting Vic Fuller.
Tributes have been numerous and touchingly sincere since the news that longtime Geelong Cats volunteer Vic Fuller passed away suddenly at training this week aged 79.
Pick one such tribute at random, be it from a player, media, admin or fellow Cats diehard, they all speak of the flowing generosity of the man and his ability to connect with anyone who walked through the door into Kardinia Park.
For the first time on February 12th, 2021, I walked through that door.
---
I've been to Kardinia a number of times, but even when there to work (as I was on that evening), my preferred entrance has been through the gates and on to the outer; I like to feel the crowd's vibe whenever I get the chance.
Thanks to the current restrictions put in place in response to the pandemic, the divide between working the game and watching the game is distinct and concrete: no more flitting back and forth from grandstand to vendors to media box to changerooms etc. Part of this meant that after checking in via the AFL's Working Personnel Register, confirming my lack of symptoms or exposure risk and adorning a fetching fluoro wristband not unlike a music festival accessory (remember music festivals?) I made my way slightly right of the gates to an unassuming doorway.
After I entered, I was immediately greeted by a jovial older fellow who pointed to a spot on the ground where I was to plant my feet and look up at a camera, an unblinking digital eye tasked with being the ultimate arbiter of my ability to enter based on body temperature alone.
Instead of leaving me to sweat over if I was sweating or not, my momentary companion broke the silence to ask: 'You're not famous are you? I'd feel terrible if I didn't recognise you!'
Stifling a smile (which would have been a little difficult to see from under my mask) I replied that I very much wasn't, only there as 'garden-variety print media.'
His response was incredibly affirming and just what I needed to hear: 'You know, print is very important; and I'm certain that you must write well.'
It wasn't smoke being blown up my arse or small talk for the sake of it; one look at his face could tell it was genuinely from a good place, a place of warmth and emotional connection.
As we talked and waited for the lift to complete its journey down, I made sure to say thanks for his kind words and that I hoped to say hello next time I was in town.
Unfortunately that won't be possible now.
The added reason for my being almost 80km from home on that chilly Friday night was the impending snap lockdown playing havoc with my psyche. I theorised that if the worst case scenario played out, this might have been the last game of footy I got to attend for a while. I arrived to find I was the only one out of a handful covering the match who would be headed back along the M1 as the clock neared a foreboding midnight; not for the first time I questioned my thought processes.
Meeting Vic was a surprise outcome of those processes that, upon reflection, seems fortunate beyond belief. Real butterfly effect stuff.
---
Vic, your deeds and words were appreciated by so many and in the smallest possible way, I now understand why. Yours is a story that will forever be woven into the fabric of the mighty Geelong Football Club.
Vale.
For more from Jarrod, click HERE.
The Tigers (Covid) Almanac 2020 will be published in 2021. It will have all the usual features – a game by game account of the Tigers season – and will also include some of the best Almanac writing from the Covid winter.  Pre-order HERE
To return to our Footy Almanac home page click HERE.
Our writers are independent contributors. The opinions expressed in their articles are their own. They are not the views, nor do they reflect the views, of Malarkey Publications.
Do you enjoy the Almanac concept?
And want to ensure it continues in its current form, and better? To help things keep ticking over please consider making your own contribution.
Become an Almanac (annual) member – CLICK HERE.
One-off financial contribution – CLICK HERE.
Regular financial contribution (monthly EFT) – CLICK HERE.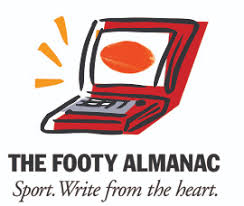 About
A classic jack of all trades & master of a couple, Jarrod started his footy career as a gangly ruck after a growth spurt catapulted him to the lofty heights of 177cm as a 12-year-old. Forward pocket off the bench was where he ended up as he topped out at 178cm eight years later. The trajectory of a career in health fortunately didn't peak during the pre-teen years & a keen interest in footy has turned from playing to coaching, volunteering and writing.