Almanac Footy History: An afternoon of footy with Fred Goldsmith
John Harms spends an afternoon (in  2008) watching footy with legendary Swan Fred Goldsmith. A version of this piece appeared in The Age.
I drive over the West Gate Bridge, looking across the factory rooftops. Below me, as I approach Williamstown Road, is Spotswood and its footy ground. Spotswood: that gem of a movie ("I'm on ya, I'm on ya") that exposes the hollowness of economic rationalism. (Alwyn Kurts: "I'll get the port and the fairy cakes.")
In Spotswood, I find the weatherboard house I'm looking for. Fred Goldsmith, Brownlow medallist in 1955, and a member of the Swans' Team of the Century, is standing on his porch waiting. The gate is already open. He greets me warmly. He's wearing a pair of moccasins.
He's a big bloke. He's just had a hip replacement ("Had both me knees done as well."). It's major surgery, especially on a bloke of his size, as I can see when, without hesitation, he drops his tracky-dacks to show me the enormous scar on his Brahman rump.
The walls tell the story of his footy career: a framed South Melbourne jumper, Fred in his Victorian jumper when he won the Simpson Medal for the best player at the carnival in 1956, a photo of the gathering of every living Brownlow medallist at the MCG a few years back, a photo of his beloved Spotswood premiership side from 1950 (when he kicked 150 goals and the green and gold beat West Footscray by 20 goals in the grand final).
But South are on today and we need to focus.
Barry Hall marks strongly. "He looks good today," Fred says.
"Another one," he says happily.
"Micky O'Loughlin's finding a bit of form."
The Swans use the ball beautifully in the sunny conditions. Long, low passes find leading forwards. Great footy. Five goals to nothing and the game looks over.
Fred relaxes. He is happy to chat more. He was born in Willy. Went to St Mary's ("I was an altar boy"). Sold papers. His dad "Cracker" was a wharfie and his mum Dolly looked after Fred and his three sisters. When "Cracker" died, she went back to work at the age of 60. She became a barmaid at Young and Jackson's ("Everybody knew Old Doll").
Fred kicked a paper footy around the streets with his best mate, Bill Gunn, who went on to captain South in the year Fred won the Brownlow.
One morning, when Fred was a teenager, a big, black chauffeur-driven Ford pulled up alongside him. It was Keith McClennan, secretary of South Melbourne. "Do you know any kid called Billy Gunn?" the official said.
Fred jumped in. They went around to the Gunns' house. "Hey, Bombhead," Fred said trying to wake Bill up through the window. "They want you to sign a Form Four."
Bill said he'd sign if they signed Fred as well. They got Bill for a footy jumper and Fred for a pair of socks.
After his brilliant season with Spotswood, Fred took up the South offer, joining Bill. They'd get to training by taking the ferry from Newport to Port Melbourne ("Billy Williams' grandfather was the ferryman for 40 years"). Then they'd ride their bikes to the Lake Oval.
The Swans continue to dominate the game. At half-time, Fred brings out a plate of chicken sandwiches.
In Fred's second league game, Richmond's Mopsy Fraser kicked him in the ankle – behind the play. He was out for months. He spent much of that time lifting dumb-bells at Frank Findlay's gym.
The coach Herbie Matthews moved Fred to full-back ("I could mark and kick"). From there, Fred never looked back.
He played on Coleman, keeping him goalless until three-quarter-time one day. ("But then Bill Hutchison hit him on the chest three times in a row").
He played on Jack Collins at Footscray one day. "He was from Yarraville. I knew him," Fred tells me. "Never shut up. We're standing in the goal square and he says, 'Look at that sheila in the red dress. She's goin' to the dance up the street tonight'. I said, 'Shut up, Jack.' He said, 'No, walk over here and have a closer look.' So we walked towards the point post. Next thing I know, Jack Collins, he's gone. On the lead. And I'm standin' there."
Fred reckons he only won the Brownlow because South was a struggling side in those days ("and all the play was up my end"). But good judges say otherwise.
Fred was a fireman. The night of that Brownlow count, he was on duty. He got a call from 3AW's Norman Banks. He thought it was one of his mate's playing a prank. ("Until all the media turned up at the station.")
Melbourne makes a bit of a comeback and Fred gets stuck into the Swans full-back. ("Where's Leo Barry going? Take him off."). But the Swans settle and Fred enjoys the last quarter.
He tells me stories of his days coaching Albury. And of his own kids. He's happy in Spotswood and Willy, a lifetime away from the city, home for most of his days. "I love the place," he says.
The Richard Davis piece on Fred Goldsmith can be read here.
Our writers are independent contributors. The opinions expressed in their articles are their own. They are not the views, nor do they reflect the views, of Malarkey Publications.
Do you really enjoy the Almanac concept?
And want to ensure it continues in its current form, and better? To help keep things ticking over please consider making your own contribution.
Become an Almanac (annual) member – CLICK HERE
One off financial contribution – CLICK HERE
Regular financial contribution (monthly EFT) – CLICK HERE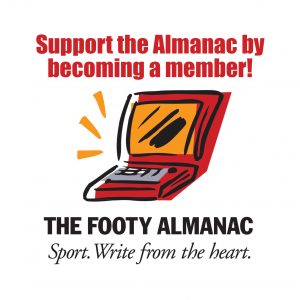 JTH is a writer, publisher, speaker, historian. He is publisher and contributing editor of The Footy Almanac and footyalmanac.com.au. He has written columns and features for numerous publications. His books include Confessions of a Thirteenth Man, Memoirs of a Mug Punter, Loose Men Everywhere, Play On, The Pearl: Steve Renouf's Story and Life As I Know It (with Michelle Payne). He appears on ABCTV's Offsiders. He can be contacted [email protected] He is married to The Handicapper and has three kids - Theo13, Anna11, Evie10. He might not be the worst putter in the world but he's in the worst three. His ambition is to lunch for Australia.