Just metaphorical moments ago, I went public with a new declaration of love for her, revitalised and strengthened. My vows renewed.
But now, she has gone again. My red and white heart-throb has packed her bags and left. To the anonymity of a Queensland sojourn, devoid of local love.
A decision taken whilst I slept and dreamt of seeing her again on a chilly yet delightful Victorian country excursion this weekend. The prospect of knowing her over coming weeks in a manner that might prompt a re-commitment from her, in ways long forgotten.
She has her reasons; she always did. But understanding and acceptance are not always linked notions, particularly when the news is abruptly delivered.
And to think, just yesterday she had embraced our mutual love affair and announced that the garment that evokes such delight would be shared with us – with me – again and again, whilst she enjoyed the hospitality of her first home. That white with a splash of red that takes me back to a simpler time, when I first knew her charms.
Forty years had vanished before my eyes as I welcomed her back home. But memories of 1982 have flooded back in an instant; a loss that clearly I have never truly reconciled. I wonder if her momentary loss South of the border now evokes a matching reaction for the Sydney brethren? Four decades is surely long enough to have spawned true love?
I have witnessed my children wrap their arms around and claim her as a local once again. Their local. A depth of understanding of who she once was, filling my heart with joy. "South Melbourne,… South Melbourne".
Please forgive my adolescent lament, whilst I re-set my emotions to resume a lower place in her pecking order; a  supporting role. "Two cities, One team", has delivered in spades and  I shall be forever grateful for the gifts she has bestowed upon me, especially on 24 September 2005.  But the the chronology of our component parts within Roosy's declaration on that day: "to the people who have waited 72 years to see South Melbourne/Sydney Swans win the premiership, here it is", reflects my true inner order.
For a month I have been titillated but teased and now must learn to again accept that she has to be shared. Reality bites.
Cheer, cheer!
The Tigers (Covid) Almanac 2020 will be published in 2021. It will have all the usual features – a game by game account of the Tigers season – and will also include some of the best Almanac writing from the Covid winter.  Pre-order HERE
To return to our Footy Almanac home page click HERE.
Our writers are independent contributors. The opinions expressed in their articles are their own. They are not the views, nor do they reflect the views, of Malarkey Publications.
Do you enjoy the Almanac concept?
And want to ensure it continues in its current form, and better? To help things keep ticking over please consider making your own contribution.
Become an Almanac (annual) member – CLICK HERE.
One-off financial contribution – CLICK HERE.
Regular financial contribution (monthly EFT) – CLICK HERE.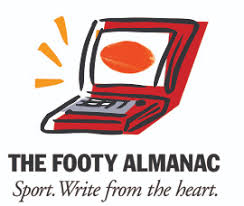 Known to stare longingly down Clarendon St still wondering how his red and white heroes ever left him, Chris Bracher's pining for his relocated team has been somewhat appeased by recent Bloods glory....but the pain never truly goes away!