Almanac Footy – Carlton 2021: The wildcard season
"Whom the gods wish to destroy they first call promising." – Cyril Connolly
It was completely appropriate to the strange beast that was the 2020 AFL season that it finished leaving me with more questions than answers about my own footy club. Carlton won 7 games out of 17 in 2020. It experienced enough five-goal swings both for and against to have a revolving door in danger falling off axis. It had a very poor last month to the season, no doubt partly a function of having to play 4 games in 13 days during that time. But we also won at Geelong for the first time in ages. In hindsight, though there were signs of definite progress, I thought it all looked a bit of a dog's breakfast.
The club itself is clearly more upbeat. It has abandoned any reticence about mentioning the 'F' word. This has fueled a feisty supporter base that has actually shown much tolerance and loyalty during a rebuild that has felt longer than the Ring Cycle.
So, having got our ritual opening loss to the Tigers out of the way, it is time to take stock of what can realistically be expected for 2021. Will it be the hope that kills us in the end? Or are we really getting somewhere?
Importantly, after a couple of decades, the club's formerly strong financial position has been largely restored. We are finally debt free. Despite the poor on-field results, the club has astutely grown the membership to a now record 76,000 (and counting). We even appear to have a strategy to wean ourselves from an over reliance on pokies revenue. Headed by Mark LoGiudice, the current administration would seem to be achieving in excess of its profile, making it a singularity in recent Carlton history.
I think this matters a lot for our playing prospects. Football clubs don't magically produce success. In a highly competitive league, you have to get most things right most of the time. Clubs that can't get it right off the field are long-shots for any sustained on-field success.
Now about those 2021 finals. To make them, 2020's 7 wins out of 17 needs to be improved to no less than 12 wins out of 22. For a club that hasn't reached double figures in the win column since 2013, that's a no small jump. From where does the improvement come?
It would be fantastic to say the improvement will come from having our full list available. Unfortunately, our pretty lousy luck in that regards hasn't entirely deserted us. Our whole rebuild process has been majorly impeded by having key players not just injured, but out of football for up to two full seasons. What might our forward line look like now if Charlie Curnow, Harry McKay and Tom De Koning had been consistently available since they were drafted? How different would our defensive stocks have been if Sam Docherty, Tom Williamson and Caleb Marchbank hadn't missed huge slabs of their prime football years? That's a lot of development missed by some of our brightest talents. Harry will only play his 50th game this week. Charlie has only played 58, Marchbank 48, Williamson 33, and The King just 9. Even Doch only clocked up his 100th last season.
The good news is that most of these names are back playing now, or will be within a month (touch wood). Charlie is the obvious exception. Sadly, we may well find he doesn't figure meaningfully in this season's plans.
Enough of the what-ifs. Considering what actually is, our most obvious area of concern this season remains our midfield depth. Crippa has carried too much for too long already. Sam Walsh has done everything humanly possible (plus some) in his 40 games to confirm he's another A-grader. Hopes are high for new draftee Zac Williams. He has shown himself a classy rebound defender, but only glimpses as a mid-fielder from limited opportunities at GWS. I hope he sets me straight on this question very quickly. Jack Martin is the other talented inclusion to this group. Though once again, he's not a proven full time mid. And depending on how things pan out, he may well be needed up forward. Based on his outstanding form in Round 1, is it too much to add Jack Newnes to this bunch? At least on a wing?
Beyond this group, we look at the hardy perennials Ed Curnow and Marc Murphy. Ed is seemingly tireless, but has never been polished. Murph has the polish, but is seemingly tiring. He will more likely play a forward role. Will Setterfield took a significant step up last season. With only 37 games under his belt, there's plenty of room for further improvement. He's the type of player we need to continue to improve to make us a better team. Can Mick Gibbons be another? Paddy Dow remains the other great hope. He needs to tidy up his kicking. Can David Cunningham or Lachie O'Brien become something more than enigmas? The opportunity is there, but they better take it quick. And does anyone remember Liam Stocker?
In summary, we hope we have improved our midfield depth. We'll find out soon enough.
Our defensive stocks look well catered for. In fact, they may be over-catered. Adam Saad is the obvious big inclusion here, based on his debut form. At the very least, Saad probably buys Doch some breathing space by complicating the question of who draws the opposition's attention. Otherwise, the group will be much as last year. I expect Williamson to continue improving. If he can ever get properly fit, Marchbank enters the conversation in a number of possible roles. Nic Newman will hopefully return as an extra option. I remain unconvinced that SPS is a defender. I think his talents are better deployed elsewhere.
If there's a question on our defense, I think it's how well they actually defend as a group. I personally think Liam Jones is the fulcrum to this. No player has resurrected his career in my time watching footy more remarkably than Jonesy. Lazarus with a triple by-pass doesn't even cover it. He has been an immensely brave and often spectacular defender. But he backs his judgement, and his judgement is often erratic. The best defenses usually thrive on certainty and predictability. They don't trade in wild cards. Jonesy is a wild card at heart. He walks an intriguingly fine line.
How our midfield holds up also will be vital to our defensive fortunes. If, like the Richmond game, we require them to defend 75 opposition inside 50's most weeks, they'll just get ground down.
Presuming no Charlie, Harry and Levi will be our forward talls. McGovern, Martin and newbie Oscar McDonald would be expected to back them in a variety of roles. Any combination of Eddie, Zac Fisher, Gibbo, Lachie Fogarty, Murph and Matt Cottrell (I hope) will likely form the small forward rotation. That lot could produce anything or nothing on a given day. Much will depend on the general quality of our forward-50 entries. That has been an ongoing issue. All of this would look much, much better if Charlie was playing.
Tom De Koning tantalized us last year, when he finally strung a few games together. He looks like he could be anything if fit. But for this year, he remains a 9-gamer with a history of injury. Inevitably, Marc Pittonet will need to play a part. With only 21 games experience, he's hardly a veteran himself. It's safe to say we need a bit of injury luck with our ruck division.
The coach has a few questions of his own to answer this season. David Teague's calm, positive vibe has been a welcome consistent element since he took the reins. But it's hard to ignore that almost half the games he has coached have seen us cough up a run of five or more goals against. Some of this must be down to the playing group. But it's hard to think our game plan and positioning aren't in some way a factor. Does the coach have the ability to develop along with the players? Does he have the right assistants?
The deeper I get into this piece, the clearer it is why I have so many questions.
In terms of answers, I think we'll have a few pretty early on. In the next three rounds we play Collingwood, Fremantle and Gold Coast. Collingwood have had a rough off-season, but they're Collingwood. We required a miracle to scrape past Freo last season. We're playing Gold Coast early in the piece – history suggests it's much better to play them later. All three games are the sort a prospective finals side probably needs to win. If we aren't well placed after Round 4, it's unlikely our plight will improve when we play Port and Brisbane in the next two rounds.
If the absolute worst case scenario played out, and we're 0-6, then things could get very interesting. The supporter base has been surprisingly forbearing in recent times, but the club itself has stoked expectations – 0-6 would be a hard sell.
Hopefully these are just the speculations of an ageing pessimist. We certainly have more talent on the playing list than any time since 2001. I think it must click at some stage. But the paradox of sporting belief is that the only true path to it is winning, yet winning is harder without true belief.
Whatever transpires, I can't really see it being dull.
Best we take it one week at a time. Let's beat the Magpies.
For more from John, click HERE.
The Tigers (Covid) Almanac 2020 will be published in 2021. It will have all the usual features – a game by game account of the Tigers season – and will also include some of the best Almanac writing from the Covid winter.  Pre-order HERE
To return to our Footy Almanac home page click HERE.
Our writers are independent contributors. The opinions expressed in their articles are their own. They are not the views, nor do they reflect the views, of Malarkey Publications.
Do you enjoy the Almanac concept?
And want to ensure it continues in its current form, and better? To help things keep ticking over please consider making your own contribution.
Become an Almanac (annual) member – CLICK HERE.
One-off financial contribution – CLICK HERE.
Regular financial contribution (monthly EFT) – CLICK HERE.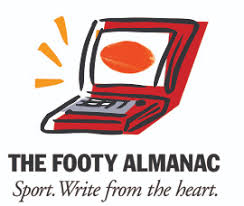 John Butler has fled the World's Most Liveable Car Park and now breathes the rarefied air of the Ballarat Plateau. For his sins, he has passed his 40th year as a Carlton member.