Almanac Footy: Can the Saints Break the 56-Year Drought?
Whilst the Melbourne players bask in the glory of their well-deserved AFL premiership after breaking a 57-year drought, no doubt the conversation in the media will turn to the next longest interlude, St Kilda's 55 years without a flag.
After 50 years of being a Saints supporter, it's difficult to describe how one feels. 'Self-deprecating' springs to mind. As someone who has witnessed so many 'misses' and 'nearlys', I think it's imperative to have that mentality otherwise you could simply go mad.
What most people forget when it comes to our history is that it isn't so much the gap between flags, it's the fact that we've only won one! Melbourne's pain could be appeased due to the fact the Demons were at least once a powerhouse and already had 12 cups in the cabinet.
The only clubs behind us in numbers are 26-year-old Fremantle and the decade-or-so-old 'newbies', Gold Coast and GWS. Even Port Adelaide has one AFL flag, and the Power entered the competition in 1997, albeit on the back of a long and successful domestic period.
Three clubs that joined the then-VFL in 1925, Hawthorn, North Melbourne and Footscray, have a combined 19 premierships between them despite all having faced extinction at some stage in the last 30 years! We began in the VFA in 1873, for one flag in 1966. That's pain right there!
I began following St Kilda as an eight-year-old in Western Australia after watching the 1971 VFL Grand Final.
My younger brother Glen, who was five at the time, was with me, and we watched in dismay as the Saints threw away a 20-point three-quarter time lead to lose by seven points to the Hawks.
I can remember Kevin 'Cowboy' Neale punching Peter Hudson, causing him to blow a couple of opportunities to break Bob Pratt's goalkicking record of 150 in a season due to concussion, but most of all we remember the looks on the Saints' players' faces. We decided to start barracking for them out of pity, and it's been a lot like that ever since.
There are many more one-eyed Saints fans who I've had the pleasure to meet over the years whose memories are far sharper than mine, but these are some of the most telling episodes that immediately come to mind.
1971-1980
It was all about watching The Saints at Moorabbin on the greatest TV football show ever, 'The Winners'. In WA, we were very much WAFL kids, but 'The Winners', with the ABC's magnificent minimalist commentators Doug Bigelow and Doug Heywood, had us transfixed every Sunday.
I loved Carl Ditterich, Robbie Muir, Trevor Barker and 'Cowboy' Neale, relishing the mud bath that was our home ground. It was the time when black and white moved to colour and our beautiful tri-colours and crest became real.
1980 – 2000
Many of my favourites weren't household names at the time. I loved 'Joffa' Cunningham and Greg Burns. They were as hard as they come and the perfect mudlarks in what was a depressing 1980s.
Danny 'Spud' Frawley and Tony Lockett were legends, and losing the big man 'Plugger' prior to 1995 didn't help despite the emergence of Barry Hall.
Still, having Stewart Loewe, Nathan Burke, Nicky Winmar and Robert Harvey reinvigorated Saints fans, and to have a group that talented spearheading any team these days would surely equal success?
No. In the 1997 Grand Final, Adelaide master coach and my favourite player of all time, Malcolm Blight, moved the Footscray discard Shane Ellen forward to kick five goals, having kicked only two previously in his 37-game career. Add to that a destructive five-goal last quarter from Darren Jarman, and I'm now in the foetal position.
2001- Now
I don't honestly know what happened between our, let's say, quirky president at the time Rod Butterss and the incumbent coach, but my hero Blighty didn't see out his inaugural season with the Saints.
To me, Blighty wasn't just the best white man I ever saw play (and I don't care what you say about either Ablett), he was the smartest. It was a shattering way to start the decade, but we move on.
The 2004 Preliminary Final in Adelaide was definitely another one that got away. Nothing in it all night but it will be remembered for the pointless crowd invasion in the first quarter when Fraser Gehrig kicked his 100th goal.
So ridiculously over the top were the crowd that Gehrig had to be escorted from the ground, and the delay halted the Saints' momentum.
Compounding the madness was the fact that the man leading the invasion was the father of Steven Baker, the Saints defender! We go down by a goal and Port goes on to win the flag. God help us.
Enough has been written about the 2010 draw and replay and, other than Brendon Goddard's mark and Lenny Hayes' 52-metre goal, I've erased everything else.
For me, it's 2009 that really stings. We were the best team all year, and who will forget the Round 14 game versus Geelong under the roof?
'Captain Smug', Ross Lyon, may have had a defensive mindset, but it was a vice-like clamp on the opposition, and what many forget was that it often spring-boarded the most spectacular of attacks.
Of course, it had to unravel on Grand Final day. The effort was there but my memories are of missed goals. Adam Schneider, Stephen Milne, Andrew McQualter and Nick Reiwoldt. All easy shots that come back to bite you. I may have shed a tear after this one.
Then, of course, in true 'only at St Kilda' fashion in 2011, the coach mysteriously seeks asylum across the borders to Fremantle. I mean, that happens all the time doesn't it? We leave our spiritual home of Moorabbin to move to somewhere the players and staff hate. That'll work, won't it?
Choosing first-round draft picks that go on to play in premierships and grand finals is a good thing, right? But not when it's with OTHER CLUBS! The litany of poor list management decisions is too numerous to mention (a big hello to Christian Petracca and Marcus Bontempelli on fantastic seasons).
But I'm ending this on a positive note before it becomes medication time. Regardless of the mediocrity, the Saints have given us some of the greatest individuals to play the game. No ranking here because it's unfair, but these are my favourites from a long list.
Trevor Barker – The respect he has at the club and the VFA says it all. A brave and freakish talent, it's the late champion's loyalty that will always shine. Fortius Quo Fidelius.
Nick Reiwoldt – I saw him play at York Park in 2005 where he took 19 contested marks against Port Adelaide premiership defender Matthew Bishop. An extraordinary athlete who could 'blow up' the best of defenders with his aerobic capacity.
Nicky Winmar – Along with Jim Krakouer, the best Indigenous footballer I've ever seen. Floated across the mud like it was a bowling green and could do anything.
Lenny Hayes – When you talk about players with sheer will, Lenny has to be up there. Left nothing behind in every game he played.
Tony Lockett – Never lifted a weight apparently, but terrified opposition with his strength. No one imposed himself on the ground like 'Plugger'. The great Melbourne band Weddings Parties Anything named their album 'The Big Don't Argue' after him. Oh, and he kicked straight.
Robert Harvey – Perhaps Carlton champion Craig Bradley is the only player comparable to this running machine who gave us so much joy. His 'bent over, hands on shorts' look fooled many a tagger into thinking he was fatigued at stoppages, but he'd soon be sprinting off gathering more possessions. A magnificent athlete and humble champion.
I've wondered why Harvey didn't return to Moorabbin after his coaching stint with Collingwood, having decided to accept a role with Hawthorn.
Are the memories of his near-misses at the Saints still just as triggering for the great man as they are for the fans? I hope not. Whether it happens or not, the return of 'Banger' would lift the spirits, but it's not the panacea.
As St Kilda fans, we've learnt not to get ahead of ourselves. The drought will be broken and it will be when we least expect it, perhaps like Richmond post-2016.
What I don't want to hear in 2022 is condescending comments from Hawthorn and Collingwood supporters about the so-called horrors they've been through. As the late, great Bill Hicks would say: "That's like going up to someone in a wheelchair and dancing".
Keep your opinions to yourselves, leave us to wallow in self-pity and go away. Thank you. Go Saints.
To return to our Footy Almanac home page click HERE.
Our writers are independent contributors. The opinions expressed in their articles are their own. They are not the views, nor do they reflect the views, of Malarkey Publications.
Do you enjoy the Almanac concept?
And want to ensure it continues in its current form, and better? To help things keep ticking over please consider making your own contribution.
Become an Almanac (annual) member – CLICK HERE.
One-off financial contribution – CLICK HERE.
Regular financial contribution (monthly EFT) – CLICK HERE.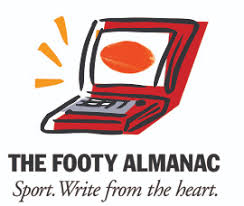 Former army aircraft mechanic, sales manager, VFA footballer and coach. Now mental health worker, blogger and coach of Eastern Warriors Over 35s (new players always welcome!). Lifelong St Kilda FC tragic and father to 2 x girls.