Almanac Footy: Around the grounds of the Ovens and Murray League
In the 1960s, an Albury newspaper reporter and his two sons set forth most winter Saturday afternoons to watch an Ovens and Murray League football match. Beyond the footy grounds on the border, their riverine journeys took them to football towns in the Ovens Valley, downstream along the Murray to Rutherglen, Corowa and Yarrawonga and to the banks of the Broken River at Benalla.
Jim Clark was the Border Morning Mail's football reporter in the 1950s and early 60s.
Take the journey with us as we experience some of the rituals of attending country football matches 60 years ago.
Driving down to Wangaratta: July 1961
Anticipation of an afternoon at the football made Saturdays the highlight of our week. But first came the journey. To help pass the miles away we invented 'spotto' games. The familiar drive down to 'Wang' was dotted with journey markers. After leaving Wodonga on the Hume Highway, a sequence of creeks, sites and roadside structures had to be ticked off. The first challenge was to remember the order of the creeks. Starting with Indigo Creek at Barnawartha, next came Black Dog Creek near Chiltern, followed by the duo of Diddah Diddah and Daddah Daddah Creeks. The next landmarks were Springhurst's silver silos sitting beside the main southern railway line. Then came the long straight stretch where our eyes were peeled for the first person to glimpse the 3NE radio aerial. The appropriately named highway settlement of Bowser followed, and finally the North Wangaratta football ground before crossing the Ovens River and entering Wang.
One Saturday at Wangaratta in 1961 was a special one for us. Wangaratta Rovers captain coach Bob Rose was sidelined with a back injury and we visited him in hospital. Dad introduced us to the champion footballer and his wife Elsie who sat beside him as they tuned in to the radio to hear a broadcast of the Rovers' match. Dad's prediction in that day's paper –  "Benalla's big chance to down Rovers" – proved correct. Missing their inspirational leader, 1960 premiers, the Rovers 6.9 (45) lost to Benalla 12.14 (86).
Myrtleford: 1959
 At Myrtleford, a European-like climate and atmosphere pervade the senses. The weather calls for scarves, gloves, hats and overcoats for spectators most days in mid-winter. Occasionally, patches of snow can be seen dusting the hilltops nearby. The European flavour of the town has long been evident in the cultural background of many Saints players. Well known names in the district such as Piazza, Kekovitch, Garoni and Pizzini tell of the immigrant families from southern Europe, particularly Italy, who settled in north east Victoria after World War II. They took to tobacco growing in the fertile Ovens River valley. And with enthusiasm they also took to Australian Rules Football.
In the 'Hoppers inner sanctum: 1967 
The North Albury change room on match days was a welcome place for supporters, including juniors eager to see their heroes close up before games and at half-time. As junior North Albury players we felt entitled to crowd into the 'Hopper's rooms at Bunton Park before a game. A favourite part of the afternoon was to watch heroes such as Stan Sargeant, Sam Donovan and 'Turkey' Weule prepare for the game and listen to the coach, former Fitzroy captain Ralph Rogerson, rev up the team.
Watching the "Weed" at the Albury Sports Ground: 1966
The Albury Sports Ground was the venue for many Ovens and Murray League grand finals and must see interleague matches in the 1950s and 60s. I recall the ground's big match atmosphere with its crowded embankments, old grandstand, memorial scoreboard and football clubrooms decked in black and yellow streamers. We occasionally accompanied our grandparents who were keen Albury supporters. In 1966 the drawcard for Albury was former Collingwood big man Murray Weideman ('The Weed'). That season he led the Tigers to their first premiership in ten years. With movie-star looks and an extroverted personality he was a big attraction for young and old football followers alike.
A day out at John Foord Oval Corowa: 1962 
Corowa was one of our favourite football grounds, not only because of its picturesque riverside setting but also because we anticipated meeting Dad's good friend Henry Tafft. A Rutherglen man, he was well regarded as the local football correspondent for the Border Morning Mail. Impeccably dressed in a suit and hat, Mr Tafft's presence always meant the generous offering of two shillings to buy a pie and a drink. After his enquiries about how we were going at school, we'd be off to spend our treat. While Dad discussed football with his associate, it was our time to listen and learn how to read the game.
The three quarter time huddle at Martin Park Wodonga: 1960
At Wodonga home games Dad usually positioned himself among the crowd and watched the football standing near the boundary fence with family and friends. All afternoon he attended to his task of recording the scores and goal kickers in 'The Critic' football record, as his thoughts for Monday's match report crystallised.
At three quarter time we would walk out onto the ground to participate in a country footy ritual that was a treat to the senses. The huddle had its scents of liniment, grass, mud, perspiration, cigarette smoke and oranges. And it had its sounds of tactical talk, hush, urgings and fiery outcries.
Read more from Peter Clark HERE.
To return to our Footy Almanac home page click HERE.
Our writers are independent contributors. The opinions expressed in their articles are their own. They are not the views, nor do they reflect the views, of Malarkey Publications.
Do you enjoy the Almanac concept?
And want to ensure it continues in its current form, and better? To help things keep ticking over please consider making your own contribution.
Become an Almanac (annual) member – CLICK HERE.
One-off financial contribution – CLICK HERE.
Regular financial contribution (monthly EFT) – CLICK HERE.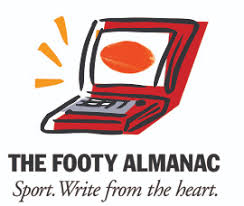 is a lifetime Geelong supporter. Hailing from the Riverina, he is now entrenched on the NSW South Coast. His passion for footy was ignited by attending Ovens and Murray League matches in the 1960's with his father. After years of watching, playing and coaching, now it is time for some serious writing about his favourite subjects… footy, especially country footy, and cricket.