Almanac Football Obituary: Russell Ebert – Legend
The years from the mid-1960s through to the mid-1980s of the SANFL have a special place in my affections. Footy followers of that era were treated each winter Saturday to the feats of the twin towers of greatness, North Adelaide's Barrie Robran and Port Adelaide's Russell Ebert. It was like watching the Beatles and the Stones once a week, or twice if you got home in time for the replay.
Yesterday, 5th November 2021, Russell Ebert died of leukaemia. Since then, a common theme has emerged – Ebert was able to obtain the admiration and affection of the SA football community, even when he played for the common enemy of the remaining SANFL clubs, Port Adelaide. Put more simply, many hate Port, but still revere the four-time Magarey Medallist, not only for his time on the field, but the way he carried himself as a person off the field and until the end. Of course, to the Port faithful, there has never been a better representative of the proud Magpies.
It was a fitting moment recently when Ebert was inducted as the seventh Legend of the Sport SA Hall of Fame. Barrie Robran presented Ebert and his wife Diane with the award in a very moving but typically low-key ceremony. It must be watched to appreciate the special bond between Ebert and Robran and Russell's typically self-effacing response.
This tribute contains just a few of the many highlights of Ebert's career. That handpass (you'll know what I mean), is just jaw-dropping.
Here is a summary of Russell Ebert's playing career (which I wrote in September 2020). I doubt we will see his like again. May he Rest In Peace.
Alawoona-bred Ebert was spotted playing for Riverland team Waikerie by a very persistent Port Adelaide recruiter in 1967, even though Ebert's preference at the time may have been North Adelaide, due to his friendship with Kym Lehmann – Russell later married his sister Dian. (Imagine Ebert and Barrie Robran in the same side!).
At first, travelling down to town for training twice a week, Ebert was assigned to the full forward position in 1968 by coach Fos Williams, which was vacant due to Eric Freeman's selection in the Ashes tour.  He started in stunning fashion, scoring 15 goals in his first three outings. His 44 majors took out the Port goal-kicking, but the Magpies came up short against Sturt on Grand Final day.
Ebert was used in the centre and consolidated his spot in the powerful Port lineup in 1969. He was already first choice State centreman by 1970 but Port could only manage 6th and 3rd in those two years. The penny then dropped that footy was more than just a game to him and he realised what football could mean to Russell Ebert.
The Mobil photographer's less than rugged pose (and was he really wearing White Diamond boots?) give no hint that Ebert was on the verge of SA footy greatness.
Leading a packed field, Ebert won his first Magarey Medal in 1971 with 21 votes, just ahead of Peter Marker (Glenelg) and Phil Haughan (Centrals) on 20. He also claimed his first Port Best and Fairest.
Ebert's renowned attack on the ball is best exemplified by the man himself in this exchange with Matt Zurbo, while being interviewed for Matt's book Champions All.
MZ: Tell me about your playing style
RE: My philosophy was to go and get the ball. If it was in the air, you had to jump and get it. If it was on the ground, you had to go in harder than everyone else. If someone else had it, you had to get it off them. If your team-mate had the ball then you had to protect him for as long as you could. In a team game you can't always have the ball, so shepherds, blocks and smothers are important.
Sometimes I'd have to knock team-mates out of the way if I knew that I could get the ball even if they couldn't.
Port's reputation as a club of winners continued to take a beating after North humbled Port in the 1971 Grand Final. This was repeated in 1972, although Ebert's personal stocks remained high after his second successive B&F, playing mostly at centre half back. In fact, the only positions that he had not played during his first hundred games were wing or full back.
Williams' final year at Alberton, 1973, yielded a disappointing 5th. Incoming coach John Cahill appointed Ebert as Port skipper in 1974.
Ebert was one of the best field kickers going around, delivering long range lace-out service throughout his career. His attack on the ball, freakish marking and damaging handball made him one of SA's top drawcards. A second Magarey and third B&F were evidence of that.
Further honours came in 1975, when Ebert earned the State Captaincy, but team success still eluded him. The bitter loss to Sturt in 1976 meant that Port had lost its last six Grand Finals, so Ebert's fourth B&F and third Magarey Medal were of little personal consolation.
Ebert's 1977 brought many highlights. He captained the premiership side, won a fifth best and fairest and skippered the State side. Upon receiving the premiership flag after the Magpie's 8 point win over Glenelg, his famous quote was "It's taken us a bloody long time but by geez it's worth it"
Port stuttered slightly in 1978, finishing third. Nudging thirty years old, Ebert decided to finally try his hand in the VFL at Barassi's North Melbourne. Due to business commitments at Motley and Ebert's Sports Store, Ebert remained based in Adelaide, flying over to Melbourne and back for Tuesday training, back over again for Thursday training and Saturday's match. Ebert performed admirably in 1979, topping the Roos' disposals in his 25 games. Port did not lose a beat, winning the 1979 premiership without its star player.
Ebert returned to Alberton in 1980, no longer captain but still good enough to take out a record fourth Magarey Medal (despite Bomber Clifford's Port B&F). A second Ebert flag over the Redlegs rounded out a dominant season.
Ebert remained at the top of his game, durable as ever in 1981, taking out the Jack Oatey Medal in a Grand Final thumping of the Bays and adding a sixth Port Best and Fairest.
1982 saw Port's run at the top surprisingly halted by Glenelg in a fiery, malice filled Preliminary Final.
John Cahill's appointment at Collingwood meant that when Ebert took over as Port Adelaide's captain-coach in 1983, he was only the third Port man at the top since 1962. Ebert was State captain in 1983 (his eventual State game total was 29). However, his three years in the dual roles saw Port finish sixth, runners-up to Norwood and fifth.
Ebert stepped down as a player, coaching Port to fourth in both 1986 and 1987. The Magpies expect to win, so these results were not enough for him to keep his job, with John Cahill returning after his spells at Collingwood and West Adelaide.
Woodville's coaching position opened up in 1988 due to Malcolm Blight's move to Geelong with Ebert coaching the Warriors to seventh that year. They finished eighth and eighth the next two seasons. Ebert was Woodville's final coach, as the club merged with West Torrens from the 1991 season.
Russell Ebert, OAM, is a member of the Australian Football Hall of Fame, the SA Football Hall of Fame. He continued to serve the SA footy public in his roles as State of Origin coach 1996-98 and SA junior coach from 1991 to 1999.
Vale Russell Ebert.
Playing Career
Port Adelaide 1969-78 1980-85 391 games/295 goals (3 premierships)
North Melbourne 1979 25 games
South Australia 29 games
Read Andy Thurlow's tribute to Russell Ebert HERE
To return to our Footy Almanac home page click HERE.
Our writers are independent contributors. The opinions expressed in their articles are their own. They are not the views, nor do they reflect the views, of Malarkey Publications.
Do you enjoy the Almanac concept?
And want to ensure it continues in its current form, and better? To help things keep ticking over please consider making your own contribution.
Become an Almanac (annual) member – CLICK HERE.
One-off financial contribution – CLICK HERE.
Regular financial contribution (monthly EFT) – CLICK HERE.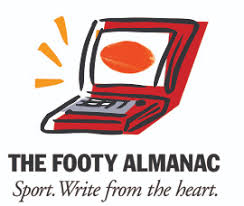 Saw my first SANFL game in 1967 - Dogs v Peckers. Have only ever seen the Dogs win 1 final in the flesh (1972 1st Semi) Mediocre forward pocket for the AUFC Blacks (1982-89) Life member - Ormond Netball Club -That's me on the right