Almanac (Football) Humour: The Artist from Port Adelaide
The Artist from Port Adelaide
Like many other sports, Australian Rules Football was once replete with vivid, colourful nicknames, but my feeling is that these days such interesting nicknames are becoming a thing of the past. I can't think of any in the present to compare with ones of former players like Wilfred 'Chicken' Smallhorn, Jack 'Captain Blood' Dyer, Bruce 'The Flying Doormat' Doull, Rene 'The Incredible Hulk' Kink and Alex 'Aldo Godolfus' Jesaulenko. (I put in the Jezza one to amuse myself, as I remember him once compared by a football commentator to the deli-owning character in Australian TV's controversial adults-only series, Number 96, because of his non-Anglo look and big moustache.)
So, in my desire to see more nicknames with pizazz for contemporary AFL players – Almanackers ideas are most welcome in this respect – I'd like to get the ball rolling by supplying one of my own creation. It's a bit left-field, I admit.
This nickname should be given to … drum roll please … Darcy Byrne-Jones of Port Adelaide, and it is … wait for it … 'The Pre-Raphaelite', after famous nineteenth century English artist of the Pre-Raphaelite movement, Edward Burne-Jones. (Yes, I know is Byrne-Jones is not exactly Burne-Jones – but jeez, it's close enough for me. And it sounds the same, anyway!)
I can just hear a TV or radio commentator say, "And 'The Pre-Raphaelite' streams out of the backline, picture-perfect!"
For more from Kevin, click HERE.
To return to our Footy Almanac home page click HERE.
The Tigers (Covid) Almanac 2020 will be published in 2021. It will have all the usual features – a game by game account of the Tigers season – and will also include some of the best Almanac writing from the Covid winter.  Pre-order HERE
To return to our Footy Almanac home page click HERE.
Our writers are independent contributors. The opinions expressed in their articles are their own. They are not the views, nor do they reflect the views, of Malarkey Publications.
Do you enjoy the Almanac concept?
And want to ensure it continues in its current form, and better? To help things keep ticking over please consider making your own contribution.
Become an Almanac (annual) member – CLICK HERE.
One-off financial contribution – CLICK HERE.
Regular financial contribution (monthly EFT) – CLICK HERE.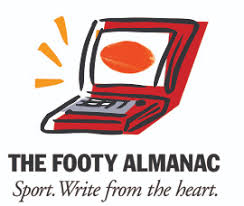 About
Kevin Densley is a poet and writer-in-general. His fourth book-length poetry collection, Sacredly Profane, was published in late 2020 by Ginninderra Press. He is also the co-author of ten play collections for young people, as well as a multi Green Room Award nominated play, Last Chance Gas, which was published by Currency Press. Other writing includes screenplays for educational films.