Almanac Football History: A letter to Tom
Dear Mr.Harley,
I have a confession. We share a love. Yours surrounds you on a daily basis and at times must be suffocating.  Mine goes back 55 years and at times has been sorely tested. But love, is love. That Red V that symbolizes the depth of my feeling, is embedded in my being.
Today, I feel the most 'South' that I have in nearly four decades.
Late Sunday afternoon yesterday by the Melbourne docks felt like the homecoming of my lover, to whom I have remained faithful for all that time. And whilst she remains perpetually youthful as I have aged, she still recognized me, despite her symbolic absence for so long. She looked beyond my weary face in search of my soul. A first relationship of the heart is never truly forgotten.
She wore the same clothes that she wore when I first laid eyes on her and seemed proud to do so. Thankfully, other than for a fleeting moment when she first left me, she has kept singing 'our' song. Together, we still shake down the thunder.
Yesterday, she took me back to those heady days of first love. Her generous indulgence of me and those who also knew her when she lived locally, made my heart swell. Memories of that first dance came flooding back, as she embraced a crowd chant that I thought I'd never hear again: 'South Melbourne'.
Don't get me wrong Tom; I am a realist and I'm happy to share her. The passage of the years has re-shaped our love. Now, the joy that she has delivered from afar sits as a very comfortable counter-balance to the painful anguish that often accompanied her when our love affair was young.
It is said that there is 'no fool like an old fool'. If she was just playing with my feelings and her heart exclusively sits a thousand kilometres north of here, then my plea will end. It's not for me to hold her back from relationships with others, elsewhere. But I wonder, has she found a way to live and love in two places? I can offer her both undying love and the passing of an inter-generational baton within my family, but ultimately she has to want to spend meaningful time with us.
Yesterday's joy has has triggered sentimental musings:
What if she wore those clothes every time she came to my town, just to please me?
What about the terms of endearment we once shared? She has adopted The Bloods nickname that once seemed consigned to the history of her first home, by the lake. Do I dare suggest that she takes the next step and allows me to utter 'South', when admiring her deeds?  She may have changed her name nearly 40 years ago, but it was never really a divorce…
'Two Cities, One Team'. Such a dignified and respectful way to celebrate a shared love. 'Two jumpers, One team' as a logical extension. A symbol that will span not only cities, but generations.
Tom, from all of us down South who have known her for so long, thanks for sharing her love.
Chris
To return to our Footy Almanac home page click HERE.
Our writers are independent contributors. The opinions expressed in their articles are their own. They are not the views, nor do they reflect the views, of Malarkey Publications.
Do you enjoy the Almanac concept?
And want to ensure it continues in its current form, and better? To help things keep ticking over please consider making your own contribution.
Become an Almanac (annual) member – CLICK HERE.
One-off financial contribution – CLICK HERE.
Regular financial contribution (monthly EFT) – CLICK HERE.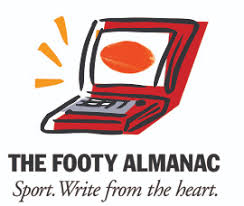 Known to stare longingly down Clarendon St still wondering how his red and white heroes ever left him, Chris Bracher's pining for his relocated team has been somewhat appeased by recent Bloods glory....but the pain never truly goes away!