Almanac Football: 1993 Revisited
Has anyone else been listening to "The Greatest Season That Was:93", a multi-episode podcast by Shannon Gill, Dan Brettig and Adam Collins about the 1993 AFL season? https://omny.fm/shows/the-greatest-season-that-was-93/playlists/podcast
(JTH – your name gets a mention at the end of Episode 9, along with some suggestions about the need for further reminiscences at the Clyde and/or North Fitzroy Arms).
It's a ripper series that features extended interviews with coaches, administrators and journalists from the time, providing lots of fascinating insights into an era that in some ways feels like yesterday. Yet hearing some of the stories underscores just how little the game and the competition had emerged from its amateur days.
The hosts have deliberately chosen 1993 as their focus because it represents for them the pinnacle of footy played at its purest.  That said, the theme of the series is more about how 1993 was a point at which many aspects of footy's old ways were butting up against the relentless forces that were transforming the AFL into a nation-wide big business. It was the last year in which Fitzroy was a competitive unit and the first year that Adelaide made finals. Matches were still being played at old suburban grounds like Victoria Park and Moorabbin. It was the first year in which a final was played at night. It was a time when many players and coaches still held down "real" jobs, but the money in the game was making professionalism a reality.  It was the year in which old-timers railed against the introduction of a sponsor's logo (McDonalds) on the football. Critically, it was the year in which the League made the fateful decision to save Sydney from oblivion and to grant player concessions to fellow strugglers, Brisbane and Richmond, moves that would ultimately set these clubs on the path to future success. At the same time, it denied support to the near bankrupt Fitzroy because their team was "too strong" to be eligible. Three years later, that club was no more.
I'll leave the story-telling about the season to the podcast. But it's piqued my interest sufficiently to dig out some old videotapes that preserve several of the more memorable games from 1993. In the light of the endless debate in 2018 about the quality of football and the need for rule changes to make it more attractive, I was intrigued. How would the best of 25 years ago stack up?
The games I had a look at were, for the most part, among the best matches of the season. The exception was a Richmond v Brisbane match which is an eminently forgettable contest, save for the interesting curio of Michael Voss and Nathan Buckley playing as team-mates for the Bears. What might have been, Bucks!
I found highlights of the famous early season draw between Essendon v Carlton, a free-wheeling 39 goal shoot-out, which gave the first real insight into what these rejuvenated sides would offer. It's fair to say that Stephen Kernahan features fairly prominently in my 1993 revisit, and when you look at his aerial supremacy and goal-kicking prowess(68 in 1993), it's staggering to think that he wasn't within cooee of the top goalkickers of the season. This day of course was famous for one of Sticks' less than glorious moments, as he shanked his post-siren shot for goal out of bounds, when any score would have won the game for Carlton. His opponent that day was 17-year old Dustin Fletcher in just his second game.
Redemption came quickly for Sticks as he slotted the matchwinner against Hawthorn the very next week in front of an adoring Robert Heatley Stand at Princes Park. Another high quality game between two of the eventual finalists, it's one of several examples where I was reminded of the understated methodical genius of Jason Dunstall who slotted his 800th goal in this game. His ability to lead and mark under duress (on this occasion against Fullback of the Century, Stephen Silvagni) and convert with metronomic efficiency is awesome.
Dunstall failed to get the Hawks across the line in this game but he went one better in the next game I looked at, a wet Friday night game against new glamour team, North Melbourne. While the commentators are frothing about "Duck", "Horse" and the mercurial Adrian McAdam at one end, it's Dunstall who keeps the Hawks in it, before snaring two marks in the final couple of minutes and winning the game with a goal from the second of these. It was one of several top notch Friday night contests in 1993 that catapulted this timeslot from "graveyard" to "prime time".
Another Friday night special is North's match against Essendon and it's my pick of the 1993 action that I reviewed. A breathtakingly relentless contest in which North shot out of the blocks, only to be reeled in the Bombers who take complete control through the middle stages but are let down by poor conversion. North surge late and end up running away by 38 points thanks to some Longmire and Carey theatrics. In these days of barely a dozen contested marks per game, it's worth checking out some of this old footage to see what these guys were capable of. Carey running back into the oncoming pack and emerging with the ball still gives me goosebumps. Remarkably, his opponent for much of the night is the veteran Tim Watson. Bomber fans might be interested to recall that Bradley Plain slotted an impressive 4 goals in a losing team.
My stash also includes most of the finals including Adelaide's improbably gutsy maiden final and win against Hawthorn. It's a pity that this wasn't a great day for their star spearhead, Tony Modra, and that I don't have any of his more celebrated goalfests that made Modra "bigger than Bradman" in Adelaide. Still it's worth watching if only to remind oneself that the Crows were far more than a one-man team during that great season. Stuart Wigney, Randall Bone and Matthew Liptak were among the important contributors that day, whilst a midfield highlight was Jarman v Jarman. Wow!
Sadly, my tape of Carlton's epic 2 point win over Essendon is very grainy, but it's clear enough to appreciate the forward and midfield masterclasses put on by Messrs Kernahan and Williams. The Bombers were missing Hird, Misiti, Fletcher and Thompson that night but still almost prevailed. Wanganeen was superb in defence.
Essendon's thrilling Preliminary Final comeback to defeat Adelaide receives plenty of coverage even today, and I need say no more than that the replay stands the test of time. But I reckon their Semi-Final win over West Coast was even more impressive as the young Bombers overcame the disappointment of the previous week to take down the reigning Premiers, slicing through the tough Eagles defence in a triumph of youthful exuberance over experience.
Carlton's win over Adelaide was a more pedestrian affair at a windy Waverley but Craig Bradley's five goal haul, including three pivotal goals into the wind in the third quarter, was brilliant in the conditions. I must mention that I once had the occasion to replay Justin Madden's famous "galloping giraffe" goal from this game as an introduction to the man himself when, as Minister for Sport, he graciously spoke at my work's footy tipping prize presentation. His typically jovial response was, in his words, "what the tape doesn't show is that I was that buggered after that run that I could scarcely get back to contest the next centre bounce"!
After such an exciting selection, the '93 Grand Final is a bit of an anti-climax unless of course you're a Bombers tragic, although it's worth another look after hearing the bizarre story from David Parkin on the podcast about the famous Neale Daniher's dossier that supposedly unpicked Carlton's centre bounce strategy. Seeing some of Michael Long's earlier games that season puts his Norm Smith Medal performance into perspective: it was a continuation of his great form throughout the year. And for all that Dean Wallis made a (forceful) contribution in the big game, you only have to look at a few of Derek Kickett's wonderful cameos in earlier matches to find the decision to drop him for the GF absolutely gobsmacking.
In summary, the games I looked at were fast, highly skilled (especially foot skills), and I have no doubt would be entertaining even to younger fans reared solely on post-millennium footy. In general play, the action is fast and open with few of the ugly packs and scrimmages that blight the modern game. It raises the interesting question of whether the players then were better skilled or whether they were simply able to execute their skills better because they were under less pressure.
But the biggest difference between then and now is the incredible array of power forwards and their significance to their teams. For example, I haven't even mentioned Tony Lockett (injured and suspended for a fair bit of 1993) or G. Ablett's century of goals kicked in fewer games than any player except Bob Pratt and the extraordinary statistic of kicking bags of 10, 11 and 14 in losing sides! It was staggering to hear recently that Jason Dunstall, who won the 1993 Coleman Medal that year with over 120 goals, didn't even make the All-Australian side!
In part, I think we have to conclude that there was just an amazing cluster of great forwards at that time, rather than simply bemoan the changes to the game that have reduced their impact. In my review I saw plenty of thrilling one-on-one battles between these stars and their defensive counterparts, but 2018 Stainless scratches his head at the naïve acceptance of such dominance by the spearheads and looks in vain for tactical moves to stop them: the double-teaming, the zones, the presses of the modern game that have countered this offensive superiority in recent years. I wonder how the Chief would go today against Alex Rance and, more pertinently, the structures that Rance orchestrates around him?
My final observation is about crowd involvement. In contrast with the often eerily quiet days and nights that I experience regularly today even with 80,000 in the house, the crowds back then seem to be yelling themselves hoarse (judging from the sound effects). It suggests a genuine passion about the game and a reckless joie de vivre that we don't often see today.
All in all, a fascinating trip down memory lane.
Do you love the Almanac concept?
And want to ensure it continues in its current form, and better? To help keep things ticking over please consider making your own contribution.
One off financial contribution – CLICK HERE
Regular financial contribution (monthly EFT) – CLICK HERE
Become an Almanac (annual) member – CLICK HERE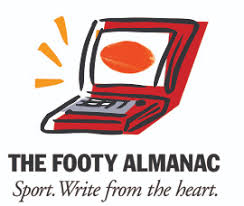 50 years a Richmond supporter. Enjoying a bounteous time after 37 years of drought. Should've been a farmer!