Almanac Food: Hanging Out At My 'Pandemic Café'
Hanging Out at My 'Pandemic Café'
During the Covid-19 pandemic (which is hopefully just about over in Australia), not getting out and around as much as usual, I found myself having particularly intense food cravings that needed to be readily satisfied and, if applicable, easily cooked at home. In this context, I've put together – without any consideration for nutrition or sophistication – my ideal "Pandemic Café" menu.
Appetisers
Chicken twisties

Salted cashews

Smoked oysters on water crackers

Rainbow trout fillets on water crackers
Mains
Large chicken schnitzels from the supermarket deli, grilled in an appliance made popular by a world-famous American boxer, beer battered wedges on the side – mayo, salt and pepper as required on both food items.

Country-butcher-quality hamburgers topped with salt, pepper, grated tasty cheese and rich tomato sauce or Worcestershire Sauce, between buttered toasted bread of choice, or otherwise, untoasted buttered knot rolls.

Flake, fried dim sims and hand cut chips – add salt, pepper, tartare sauce and lemon as appropriate.

Pizza of choice. All pizzas are made from the freshest ingredients if available – if not, ingredients are sourced from cans and plastic packets. Where appropriate, anchovies are prioritized as a topping.
Desserts/Sweets
Anzac biscuits

Madeira cake

Extra Strong peppermints

Sugar-coated hard jubes
Beverages
Premium tea of choice – breakfast style tea in morning; strong Yorkshire tea in afternoon. Milk if required.

Victoria Bitter (Kiwi Lager and Cascade Pale Ale no longer available – alas!)
For more from Kevin, click HERE.
To return to our Footy Almanac home page click HERE.
Our writers are independent contributors. The opinions expressed in their articles are their own. They are not the views, nor do they reflect the views, of Malarkey Publications.
Do you enjoy the Almanac concept?
And want to ensure it continues in its current form, and better? To help things keep ticking over please consider making your own contribution.
Become an Almanac (annual) member – CLICK HERE.
One-off financial contribution – CLICK HERE.
Regular financial contribution (monthly EFT) – CLICK HERE.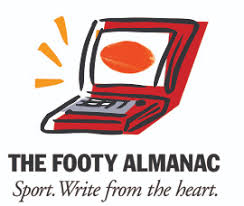 About
Kevin Densley is a poet and writer-in-general. His fourth book-length poetry collection, Sacredly Profane, was published in late 2020 by Ginninderra Press. He is also the co-author of ten play collections for young people, as well as a multi Green Room Award nominated play, Last Chance Gas, which was published by Currency Press. Other writing includes screenplays for educational films.