Almanac (Finals) Footy: The Wild Card Weekend
The Hutchyfication of Australian Sport continues apace, with the news that the NRL is having a good hard look at what is essentially a Final Ten instead of the current Final Eight.
On the Sounding Board podcast that Craig Hutchison shares with Damian Barrett, the former suggested that the introduction of a Wild Card weekend for the AFL is a "no brainer". But that comes as no surprise, given his self-interest as a purveyor of sports-related content across multiple media methods (and his love of all things Stateside).
The format being floated would see, after the final home and away round,  7 v 10 and 8 v 9 playing off (gulp) to determine which two of those four sides would fill the seventh and eighth spots in the remaining finals series (presumably in line with the existing Final Eight fixturing).
Arguments proposed in favour of this move include:
a) fewer meaningless late season home and away matches as two or more teams are in the finals race for longer;
b) it is better than having the pre-finals bye weekend (still giving the Top 6 a week off);
c) it possibly still gives teams dudded by an uneven home and away draw a chance at finals;
d) something something content content something I'm paying big money for the rights so I want something in return something America America.
The naysayers point out that:
a) more than half of the eighteen teams would be rewarded with a crack at the flag (and the premiership path for seventh and eighth becomes more difficult than under the existing structure);
b) tradition blah blah America America phooey.
What would be the consequences of such a move, Almanackers? Does the proposed solution address a real problem? Is this treating the symptom but not the cause? Who would be the unlucky eleventh team each year now that the Tiges have well and truly put Ninethmond to rest? Would this allow Gold Coast to stay in the hunt until at least Round Five?
Get out the imaginary whiteboard, Utopia style, and see what you else you can come up with.
To find out more about Almanac memberships CLICK HERE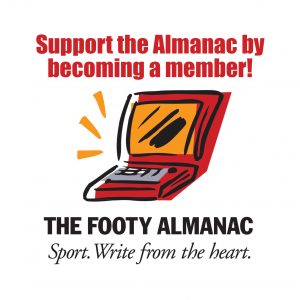 Saw my first SANFL game in 1967 - Dogs v Peckers. Have only ever seen the Dogs win 1 final in the flesh (1972 1st Semi) Mediocre forward pocket for the AUFC Blacks (1982-89) Life member - Ormond Netball Club -That's me on the right