Almanac Fashion: Colac 'Ready-To-Wear'
Almanac Fashion: Colac 'Ready-to-Wear'
In a past life, a very long time ago, I used to be a model for covers of knitwear catalogues …
No I didn't – but please refer to the photo above. I could've been. In this rarefied field, I reckon I could've been a contender. Maybe even great.
But anyway, to the topic at hand – Colac, a medium-sized regional centre in Victoria, as many would know: Colac and clothing, to be more precise. Clothes items are the link here.
I have to say, to begin with, that I love Colac. I really do. I love it a lot. I live in a locality called Gherang, in South West Victoria, about the same distance from Colac and Geelong. I often do my shopping in Colac – I like the slower pace of activity there, the less bustling streets, compared to the busy metropolis that is now 'G – Town'. Colac, on the other hand, reminds me, in a pleasant way, of what Geelong was like when I grew up there in the sixties and seventies. When I stroll along Colac's main street, Murray Street, it's like I've walked back in time – many of the historic buildings have not been altered or knocked down, unlike Geelong, and the street still has that country town feel, with shops such as the newsagent which doubles as a quality bookshop and also features its own separate stationery department. Murray Street also possesses a couple of quaint arcades (even if some shop spaces in them are unoccupied), and there are often posters in the windows for local attractions, which used to be more the case in Geelong, too – things like amateur theatre, cabaret shows and a rural version of WWF. For some reason that escapes me, wrestling seems to be big in Colac, not the Graeco-Roman Olympic style, of course, but something along the lines of the World Championship wrestling variety people my age used to watch on TV as kids. Colac even possesses well-known local wrestling identities, judging by the headline size of the names of some of the aggressors on the posters. Possibly I could become the 'Gherang Grappler' myself, with a bit of basic training, though I'd have to wrestle in the veteran division, if ever there was one.
Recently, I've also been doing some clothing shopping in Colac and it has resulted in a couple of my current favourite 'around home' clothes. One is a mustardy/olive green long-sleeve top that others in the family think is the most hideous thing they've ever seen; another is a pair of navy blue wide-legged trousers that are about the loosest fit you could ever get for a person of my large size. I have never worn the top outside the parameters of the property where I live, or let anyone outside the family see me in it (apart from readers of this article), but it's so comfortable and the fabric seemingly indestructible – the trousers are the same – that together they've given me an idea for a 'bad clothing' line that could really take off as fashion: clothes so bad that they are good.
I got the underlying idea from an odd source. A couple of decades ago, I was helping a mate of mine (a visual artist) write his M. A. Degree in Fine Art, and in one part of it he discussed Picasso's later career, where the great man apparently did some – to certain eyes anyway – pretty shithouse stuff, but because he was so great and had such a big reputation, inadvertently influenced a 'bad painting' movement connected to a number of fellow painters! (That's the way I remember it, anyway – apologies to any learned art critics who read this!) It's a bit like how some legendary musicians of the present could record albums of their farts and they would be lauded and sell through the roof.
Below is me in the examples of my proposed 'bad clothing' line mentioned above. What do you reckon?
For more from Kevin, click HERE.
The Tigers (Covid) Almanac 2020 will be published in 2021. It will have all the usual features – a game by game account of the Tigers season – and will also include some of the best Almanac writing from the Covid winter.  Pre-order HERE
To return to our Footy Almanac home page click HERE.
Our writers are independent contributors. The opinions expressed in their articles are their own. They are not the views, nor do they reflect the views, of Malarkey Publications.
Do you enjoy the Almanac concept?
And want to ensure it continues in its current form, and better? To help things keep ticking over please consider making your own contribution.
Become an Almanac (annual) member – CLICK HERE.
One-off financial contribution – CLICK HERE.
Regular financial contribution (monthly EFT) – CLICK HERE.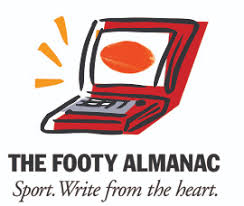 About
Kevin Densley is a poet and writer-in-general. His fourth book-length poetry collection, Sacredly Profane, has just been published (late 2020) by Ginninderra Press. He is also the co-author of ten play collections for young people, as well as a multi Green Room Award nominated play, Last Chance Gas, which was published by Currency Press. Recent other writing includes screenplays for films with a tertiary education purpose. He laments the extinction of Cascade Pale Ale and Kiwi Lager.