Almanac Cricket: More than just a game
As the sun sets on another Australian summer, I take a fond look back at my favourite day of the sporting calendar.
We're like worshippers on an annual pilgrimage. Walking towards the gates there is a mix of excitement and reverence in the air.
I spend most of Christmas Day thinking about the day after – the spiritual experience that is the first day of the Boxing Day Test. And when we're done and dusted with the fireworks, our attention turns to the Sydney's New Year's Test.
If you grew up in Australia in the seventies, your fate was determined. You either became a cricket tragic like me or developed an almost pathological loathing for the game.
Everyone has a game plan for their day at the Test. I now get there so early I wouldn't be surprised if the groundsmen ask me to help get the pitch ready. My argument is the atmosphere before a ball has even been bowled is not something to be missed. The players warming up, the plethora of ex-local and international cricketers broadcasting, the early morning coffee while reading the papers, and the walk around to see what culinary delights will be on offer later.
But most of all, it's to see the people pour into the ground. The Sydney Test is now much more than a sporting event. We sit in a sea of pink to raise money for the much loved and worthy McGrath Foundation. I defy anyone who has lost faith in humanity to sit in a crowd of 40,000 where every man, woman and child is kitted out in a colour that doesn't always do the wearer any favours, all to raise money for breast cancer.
I say 'culinary delights' but what I really mean is something I look forward to so much it's a New Year's resolution – have pie and chips. Every year, we make great plans to bring a gourmet lunch from home. And every year we turn up with a water bottle, a sad looking bag of grapes, and a muesli bar if we're lucky. I still have flashbacks to the 2013 Test when we were food shamed by a group of young blokes in their twenties. As soon as I heard one of them say, "Oh good, you bought the gorgonzola", I knew we were in for it. By the time the smoked salmon and prosciutto made their appearance during the lunch break, a part of me longed for the VB-swilling-meat-pie-munching larrikans of yesteryear who occupied 'The Hill'.
The banter is what memories are made of. Making friends with your fellow pilgrims. Debating at length how much turn is in the pitch. Wryly laughing that with over four million dollars' worth of cricketing talent on the field, we're all watching the progress of a rainbow coloured beach ball. In years gone by, playing our part in making a beer snake. Before the full force of Sydney's finest decided that making a chain of empty plastic cups was just not cricket. Singing with the Barmy Army because who wouldn't when you're faced with such wit and good humour.
Memories of momentous occasions. Steve Waugh hitting a four off the final ball of the day to bring up his hundred. Michael Clarke's 329 not out against India.
And the 2002 match, when a kiss after stumps with my then friend sealed the deal and he went on to become my husband. Yes, he truly did bowl a maiden over that day.
With my proud Indian heritage, I'll be supporting Virat Kohli and his men. Memories of being at the cricket with my dad will be with me all day. Of listening to his stories of seeing the great Bishan Bedi play. Of lining up to get him his first beer of the day on a sweltering Sydney day before the southerly came in.
So yes, a day at the Sydney Test is akin to a religious experience for some. The difference being we're praying for good cricket, no rain and an accurate DRS.
To find out more about Almanac memberships CLICK HERE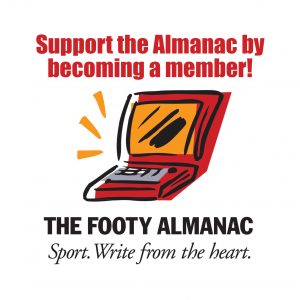 Sydney based communications professional. My blog http://www.theinstantcoffee.com/ is an interesting blend — sometimes serious sometimes not.