Almanac Cricket (Memoir): Headingley, 1993
This piece, based on JTH's travel diaries from 1993, was first published in Long Bombs to Snake.
[The Bob Neil reference comes  in the diary entries towards the end]
It's a long time ago, 1993.
Life was pretty carefree then. Played a lot of golf. Followed the Cats. Had a lot of barbecues in the backyard of Bundhill the share house we had in Toowong in Brisbane. Bundhill had a golf course, with two magnificent greens, kept immaculate by a 1948 Atco cylinder mower. E.L. Smythe had found it under a tree, at a house in Toowoomba, and restored it, and brought it home. My goodness that mower was a thing of beauty.
We had golf tournaments: The Bundhill Masters; The Marigold Classic. They were as good as any sporting festival on the planet.
I'd finished my MA in `92. I wrote my thesis with a Staedtler 2B pencil, and then wrote it out again, more neatly (arguably). The thesis, which compared the 1899 Australian tour of England with the Allan Border's 1989 visit to the Old Country may have had no currency whatsoever in the academic world but the script was  could have gone into an art gallery.
I didn't own a computer and I didn't like using them.
I had spent that `92 year (some of it, at least) with my head buried in The Age microfilm at the Undergrad library at the University of Queensland, my research producing what I eventually called (sparingly) Here Come the Aussies: a brief survey of Anglo-Australian Test cricket and its impact on Australian nationalism. I was preparing myself for a life in the academy and that thesis showed those who controlled the world of sports history I'd passed their first significant test: I was competent in the use of the semi-colon.
Professor Geoffrey Bolton, a sports-loving Western Australian, and a wonderful man, was my supervisor. He was grateful that Cynthia Simpfendorfer, one of the secretaries at Redeemer Lutheran College, where I was teaching in Brisbane, typed it out (for a modest fee and a few bottles of chardonnay). Geoffrey had to read the blessed thing.
If anyone ever reads it (Gideon Haigh may be the only person who has, and even then, only a portion of it) they will discover that, in some ways, not much had changed in ninety years: sport remained one of the few things that could generate some sort of response from Australians. In 1899, the Founding Fathers couldn't generate much interest in Federation yet, on freezing July nights, 10,000 people stood outside The Age office waiting for news of the Test match via the cable. The score was updated every fifteen minutes. Hip flasks were mandatory.
Like most academic projects, mine had a difficult birth. Having exhausted all avenues of avoidance-behaviour approaching the time it was due that November, (the Spring Carnival finished), I decided I'd make a comeback to cricket. Injury, golf, and an ordinary summer in the thirds a few years previously, had ended my mediocre career at the University of Queensland CC. But I rang Vincent (van) Geiger, mathematics teacher and skipper of the Uni Fourths and offered my services. I knew university teams were always short of players around exam time.
Vince paid me excessive respect the first week, slotting me in at number six. I proceeded to make nought and nought. The first nought was LBW to a left arm orthodox bowler whose Murray-Bennett arm ball hit me on the flap of the pad before my late cut had reached the top of its backswing. It was taking leg.
In the second match Vince, remaining loyal to an old teammate, re-branded me, presenting me to his bemused side as an off-spinning all-rounder. Batting at eight, I again made nought and nought, this time in an innings defeat. The second nought was both spectacular and amusing. I shouldered arms to the lanky left-arm quick only to see my middle peg cart-wheel through the air.
Deflated back at the clubhouse, I cracked another XXXX can and leaned over to Vince. "You don't have to pick me next week," I muttered forlornly.
"Mate," Vince frowned. "There was no way you were getting another game in my side."
The academic year finished and, not long after the Gabba Test, I took off to South Australia for Christmas before returning to Brunswick Heads for a summer of swimming at Byron, golf at Ocean Shores, and Toohey's Old at the Hotel Brunswick. Otis Goldsworthy won the annual golf tournament – that year it was called the (was it the tournament called The Fairy Penguin?) –  beating the Bum Brothers (Bimbo and Tripod) and a few other reprobates like The People's Hero and Sparrow.
Real life encroached again. I enrolled in a PhD in 1993.
But, really, I was pretty restless and needed to get away, and think a few things through. If there was any hint of direction in the ill-disciplined existence that was taking me from party to pub to golf course to race meeting, it was in my loose thinking that, at some stage, I might try to write something.
That, I thought, would be years off. If ever. I thought it was more likely to happen when I was much older and there was a chance I'd observed something – anything – worth putting down in a story or two.
I liked writing, and I liked reading. I was already a prisoner of too much thinking. I loved conversation, especially pub conversation at the RE in Toowong, and dinner-party argument, and Dos Amigos contemplation over a double enchilada with rice and beans, and a bottle of Barossa shiraz. I liked all that stuff that keeps us going.
What to do?
There was an Ashes series on in England in 1993. And the British Open at Sandwich. And I had mates who were still doing the London things, even though most had already come Home. It seemed a good time to head to England and to Europe for a few months. I planned to take Term 3 off.
That summer the West Indies had been in Australia and, in the early Test matches they appeared to be coming down from the (very high) mountain. They hung on for a draw in that Brisbane Test. Then a brash young kid called Shane Keith Warne bowled them out at the MCG, taking 7/52. In Sydney, Lara blasted a superb double hundred, the highlight of a rain-affected Test, which ended in a draw. The Australians had, over the previous few years, become a reasonable cricket team. Australia were a chance to win the series, a result which would have pleased skipper Allan Border no end. The Adelaide Test was a cracker. Tim May took 5/9 late in the Windies second dig and the Australians had to chase a (just) gettable total. Justin Langer gritted his teeth and made 50 over four hours as wickets fell around him. Then, May and Craig McDermott, resisted the thunderbolts, ducking, weaving and nerdling their way towards  the target of 186. McDermott was caught off the helmet two runs short. We were playing golf that day. We had the little red pocket Sanyo going and eventually stopped under a gum tree on the ninth tee at Indooroopilly to listen to the final moments. Then, the final Test was in Perth and Curtly Ambrose went 'Whack!' taking 7/25 to end any doubt about his own personal dominance, and the place of the team from the Caribbean.
Real life had me back in the classroom. First semester drifted along and the Cats were in the mix again. But they were finding ways to lose. I was keen to get away.
I didn't lob in London until the Third Test at Nottingham. A fair bit of cricket had been played by then.
As a;ways, there was a lot of interest in the series, the TV coverage perfectly timed for an excuse to get together. On the second day of the First Test from Manchester we organised a massive card night at Bundhill. Radio commentary. Beers. Bundy. There were more players than spots at the table so blokes sat in on Dealer's Choice for a while and then drifted in to the loungeroom to catch some cricket on telly.
I was in there watching when Shane Warne was thrown the ball. We still didn't really know what sort of player he was going to be. He rolled in to Mike Gatting, and bowled one that drifted in, dipped, turned, and did that just hit the top of the off stump? "Geez, you blokes better get in here."
Most of us stood around watching replay after replay. Australia won that Test and then made 600 at Lord's to win again. At Nottingham they were in a bit of strife at 6/115 but Brendan Julian and Steve Waugh held on. I'd had a round of golf that morning, at Richmond, down on the Thames, which I remembered from A Man For All Seasons. I played with Gary 'The Dog' Seeto, an electrical engineer who had legs like Martina Navratilova, and was cohabitating with a delightful South African woman in Brixton.
I was loving London.
I decided before leaving Australia that I would write about my time away. I'd bought a 412-page Olympic Stripe exercise book and I was determined to jot down my observations. Miraculously, as I had not been blessed with the gift of self-discipline, I stuck at it. And I enjoyed it.
I made notes during the day and then I'd sit down and put pen to paper. Each night I would also assign what I called Brownlow votes: 3,2,1 on the most interesting, most brilliant, craziest things I'd seen during the day.
It came time to head north to Leeds for the Fourth Test at Headingly. Here's how I recorded those days:
Friday July 23:
The Australians had reached 3/307 at stumps [the day before]. Having enjoyed an evening in Cambridge which included Evensong at St John's and a few pints of University bitter [with Keith McNeil, UQ cricketer and physician who was working with a research team at Papworth], I caught the train back to London in preparation for the tour with [good friends from Australia] TG and Tracey.
The thing about England is that it is so terribly English, which is what their cricket team represents, although I'm not sure which bit of England their soccer team reflects. The cricket team goes hand in hand with St John's and Evensong.
The choir members were an eccentric bunch, the mature voices looking like entomology, archaeology and divinity students who might all one day work for the British Museum, or be in it, while the boy sopranos ranged from the fat kid, to the one who had a head like a praying mantis, to the archetypal floppy hair-big glasses kid. They were switched on in an instant, when it came time to sing – but as soon as they were off duty – during the Old Testament lesson – they weren't. One punched the fat kid, the kid with glasses spent three minutes cleaning his lenses with his vestments, and there were numerous stories being told. I would not have been surprised had one produced a frog or a newt from his pocket. But they were able to produce a fantastic sound.
Cambridge was superb. I saw not one but two dons in pin-striped seer-sucker jackets (one sky-blue, one bone) and a straight-backed woman riding a bicycle with a bunch of roses in the basket on the front.
Back in London, TG and Tracey and I were meeting in Kingston to pick up our hire car. As it turned out, the depot was next to a pie and mashed potato restaurant. Bonus. Travelling el cheapo, we had gone for the Ford Fiesta, but lo and behold Fortune was smiling on us.
"Sir," said the lovely receptionist, "we are terribly sorry but we are unable to supply you with the Ford Fiesta."
"Oh!" I said.
"The only vehicle we have in the yard is a Rover."
We looked out to see the luxury vehicle. And then at each other.
"Well, that'll have to do," I said.
We couldn't believe our luck. Instead of a sardine can on crook tyres, we were in a top-of-the-range Rover with plush seats, push-button everything, walnut panels and a sun-roof. It was immediately christened The Dead Dog. With Australia at 4/500+, we motored towards Teddington, sun-roof fully open. It was time for a little Stones: 'You Can't Always Get What You Want.'
We made the banners at TG's and then I took the tube to pick up Wallo's golf clubs, then the tube again to Harrow-on-the-Hill where I joined Spud and Jacky and crew at the pub.
Brownlow Votes:
3. The Dead Dog Rover
2. pie and mash restaurant
making the banners for Headingley
Saturday July 24:
We left London at six this morning in sprinkling rain but by the time the Dead Dog made it to the M1 it was pouring. TG, in relative control at the wheel, settled on 85 mph. Disheartened by the weather – which really looked in for eternity – the 11/10 available at Ladbrokes for the draw seemed a missed bargain. However, as we got to Sheffield the grey gave way to Constable skies and by Leeds, remarkably, it was fine. I am now sitting in watery sunshine here on the West Terrace at Headingley and I am seriously thinking of shedding the jumper.
There is a real carnival atmosphere here. Plenty of colour and noise among happy and spirited people. We watched the Australians warm up, Big Merv forever the entertainer and the skipper looking rather aged. (TG has just gone for the Guinness and returned with a plate of cod and chips which looks like it was prepared for the 1989 series. He tells me no ale until 11am – a long yard arm in Yorkshire.)
We await the arrival of the batsmen: no-one is too sure whether the Australians will bat on.
Hang on, here are the Pommy fieldsmen now. The bloke next to us has just opened a can of XXXX. Now that's a concept…..
[Later] Border got his 200 very easily, the Australians declared and, amid derisive and cynical comments from their own supporters, the English openers shuffled to the crease. It was an interesting mood. Defeated already. The West Terrace became more and more lubricated after lunch. We sat among the progeny of fourteenth generation coal-miners. Five seems to be the mean insofar as teeth are concerned in Leeds although there appears to be no consistency to where they are located in the mouth. Many lads were wearing their soccer strips, particularly the blue and gold (yes!) of Leeds. They had spent a lifetime on the terraces of Elland Road so the chanting and singing made for an entertaining afternoon.
The West Terrace is Headingley's Bay 13, Yorkshire's Gabba Hill. One of the advantages of living in this part of the world is that cricket-lovers can bring in their own booze and many, many varieties were revealed (and consumed rather quickly). You could just sit and listen to the lads bantering in their local lingo with its scant regard for the definite article.
Two Yorkshiremen were worthy of note. One was a garbage official who (apparently) was the spitting image of a TV celebrity, the comedian Jim Bowen. I thought he looked more like the old bloke in Benny Hill but every time he came by the crowd started chanting "Jimbo, Jimbo, Jimbo" in soccer fashion. By day's end the chant was ridiculously loud and echoed about the place as they all stood and pointed at him. Some would run down and exchange headwear with him including one of twenty or so Franciscan monks who were sitting near us.
The other character of note was a seventy-something Yorkshireman in an orange overcoat who spent the day selling the Yorkshire Post. He may well have been a paid entertainer? But his lot in life was to walk around the ground carrying a bundle of newspapers over his arm and occasionally yell, "Yorkshire Post!" to which large sections of the Terrace would respond, "Beans on toast!"
Then he would say, out the corner of his mouth, conspiratorially to the people in the front row, "The Bust-ards!" or "They're coomin' to take `em away you know," or to everyone, "You've all got the clap!" Very reminiscent of Happy Jack at the Gabba, although Happy Jack didn't sell anything, he just asked, "What won the fourth at Randwick? You bastards." They say we are a derivative culture.
Big Merv was also the subject of much attention. He had morphed into 'Sumo' over the first three Tests and the crowd have urged and taunted him with their "Sumo, Sumo, Sumo" cry. And sometime the long "Sooooo-mo-o!" chant. Merv loved it.
Whenever the sun and the booze seemed to have sent the crowd to sleep someone would produce the next item of merriment. At one stage there was a blow-up sheep. Some Geordies had a blow-up stubby. And a group of students who had come dressed as hippies, or perhaps they actually were hippies, brought out the guitar and belted out a few verses of 'Running Bear'.
As Australians, we were received better than any Lancastrian who walked by, particularly those who had been brave enough to wear Man U shirts. Some of these guys, so driven by their need to assert their Man-Unitedness, stood in front of the Yorkshire masses performing a sort of fat-wobbly white haka. The retort was "Leeds, Leeds, Leeds, Leeds, Leeds." Guttural and willing. And "We are Leeds. We are Leeds. We are Leeds."
The crowd's crescendo came at about 4.30 after which time most were so smashed they were relying on instinct and tribal passion to direct their behaviour. Those who were compus enough to recognise what was going on were calling for Duncan Fetcher's blood. England had slumped to 7/195 on a very flat track.
A debate took hold behind us. Someone said that Geoff Boycott would never have been dismissed on this wicket. The chat during the afternoon had been of the Essex Mafia in English cricket. I was sensing secession. Yorkshire could take on Australia and do a better job.
After stumps we watched those who could get up make their way to the gates. We got in the Dead Dog and started driving in search of a B and B. Down country lanes. Between walled fields. Overhanging trees. Raspberry bushes. Bulbs. Flowering shrubs. Healthy cows. After about eight attempts we found one in Harrogate. After struggling down to the pub for a bowl of tomato soup it was time to hit the hay.
I went to sleep in the full knowledge there was "only one Jim Bowen."
Votes:
3. The Yorkshire Post man
2. the West Terrace crowd
1. First conversation overheard in Leeds: "Alistair, can you…"
Sunday, July 25
Jim Bowen has just made his first appearance for the day (it is the second over after lunch) and has raised the customary cheer. Today he believes in his own celebrity, yesterday he was rather coy. He seems to have grown into it very well. A loud Australian has just announced the worth of the Australian nation at which point a rosy-cheeked Pom has run down put his arm around him and yelled to the crowd, "He's the geezer from Sylvania Waters."
The crowd is running into form pretty early. Thoroughly defeated, somewhat heartbroken, yet delighting in their own ineptitude, they start chanting, "There's only one Eric Bristow. There's only one Eric Bristow. There's only one Eric Briiiii-stow."
We woke this morning, and tucked into the full brekkie: sausage, eggs, bacon, tomato, hash browns, mushies, toast, tea. Back to Leeds where we jagged a park about 100 metres from the main gate (again).
We put the sign up. The ground staff helped us! They are Birmingham Infirmary bed sheets on which are written in black paint: "BUNDHILL BOYS ON TOUR. FEED THE CAT."
Everyone is friendly, the locals are chatty.
It's a classic English day, cold, with showers blowing across, with intermittent (pathetic) sunshine. The Australians wrapped up the innings quickly, but Atherton and Ladwell have dug in.
The Yorkshire Post man has been back. Today he's yelling "Test Match Special". TG has been to the bar and returned with a couple of pints of Stones Bitter. How that ball from Paul Reiffel missed Ladwell's off stump I don't know. He is bowling nicely.
Earlier there was a tour highlight. As the players' walked off the PA broke the soft applause. "Would Bob Neil, that's Bob Neil of Adelaide, please phone home. Would Bob Neil please phone home and it is suggested you take plenty of coins with you. Bob Neil."
It was my shout and, while waiting in the bar, a young Yorkshireman made a line that was moving very slowly (as the beers dribbled into their plastic cups) his stage. "Can you put the golf on," he called, reasonably politely. We were all focused on the cricket feed on the small monitor. Heads turned to him when he yelled again, "Can you put the golf on!"
"Don't you like the cricket, then?" asked the lass behind the jump.
"I hate fookin' googlies and all that shite."
"Why coom then?" she continued.
"Because you don't shut at three."
The crowd was in the sedate state of a recovering Sunday afternoon. The officials, I surmised were less tolerant – they were helping the working class ready themselves for Monday work.
The Australians toiled away, but it seemed like a matter of time. I thought Border had May and Warne at the wrong ends. May was bowling beautifully.
The beers went down quietly.
People laughed at the electronic scoreboard when a new message arrived:
ASIF MEHMOOD
PLEASE GO TO THE BRADFORD INFIRMARY IMMEDIATELY
WIFE DELIVERING
Australia took a couple more wickets: May had both Atherton and Gooch stumped by Healy who might have missed another chance or two. Stewart and Thorpe dug in.
The cold westerly nearly got the better of us. After stumps [England 4/237] the warm car was most welcome and we drove towards York and along country lanes looking for a B and B again, or something. We came to Acaster on the River Ouse which had a couple of pubs and a few houses, and a couple of caravan parks cum camping sites.
We pulled up at Poplar Farms and popped into the shed which appeared to be the office.
The ancient Yorkshireman looked up, but said nowt.
"Busy here," said TG, playing the traditional Australian smart-arse beautifully.
Nothing.
I chimed in: "Can we camp here?"
This stirred him into action. "Ahhhh lad," he said, "I can't see why not. They've b'n cumpin' `ere for one thousand nine hundred and fifty years. Caster is Roman for camp. Acaster, A Camp. Lancaster. Doncaster."
We nodded. So, on the precedent of two millennia of human behaviour, it seemed we had a place to stay.
"Get in car. Follow me."
He proceeded to get onto the oldest pushbike. We followed him (very slowly) as he wobbled down towards the river bank.
We set the tent up and walked the 100 metres or so to the Ship Inn for roast beef and Yorkshire pudding and couple of pints before hitting the surprisingly firm ground of Poplar Farms.
Votes
3. Bob Neil
2. the old bloke on the bike
our sign at the cricket
We didn't go back for the fifth day. It proved to be the right decision.
We'd left the sign up on the West Terrace. It had, apparently, been popular with the Australian commentators. Tony Greig, especially, thought it rather amusing. Later we got the news that he began talking about it at the start of play on the fifth morning and mates started ringing each other ("Turn the cricket on"). He kept coming back to it.
Instead of watching the last English wickets fall, we drove through beautiful tree-lined roads and lanes, past classic Yorkshire farms. I wrote: "through Thrisk, up into the hills, beyond Sutton-under-Whinstonecliffe from where the view was just plain massive. On through back roads and lanes with babbling brooks alongside, over ancient bridges and across Herriot farms, until we came to the Rievaulx Ruins…The Abbey was built by an austere order of monks, The Cistercians, who got the place going in the eleventh century. Unfortunately Henry VIII, who has a mighty lot to answer for, purchased the Abbey in 1538, and sold it to an earl who started knocking it down. After twenty years he stopped knocking it down and it has remained ruins ever since…I kept thinking of Wordsworth and Tintern Abbey. An F-18 broke the silence…By the time we got back in the Dead Dog, England were all out and it sounded like Gooch was gone. Atherton would be the new captain. Across the road from the ruins was an old farmhouse with a cricket field next to it, sloped, and a bit rough, but with a discernible centre wicket, and a roller. I could hear the village green applause and the thwack of bat on ball, and the kids chasing and squealing and laughing, just as we did in the churchyard at St John's, Aubigny, throwing the yonnies off pencil pines. A century or more of it."
We returned to Acaster that night. Australia had won the series and retained the Ashes.
In the days that followed it was on through Yorkshire and over the top to Lancashire, then to Scotland, Glasgow, and the west coast and trying to sneak on to Royal Troon in the gloaming, whisky in Aviemore, and 18 holes at the Royal and Ancient, St Andrews.
All terrific to write about, penned with the excitement of an innocent. All making me wonder: can I do this? Making me wonder about my native land and its culture. And whether there was any point in trying to make sense of it.
After a month or so backpacking in Europe, I flew back to Australia – on Grand Final day, 1993. Just in case the Cats were in it. They'd actually missed the finals. The young Bombers snagged a premiership.
I found a reassuring truth in Michael Long's run that afternoon. Should I write about that? Or should I just watch it, and let it warm my heart?
That really was a long time ago.
This piece was first published in Long Bombs to Snake which you can order directly from us HERE
Read more from John Harms HERE.
The Tigers (Covid) Almanac 2020 will be published in the coming weeks. It will have all the usual features – a game by game account of the Tigers season – and will also include some of the best Almanac writing from the Covid winter.  Pre-order HERE
To return to our Footy Almanac home page click HERE.
Our writers are independent contributors. The opinions expressed in their articles are their own. They are not the views, nor do they reflect the views, of Malarkey Publications.
Do you enjoy the Almanac concept?
And want to ensure it continues in its current form, and better? To help things keep ticking over please consider making your own contribution.
Become an Almanac (annual) member – CLICK HERE.
One-off financial contribution – CLICK HERE.
Regular financial contribution (monthly EFT) – CLICK HERE.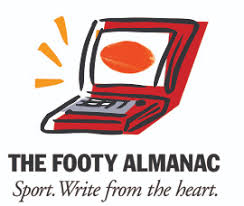 JTH is a writer, publisher, speaker, historian. He is publisher and contributing editor of The Footy Almanac and footyalmanac.com.au. He has written columns and features for numerous publications. His books include Confessions of a Thirteenth Man, Memoirs of a Mug Punter, Loose Men Everywhere, Play On, The Pearl: Steve Renouf's Story and Life As I Know It (with Michelle Payne). He appears (appeared?) on ABCTV's Offsiders. He can be contacted [email protected] He is married to The Handicapper and has three school-age kids - Theo, Anna, Evie. He might not be the worst putter in the world but he's in the worst three. His ambition was to lunch for Australia but it clashed with his other ambition - to shoot his age.