Almanac Cricket History: Revisiting Tony Wright's piece on Johnny Mullagh (from The Age) and other resources
People seem to know about the 1868 tour of England by the Indigenous team from the Western District of Victoria – and some of the players' names are known too. A number of advocates have attempted to build that prominence, including historians (like Roy Hay and Greg de Moore) and writers, journalists and cricket administrators.
A few pieces are linked below:
Here's an excellent piece about Johnny Mullagh by journalist and writer, Tony Wright:
https://www.theage.com.au/national/victoria/when-australian-cricket-was-a-relief-from-indigenous-misery-20161027-gsbxig.html?fbclid=IwAR0QTK4VodC7PET5jMYOci9IGGbjV5cxLHYFvwE5I4oZfNWR0acetdImrLw
This terrific piece, about Aboriginal cricket, is from Deadly Stories, and includes an excellent bibliography:
https://www.deadlystory.com/page/culture/articles/Aboriginal_Cricket
The Wikipedia entry on the tour is worth a look – and includes a handy bibliography.
https://en.wikipedia.org/wiki/Australian_Aboriginal_cricket_team_in_England_in_1868
Roy Hay's recent books focus on footy but give coverage to other sports:
Roy Hay's history of the involvement of Aboriginal players in Australian Football is now available in a paperback edition. Read more about this book here. [Includes links to reviews – Ed]
Roy Hay has released a new book. 'Albert "Pompey" Austin: A man between two worlds' is Roy's follow up to his highly successful 'Aboriginal People and Australian Football in the Nineteenth Century: They Did Not Come from Nowhere', where he first introduced readers to Pompey Austin. Roy has provided readers with an introduction to his new book.
To return to our Footy Almanac home page click HERE.
Our writers are independent contributors. The opinions expressed in their articles are their own. They are not the views, nor do they reflect the views, of Malarkey Publications.
Do you enjoy the Almanac concept?
And want to ensure it continues in its current form, and better? To help things keep ticking over please consider making your own contribution.
Become an Almanac (annual) member – CLICK HERE.
One-off financial contribution – CLICK HERE.
Regular financial contribution (monthly EFT) – CLICK HERE.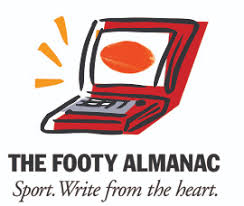 JTH is a writer, publisher, speaker, historian. He is publisher and contributing editor of The Footy Almanac and footyalmanac.com.au. He has written columns and features for numerous publications. His books include Confessions of a Thirteenth Man, Memoirs of a Mug Punter, Loose Men Everywhere, Play On, The Pearl: Steve Renouf's Story and Life As I Know It (with Michelle Payne). He appears (appeared?) on ABCTV's Offsiders. He can be contacted [email protected] He is married to The Handicapper and has three school-age kids - Theo, Anna, Evie. He might not be the worst putter in the world but he's in the worst three. His ambition was to lunch for Australia but it clashed with his other ambition - to shoot his age.